How Ukraine created an 'Army of Drones' to take on Russia
How Ukraine created an 'Army of Drones' to take on Russia
Kateryna Malofieieva / NPR
In the sprawling farmland south of Kyiv, where the sunflowers are just beginning to sprout, Ukraine's drone community gathered to show how the military is upgrading what's already one of its most effective weapons of the war.
Drones are buzzing in every direction on a sultry summer's day, as if someone poked a hornet's nest. And that's exactly the vibe Ukraine's Army of Drones is trying to create.
A combined effort of the military, the government and private groups, the Army of Drones has turned into a substantial military force. It has enlisted actor Mark Hamill, of Star Wars fame, as a spokesman, as well as other celebrity ambassadors. The overall effort is led by the country's 32-year-old deputy prime minister, Mykhailo Fedorov.
"In order to win in this fast-paced technological war, the government needs to think and act as a technology company, to be agile, to make fast decisions and to move faster," Fedorov said.
He spoke to a gathering that included Ukrainian drone makers and private groups that are training Ukrainian troops how to become drone pilots.
Ukraine turns to drones to counter Russian air power
The Russians have a much larger and more powerful air force, with its fighter jets outnumbering those in Ukraine by an estimated margin of 10-to-1.
But so far, the Ukrainians have mostly neutralized this threat in two key ways.
First, Ukraine's air defenses shot down so many Russian fighter jets in the early stages of the war that Russia rarely sends them into Ukrainian air space anymore. Russia is believed to have more than 1,000 fighter jets that it has essentially grounded because of the risk to the planes and pilots.
Second, the Ukrainians have employed drones creatively for both reconnaissance and attacks. The drones have nowhere near the firepower of fighter jets. Hence, Ukraine has sought U.S. F-16s since the war began, and now has pledges that it will receive them in the coming months. Still, the drones have allowed Ukraine to surveil and harass Russian troops in ways that would otherwise not be possible.
Much of the current talk about weapons focuses on big-ticket items the U.S. and other Western countries are shipping to Ukraine. Forty-ton tanks. Huge artillery guns. Massive anti-aircraft systems.
But Ukrainians are fighting effectively with weapons that are small enough to hold in one hand.
With Ukrainian government support, private groups have trained 10,000 drone pilots in the past year, and now plan to train 10,000 more in the next six months.
"Drones are critically important for us. They're critical to our combat advantage, and that's why we're scaling this," Federov said.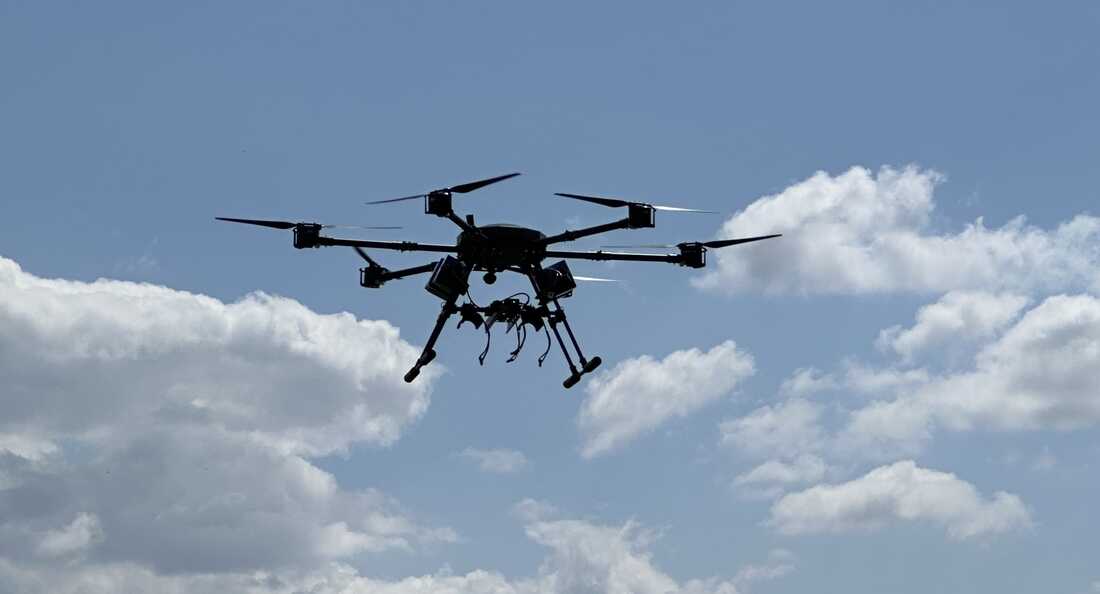 Kateryna Malofieieva / NPR
Training drone pilots in a week
Anton Frolov heads one of these private drone training programs, called Raven, which creates military pilots with a course that lasts just five days.
"You can learn to fly in one day," said Frolov. "But you have to fly in difficult conditions. You have to know how frequencies work, how the enemy is fighting against you."
The Ukrainians have received cutting-edge military drones from the U.S. and Turkey.
But mostly they rely on popular Chinese models built for civilians. They can be bought straight off the internet for $2,000 or less.
The Ukrainians primarily use the drones for reconnaissance, one of the reasons they often seem a step or two ahead of the Russians on the battlefield.
But Ukrainians also rig the drones with a claw to carry a small explosive, like a grenade. It can be dropped with great precision into a Russian trench, or even into the open top hatch of a tank.
A cat-and-mouse game
The Russians are fighting back with electronic jamming that cuts the signal between the Ukrainian drone operator and his drone. It's become a huge problem, Frolov said.
"At the very beginning of this war, the flight distance of the civilian drone was five to seven kilometers (three to four miles)," he said. "Right now, we have only two kilometers (just over a mile) because of jamming system, because of this system that's getting tougher and tougher against us."
He also said that Ukrainian operators can only keep a drone aloft for a couple minutes before the Russians find it and knock it out.
Ukraine, in turn, says it's working on software that can prevent Russian electronic jamming.
Russian drone use has been more limited and less effective than Ukraine's. In recent months, Russia has relied heavily on military drones from Iran, called Shaheds. By one recent count, Ukraine has shot down more than 900 of the 1,200 Shahed drones fired by Russia, a rate of more than 75%.
Meanwhile, Ukraine is also trying to ramp up drone production at home, which is still limited.
"The demand from our military is much bigger than the manufacturing capacity for Ukraine," said Maksym Muzyka, whose company makes an attack drone called the Punisher. "So right now, till the end of the year, we will be completely full with orders."
As Ukraine to scrambles to get as many drones as it can, one result is that the military now has a hodgepodge of systems.
"They're buying dozens of different types of drones from different manufacturers. It's a nightmare from the point of view of logistics, of training, of usage, of service," said Muzyka.
But somehow, it's been working. Most importantly, he said, drones are saving the lives of Ukrainian soldiers, doing the dangerous reconnaissance work troops had to do in the past.
Greg Myre is an NPR national security correspondent. Follow him @gregmyre1.