Seeking stronger economic ties, Vladimir Putin wraps up a summit with African leaders
Seeking stronger economic ties, Vladimir Putin wraps up a summit with African leaders
As Russia wraps up its high level summit with African countries Friday, just how much real influence does Russia have in the continent?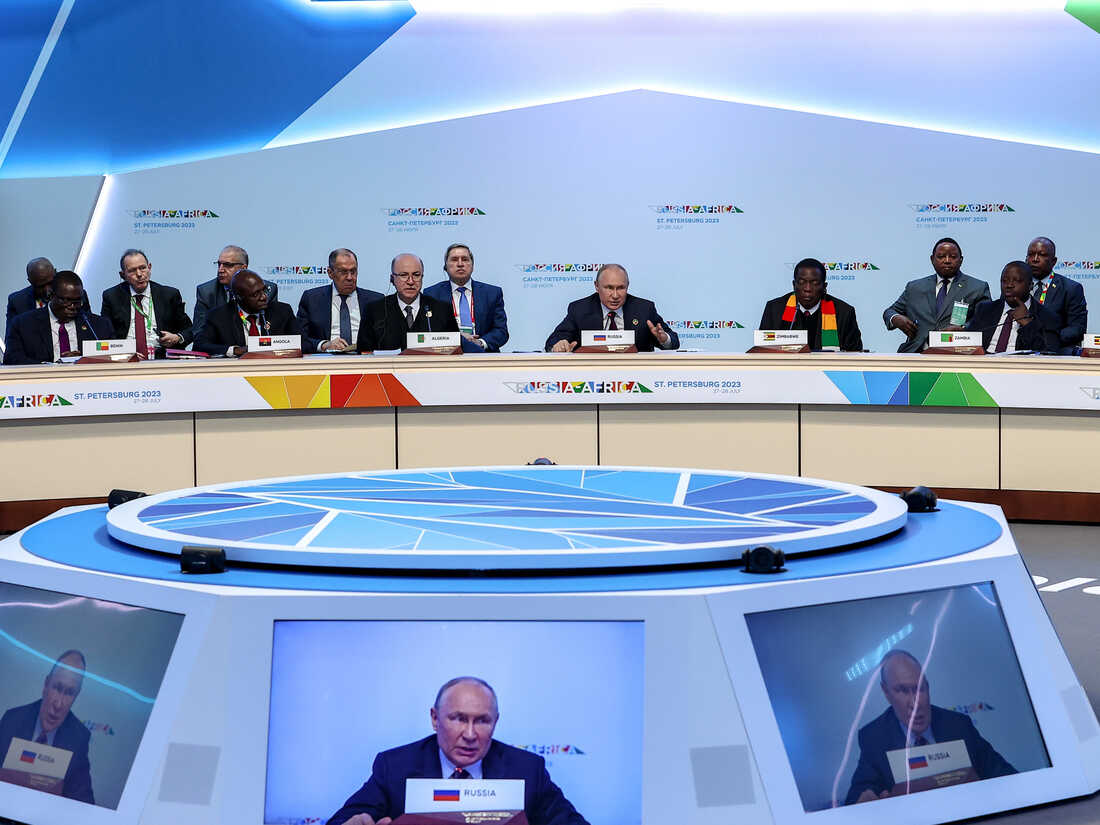 JUANA SUMMERS, HOST:
Russian President Vladimir Putin wraps up his high-level summit with African leaders in St. Petersburg today. While Western nations have largely isolated Moscow after the invasion of Ukraine, many African leaders have maintained closer links, treading the tricky path of diplomatic neutrality. Russia wants to use the summit to strengthen its ties in Africa. But as NPR's Emmanuel Akinwotu reports, Russia faces an uphill task.
(SOUNDBITE OF MUSIC)
EMMANUEL AKINWOTU, BYLINE: This slick video produced by the Russian Foreign Ministry shows a succession of African leaders arriving at St. Petersburg Airport, all smiles and shaking hands with their hosts.
(SOUNDBITE OF MUSIC)
AKINWOTU: But in the end, it hasn't been the gathering Russia hoped for. Only 17 African leaders turned up this time, far fewer than the 43 that attended the first summit in Sochi in 2019.
(SOUNDBITE OF ARCHIVED RECORDING)
PRESIDENT VLADIMIR PUTIN: (Speaking Russian).
AKINWOTU: And the impact of the Ukraine invasion has been significant. Global prices of grain and fertilizers have soared. This month Russia exited the Black Sea grain deal and is now blocking ships from exporting Ukrainian grain. So Putin announced a plan.
(SOUNDBITE OF ARCHIVED RECORDING)
PUTIN: (Speaking Russian).
AKINWOTU: Russia would deliver free grain to six countries to cushion the blow. But it remains to be seen how it will work and if this summit will truly signal its ties are growing not just in the handful of countries where its activities have sparked concern.
(SOUNDBITE OF MUSIC)
AKINWOTU: This action film is one of the images Russia has tried to project.
(SOUNDBITE OF MUSIC)
AKINWOTU: The opening music from "The Tourist," a 2021 movie financed by Wagner and set in the Central African Republic. In the narrative, the so-called Russian gladiators wade in to save an African country.
(SOUNDBITE OF MUSIC)
AKINWOTU: It's not that far from reality. Russian ties with their governments have deepened in the Central African Republic and Mali. Wagner mercenaries now work side by side with those countries' armies. They've left a long trail of human rights abuses and extrajudicial killings. But across Africa, Russia's activities are different and more complicated.
AMAKA ANKU: Russia's value right now is as a signal that the West is not always going to get what it wants.
AKINWOTU: Amaka Anku is head of Eurasia Group's Africa practice and said aside from some countries like CAR, Mali, Algeria and Egypt, Russia's ties are more symbolic.
ANKU: It's a proxy for saying, we're not picking sides. It's a proxy for pushing back, in some ways, on Western hegemony.
AKINWOTU: In the last few years, competition for stronger ties and influence in Africa has grown more intense between countries like Russia, China and the U.S. But Russia's economic ties are currently weaker.
ANKU: It doesn't have money. It barely buys anything from Africa. It's not selling that much to Africa. In West Africa, much of the relationships is around security because that's what it has to offer. In southern Africa, much of the relationship is around historical bonds because the Soviet Union was there for liberation movements when the West wasn't.
AKINWOTU: And Russia's isolation from the West means it must boost its ties elsewhere.
SAMUEL RAMANI: It's important to keep in mind, for example, that the total trade volume between Russia and Africa is less than that of Turkey.
AKINWOTU: Dr. Samuel Ramani is an analyst and author of "Russia In Africa." He says a key aim for the summit is improving its trade with African partners. Meanwhile, he says, many African countries see the rising competition as an opportunity.
RAMANI: I think the African countries have navigated the competitive terrain, I think, quite deftly. They want to balance and maintain ties with the U.S., Europe, China, Russia.
AKINWOTU: For Russia, the slick optics of the summit is about projecting its importance on the world stage. And more than ever, its ties to African countries are vital to that. Emmanuel Akinwotu, NPR News, Lagos.
(SOUNDBITE OF MUSIC)
NPR transcripts are created on a rush deadline by an NPR contractor. This text may not be in its final form and may be updated or revised in the future. Accuracy and availability may vary. The authoritative record of NPR's programming is the audio record.