Luminary and NPR announce the wide release debut of 'Wisdom From The Top'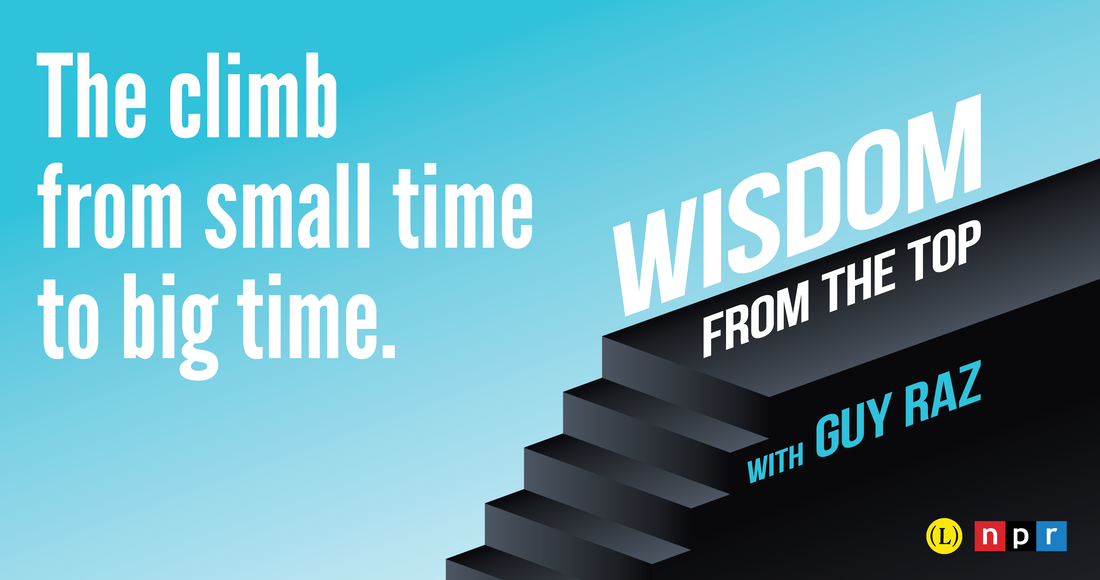 Wisdom From The Top
Introducing Wisdom From The Top
Introducing Wisdom From The Top
Wisdom From The Top
Lego: Jørgen Vig Knudstorp
Lego: Jørgen Vig Knudstorp
NEW YORK, NY, October 6, 2021 - Luminary, a subscription podcast network, and NPR announced that the Wisdom from the Top podcast with Guy Raz is debuting today widely on Apple Podcasts, NPR One, and most podcast platforms. New Wisdom from the Top episodes will drop weekly in 2021 and throughout 2022, and will be available a week early for Luminary channel subscribers on Apple Podcasts and the Luminary app, and then will be available for free to all listeners on NPR One, Apple Podcasts, Spotify, and on most podcast platforms.
Americans have trusted NPR for decades to deliver the most important news and stories happening across our country, and NPR has brought those same top quality standards to podcasting. Luminary was founded to develop and deliver quality premium subscription content, and was recently ranked the second highest subscription podcast channel by Apple. This partnership on Wisdom from the Top capitalizes on the expertise of both platforms.
Wisdom from the Top is a Luminary Original Podcast, in partnership with NPR and Built-It Productions, bringing listeners into conversations with leaders helming today's most powerful corporations and organizations, offering direct access to the secrets, mistakes, regrets, and wins that define modern leadership.
Follow the conversation on Twitter:
In Wisdom from the Top, Host Guy Raz – the creator of How I Built This – invites you to listen in as he talks to leadership experts and the visionary leaders of some of the world's biggest brands. Along the way, you'll hear accounts of crisis, failure, turnaround, and triumph, as the leaders reveal their secrets on their way to the top. These are stories that didn't make it into their company bios, and valuable lessons for anyone trying to make it in business.
"Leading any organization is hard work," said Guy Raz. "Wisdom From the Top is designed to help listeners understand how top-performing leaders navigate the challenges of decision making."
"Guy Raz has defined this genre, weaving together the most important leadership stories of our time, and we are thrilled to partner with NPR – the leader in this space – to share this important content with listeners across the globe " said Simon Sutton, Luminary CEO.
"We are thrilled that these intimate and revealing conversations with industry leaders will now be available for free so a broader audience can benefit from their experience and be inspired by their achievements," said Anya Grundmann, SVP Programming and Audience Development at NPR.
Guests on upcoming episodes of Wisdom from Top feature a dazzling group of modern leaders with compelling stories to share that listeners won't want to miss, including the guests listed below.
Dara Treseder is the Chief Marketing and Communications Officer at Peloton.
As a child growing up in Ibadan, Nigeria, Treseder was often told to get her head out of the clouds. But her mother encouraged her to dream big and to follow her ambition if it would lead her to contentment. For Treseder, that meant moving across the world to attend both Harvard and Stanford, and chasing a deeply-held desire to make a positive impact on the world. Her career in marketing began with stints at Apple and Goldman Sachs, then, in 2020, she became SVP, Head of Global Marketing and Communications at Peloton. Today, she is one of the most influential marketing leaders of her generation.
Jim Collins, author of Built to Last: Successful Habits of Visionary Companies, Collins is a student and teacher of what makes companies great, and a Socratic advisor to leaders in the business and social sectors.
It's not an understatement to say that Jim Collins is one of the most influential business writers in modern history. Collins, however, thinks of himself more as a researcher than an author. Each of his books, which includes Good to Great, Built to Last, and his newest BE 2.0, requires five or six years of crunching data before the writing can begin. But what's even more remarkable about Collins is his own background, and how he built a career out of making unorthodox choices.
Ken Chenault is the former CEO and Chairman of American Express.
Kenneth Chenault learned early on to only worry about the things he could control, this helped him when life—and business at American Express—threw unpredictable events his way. He broke barriers as the company's first African American CEO and helped turn AmEx from a traveler's check company into a credit card powerhouse.
Indra Nooyi is the former Chairperson and CEO of PepsiCo.
After becoming the CEO of PepsiCo in 2006, Indra Nooyi became the first woman and immigrant to run a Fortune 50 company. From Chennai, India to Yale's School of Management, Nooyi worked her way up from The Boston Consulting Group, Motorola, and ASEA Brown Boveri before eventually landing at PepsiCo, overseeing the global operation of its countless drinks, snacks, and restaurants. Nooyi's new memoir "My Life in Full" details her legendary career, exploring her extraordinary personal journey and the demands of being one of the most powerful women on the planet.
Jørgen Vig Knudstorp was executive chairman and CEO of the Lego Group.
For years, it was a secret: the family that owned LEGO was actually losing money on the company. The man who built the company back up into one of the biggest toymakers in the world, Jørgen Vig Knudstorp, reveals his controversial plan that led LEGO back to profitability. It leaned on something that has always been LEGO's strength: the creativity and passion of the children and adults who love to play with Legos.
Dr. Ellen Ochoa, a veteran astronaut, was the 11th director of the Johnson Space Center. She was JSC's first Hispanic director, and its second female director. She became the first Hispanic woman to go to space when she served on the nine-day STS-56 mission aboard the space shuttle Discovery in 1993. Born in California, Ochoa earned a bachelor's degree in physics from San Diego State University and a master's degree and doctorate in electrical engineering from Stanford University. She is a co-inventor on three patents and author of several technical papers. Ochoa has been recognized with NASA's highest award, the Distinguished Service Medal, and the Presidential Distinguished Rank Award for senior executives in the federal government.
After one of the most deadly disasters in the history of space flight, Ellen Ochoa was a leader in NASA's recovery. She fixed the technical things that went wrong, but the most critical changes, she says, were human. Why she thinks it's important to make sure that naysayers always have a voice, and how to encourage employees to do something very difficult: disagree with the boss.
About Guy Raz
Guy Raz is an award-winning reporter and radio and podcast host and creator, and independent producer. Raz has been described by the New York Times as "one of the most popular podcasters in history." He is the founder and CEO of Built-It Productions and the creator and the creative force behind How I Built This. He's also the former host and co-creator of TED Radio Hour. Raz is the co-founder of Tinkercast, a children's media company that produces audio podcasts and educational content for kids. Raz co-created and hosts one of those programs, Wow in the World—the number one kids podcast in English. He's also the creator/host of Wisdom from the Top, a podcast about leadership and The Rewind on Spotify, a program about music. Together, Raz's programs are heard by nearly 19 million listeners a month. In 2017, Raz became the first person in the history of podcasting to have three shows in the top 20 on the Apple Podcast charts.
About Built-It Productions
Built-It Productions LLC is a media production company founded by Guy Raz. It produces podcasts, including How I Built This with Guy Raz, Wisdom From the Top, and The Rewind with Guy Raz, and other media content, including the New York Times bestselling book, How I Built This.
About NPR
NPR, which is celebrating its 50th anniversary this year, is widely known for its rigorous reporting and unsurpassed storytelling that connects with millions of Americans every day — on the air, online, and in-person. NPR strives to create a more informed public — one challenged and invigorated by a deeper understanding and appreciation of events, ideas, and cultures. With a nationwide network of award-winning journalists and 17 international bureaus, NPR and its Member Stations are never far from where a story is unfolding. Listeners can find NPR by tuning in to their local Member stations (npr.org/stations), and now it's easy to listen to our stories on smart speaker devices. Ask your smart speaker to, "Play NPR," and you'll be tuned into your local Member station's live stream. Your speaker can also access NPR podcasts, NPR One, NPR News Now, and the Visual Newscast is available for screened speakers. Get more information at npr.org/about and by following NPR Extra on Facebook, Twitter and Instagram
About Luminary
Luminary is a subscription podcast network with an award-winning lineup of original shows you won't find anywhere else. Subscribers enjoy unlimited access to the full collection of Luminary Original Podcasts, featuring celebrated creators, diverse voices, and important stories told through a new lens. You can find Luminary's original content via the Luminary app, available on iOS, Android, and the web, and on Apple Podcasts Luminary channel.
Luminary was founded by Matt Sacks in 2018 with backing from NEA, a global venture capital fund. Driven by a love for podcasts, Luminary is elevating the podcasting experience for both listeners and creators.
Luminary offers all listeners a seven-day free trial. After the free trial, the annual subscription is $34.99, or the equivalent of about $2.99 per month. Luminary also offers a monthly subscription for $4.99. International pricing is similar to US pricing, with annual and monthly plans available in each territory.
Media Contacts: