2015 Peabody Award For NPR's Investigation Of Secret Mustard Gas Testing
Recognition Marks 63rd Peabody Award For NPR
Courtesy of Edgewood Arsenal
Delve Into The Award-Winning NPR Investigations Series On Secret Mustard Gas Testings at NPR.org
Public Radio Station WQXR's Meet The Composer Also A Peabody Winner
April 19, 2016; Washington, D.C. – A groundbreaking special series and public interactive database by NPR's Investigations Unit uncovering race-based secret mustard gas testing during WWII has earned a 2015 George Foster Peabody Award. This series revealed, for the first time, that the Pentagon exposed more than 60,000 African-American and Japanese-American troops to mustard gas to look for racial differences in reactions, and that the Department of Veterans Affairs broke their promise to find and help the affected men.
"This is an excellent case of how a young journalist's instincts ended up helping some of our oldest surviving veterans," said NPR Senior Vice President of News and Editorial Director Michael Oreskes. "Holding government institutions to account is one of our most important roles, even if it takes a long time. The army conducted these tests more than 70 years ago. But it took Caitlin Dickerson's curiosity and reporting to reveal that the chemical weapons testing was based on race. And with the help of Barbara Van Woerkom's relentless research, they did what the VA said it could not do—find the surviving veterans."
As part of the series, NPR amassed the first public database of American veterans who were exposed to mustard gas through testing. NPR's interactive database, compiled over six months, includes more than 3,900 individuals and information about the last known location of more than 1,700 of them. The database is continuously being updated and available at NPR.org.
This award is shared among members of NPR's Investigations Unit including Caitlin Dickerson, reporter; Barbara Van Woerkom, research librarian; Nicole Beemsterboer, senior producer; and Robert Little, senior supervising editor. In addition, Ariel Zambelich, news picture editor, and Christopher Groskopf, of the NPR Visuals Team, contributed to the visual and online reporting and production.
NPR's investigative reporting triggered impassioned and affecting responses from the families of these soldiers and by the Department of Veterans Affairs. Because of these pieces, lawmakers across the country have also promised to take action to ensure the test subjects receive compensation.
Scars Of The Past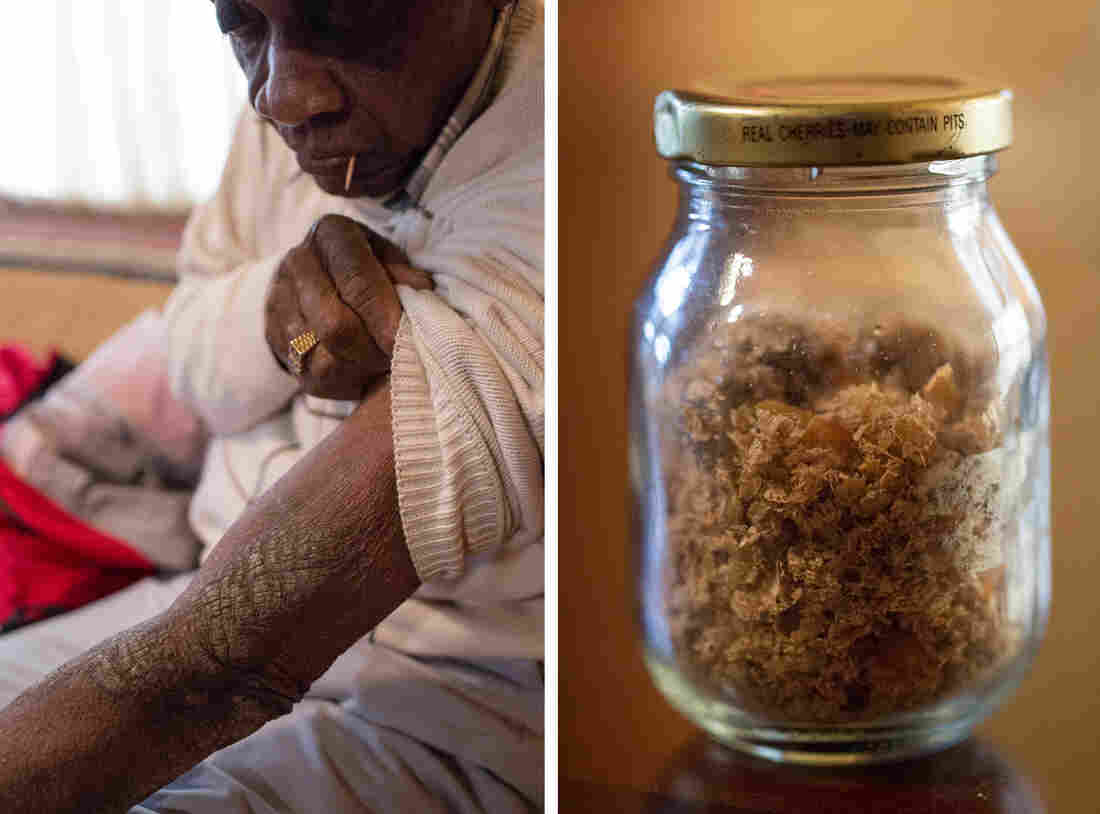 The Peabody Award for NPR's reporting on the secret mustard gas testings is NPR's 63rd nod from the prestigious program recognizing excellence in work by radio and television stations, networks, webcasters, producing organizations and individuals.
Among this year's Peabody winners is another member of the public radio family with WQXR's Meet The Composer earning recognition in the radio/podcast category. Hosted by critically-acclaimed violist Nadia Sirota, the podcast takes listeners into the minds and creative processes of the composers making some of the most innovative, compelling and breathtakingly beautiful music today.
A full list of this year's winners is available at the Peabody Awards website.
About NPR
NPR connects to audiences on the air, online, and in person. More than 26 million radio listeners tune in to NPR each week and more than 30 million unique visitors access NPR.org each month making NPR one of the most trusted sources of news and insights on life and the arts. NPR shares compelling stories, audio and photos with millions of social media users on Facebook, Twitter, Instagram, Pinterest, YouTube and Snapchat; NPR News and NPR One apps, online streaming, podcasts, iTunes radio and connected car dashboards help meet audiences where they are. NPR's live events bring to the stage two-way conversations between NPR hosts and the audience in collaboration with the public radio Member Station community. This robust access to public service journalism makes NPR an indispensable resource in the media landscape.
Contact
NPR Media Relations / mediarelations@npr.org