NPR News Interviews Outgoing California Governor Jerry Brown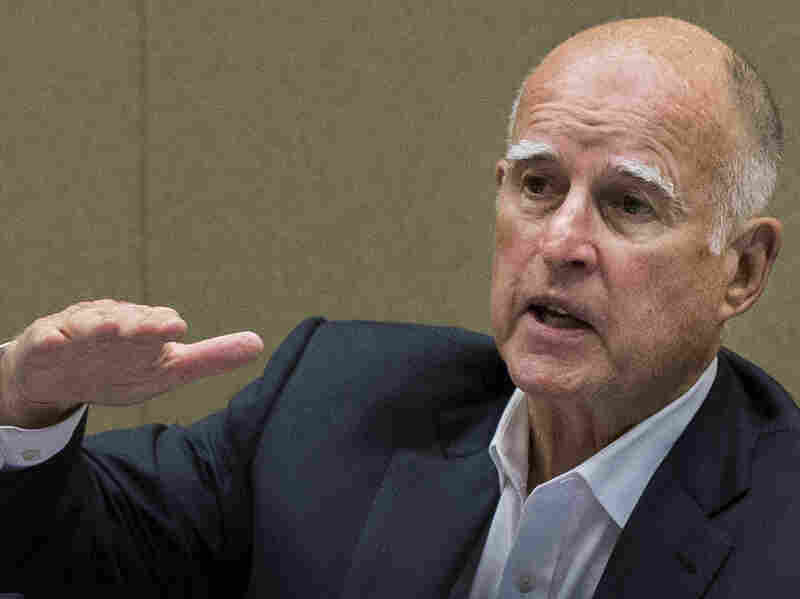 Tuesday, December 11; Washington, D.C. –California Governor Jerry Brown spoke to NPR's Ari Shapiro in a broad ranging interview that will air on Tuesday's All Things Considered. In one of Governor Brown's first exit interviews since the midterm elections, he talks to NPR about what the nation can learn from California's fiscal solvency, the work to be done on climate change, the escalating problem of wildfires, the housing crisis in California and his legacy moving forward. Jerry Brown served as governor from 1975 - 1983 and then again from 2011 through the end of 2018, shaping the politics of both the most populace state in the nation, but also the nation itself.
Stations and broadcast times are available at NPR.org/stations.
Excerpts of the interview are available below and can be cited with attribution to NPR. A full transcript will be made available after the interview has aired. Audio clips are available upon request, please email mediarelations@npr.org.
On why a great economy in California is actually exacerbating some of the state's worst problems;
"With all these rich kids making millions of dollars in Silicon Valley, they're bidding up the price of real estate... and the automation is such that a lot of people are what they call redundant... because the economy doesn't have a role for them. And that's where creative political leaders are going to have to find a way to tame capitalism."
On whether he did enough to create more affordable housing over the past eight years;
"There's a lot of resistance to changes. To density in neighborhoods that don't want density. In many ways I don't blame them. The relationship between income and housing has been growing unfavorably for decades, and now it's at its highest peak. So how do you change that absent a deep recession? That's a real puzzle. I don't think you can mandate lower prices because people want the value of their homes. I don't think you can build housing and pay for it by taxing hard-pressed middle-class people among others to pay for it... If you come back to me in four years, I assure you we're going to have the same problem we have today."
On whether politicians will take hard steps to help mitigate climate change;
"The evidence doesn't warrant real deep confidence... The climate danger and damage is much greater than people are talking about and it's going to get here much sooner. I'm sure that the political leaders will respond after we have four or five more disastrous fires, or four or five floods and hurricanes and tornadoes and all that. The problem is the cost will be much higher and the political wreckage that much greater because the burden of spending to transition to a non-carbon world will be much higher, much harder and wrenching to the democratic political system."
On the rising threat of catastrophic, deadly wildfires in California;
"The fires are going to get worse. They're not going to get better... So, look, the disaster planning has to increase, the management of our lands has to intensify – and that's going to cost you know, if not hundreds of millions, probably billions. And then each person has to take responsibility and learn where they are and what they can do to reduce vegetation, find an escape route. We're in a new abnormal. And I'm not going to give you a nice little 'everything is fine; just do a, b and c and you'll be safe.' No. We're in great danger and the danger will intensify. And I'm sure politicians will respond but probably too slowly."
On trying to roll back tough crime legislation, and policies that contributed to mass incarceration;
"We really went overboard... In California we went from 25,000 people in prison to 173,000. From 12 prisons to 35. That's way over. But pulling that back is a slow slog... How long do you want to lock somebody up at what expense? I would say we've gone way overboard and we have to very carefully pull back. That's happening in California, it's happening across the country. But we got a long way to go."
Contact:
Ben Fishel
NPR Media Relations
Email: mediarelations (at) npr.org