Planet Money Summer School Is in Session
Planet Money Summer School Is in Session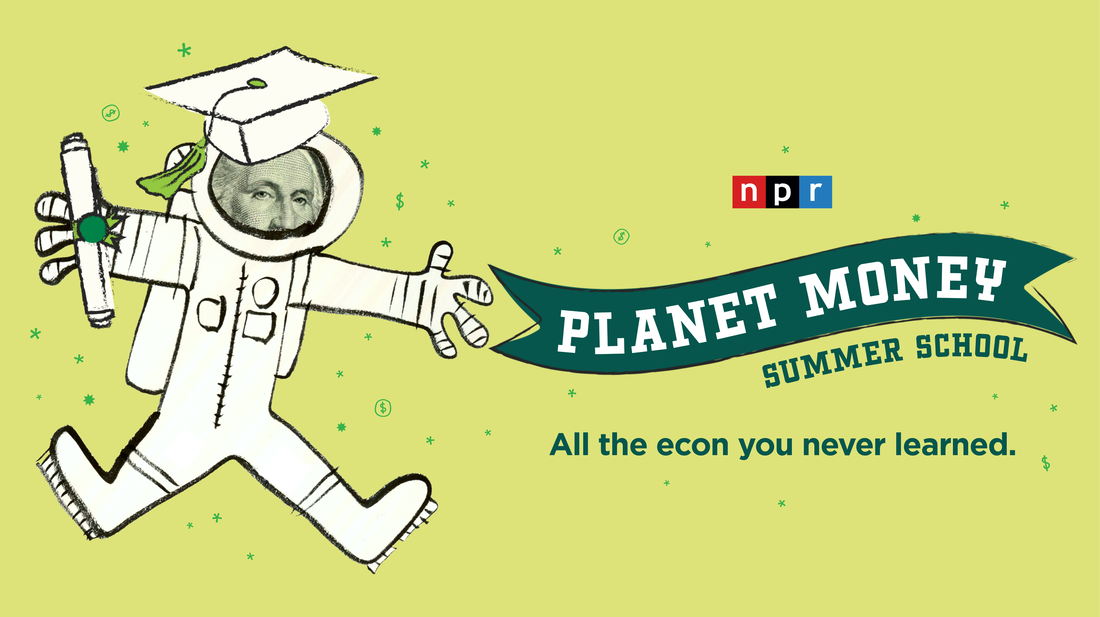 Monday, July 6, 2020; Washington, DC — Economics is a way of thinking. Understanding the fundamental concepts is a form of power in the world and Planet Money wants to bring that to everyone. Cue the trumpets because it's time for Planet Money Summer School: an economics education for your ears.
If you vaguely remember concepts like "diminishing marginal utility" or "opportunity cost" from school, we're here with a refresher. If that last sentence is just word salad to you, we're showing up for you twice as hard.
Here's the plan:
For nine weeks, from July 8th to September 2nd, Planet Money is turning it's podcast feed into a classroom for the masses. Using Planet Money's signature style of narrative storytelling, each episode will have two parts: a human story with characters facing real world decisions and a followup conversation with economics professors who reveal a layer of economic principles beneath the story you just heard. This is for anyone who wants to see the world through the lens of an economist, from the econ-curious life-long learners, to the first-year analyst feeling imposter syndrome, to everyone who wants to feel a little less overwhelmed when they sit down to make financial decisions.
"Don't worry. We aren't going to graph supply and demand curves on the radio," says Robert Smith, host of the series. "Summer School will feature the same riveting tales that Planet Money is famous for, but it will also give listeners a tool-kit for understanding the way money plays a crucial role in our lives, our careers and the future of the planet."
With us on this educational journey will be economic power couple Justin Wolfers and Betsey Stevensen, professors at the University of Michigan and authors of a new textbook that brings a fresh, modern take on the old economic principles. Both are alums of the several economic councils and their college classes fill up fast every semester...but when they're not teaching, writing or raising their two kids, they're just plain fun to hang out with. We are not lying.
There may even be a tongue-in-cheek final exam at the end to test your knowledge. Maybe we'll fire off some short videos with unusual ways, like this or this. We'll see. Gotta save some surprises.
For the educators out there, this is designed to be a breezy and fun companion to your assigned readings. We apologize in advance if it renders the usual textbook approach dull by comparison.
Concepts covered will include:
How to optimize investments, of time and money
Public goods & the tragedy of the commons
Risk, imperfect information & moral hazard
Tariffs and regulation
Taxation & incentive thinking
Scarcity, trade-offs and how to talk with your wallet
Marginal costs
Hear a trailer for Planet Money Summer School: HERE
Subscribe wherever you get your podcasts: NPR ONE; APPLE PODCASTS; GOOGLE PODCASTS; POCKET CASTS; SPOTIFY; RSS LINK
For more information and updates, follow Planet Money on Facebook, Twitter and TikTok and use the hashtag #PMSummerSchool.
You can also visit: http://npr.org/pmsummerschool (Link live 7/15/20)
About Planet Money
Planet Money is a twice-weekly podcast from NPR. The team also produces radio segments for Morning Edition and All Things Considered. Imagine you could call up a friend and say, "Meet me at the bar and tell me what's going on with the economy." Now imagine that's actually a fun evening. That's what we're going for at Planet Money. Since its launch in September of 2008, Planet Money has won numerous journalism awards and has consistently been included among the most popular podcasts in the world.
About NPR:
NPR's rigorous reporting and unsurpassed storytelling connect with millions of Americans every day — on the air, online, and in person. NPR strives to create a more informed public — one challenged and invigorated by a deeper understanding and appreciation of events, ideas, and cultures. With a nationwide network of award-winning journalists and 17 international bureaus, NPR and its Member Stations are never far from where a story is unfolding. Listeners can find NPR by tuning in to their local Member stations (npr.org/stations), and now it's easy to listen to our stories on smart speaker devices. Ask your smart speaker to, "Play NPR," and you'll be tuned into your local Member station's live stream. Your speaker can also access NPR podcasts, NPR One, NPR News Now, and the Visual Newscast is available for screened speakers. Get more information at npr.org/about and by following NPR Extra on Facebook, Twitter and Instagram.
Media Contact
Ben Fishel, NPR Media Relations
mediarelations@npr.org