The Simple & Savvy Wine Guide
Buying, Pairing, And Sharing for All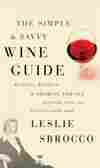 Paperback, 339 pages, Harpercollins, List Price: $14.99 |
purchase
Buy Featured Book
Title

The Simple & Savvy Wine Guide

Subtitle

Buying, Pairing, And Sharing for All

Author

Leslie Sbrocco
Your purchase helps support NPR programming. How?
Book Summary
A down-to-earth primer by the author of Wine for Women provides easy-to-use shopping tips, top-ten lists, and other accessible guidelines designed to take the stress out of selecting wines and serving the most compatible varieties for a range of occasions. Original.
NPR stories about The Simple & Savvy Wine Guide
Picking The Perfect Wine For Your Holiday Meal
Excerpt: The Simple & Savvy Wine Guide
The Simple & Savvy Wine Guide
Buying, Pairing, and Sharing for All
---
HarperCollins Publishers, Inc.
Copyright &copy 2006
Leslie Sbrocco
All right reserved.ISBN: 0060828331
---
Chapter One
Wines by Mood
This section focuses on celebrating with wine whether you're getting married, throwing a casual party, or going on a picnic. Toasting an anniversary or heading out on a first date? Take a suggestion from my Sexy Wines roundup. Stressed-out and dreaming of sipping bubbly while soaking in suds? See my recommendations for Bathtub Wines. Feeling like a vinous trip around the world or checking out the hottest spots for new wines? Thumb through my Virtual Vacation Vinos or Hot Spots for ideas. Grab your mood ring and see what you feel like tonight.
Wedding Wines
Selections to Celebrate the Big Day
It's the big day and everything has to be just right. So whether you, your parents, or your future in-laws are footing the bill, here are wine ideas to help out. My picks range from bargain options to luxury selections that meet the following criteria:
They overdeliver in the quality department but aren't overexposed
Are generally available in restaurants, hotels, and retail outlets
The packaging — from bottle to label — is attractive and appealing
If your wedding reception is to be held at a restaurant or hotel, you can select wine from their list or ask if you can bring in your own. If you choose the latter, you will usually be charged a corkage fee, which ranges from zero to $20-plus per bottle depending upon the venue. It covers staff services and stemware.
Look for . . .
Bubbles: Nothing signals celebration and pleasure like sparkling wine. Bare minimum, you'll need at least one glass per person for cake cutting. Think about serving sparklers throughout the meal, as well as offering white and red wine.
Whites: For crowd-pleasing wine that goes well with a variety of food including appetizers, fish, and chicken, I recommend a fruity Sauvignon Blanc and lighter-styled, crisp Chardonnay.
Reds: My favorite choice is elegant Pinot Noir because it's so food-friendly, but it is often expensive. Another top pick is a juicy Cabernet Sauvignon or smooth Bordeaux-style blend (which includes a varying mix of Cabernet Sauvignon, Merlot, Cabernet Franc, Malbec, and Petite Verdot). This last option satisfies those looking for fuller-bodied reds, but because the hallmark of these blends is suppleness they work well with dishes from chicken to steak.
Want more picks? Check out: Holiday Spirit, Twice-the-Price Wines, Bathtub Wines, Summer Wines, Spring Wines
Picnic Picks
Portable picks for al fresco fun
The great outdoors is calling, and it's asking you to bring wine. Whether you're camping, picnicking, or attending a block party, these fun wines are the ideal beverage to tote along. All of them represent the hottest trend in wine these days: alternative packaging. From jugs to single-serve plastic bottles, tubes, to Tetra Paks, screw caps to Zorks, wine packaging is going hip. Wine-savvy drinkers are embracing these innovations with a passion. My Picnic Picks meet the following criteria:
First and foremost, they have to taste good. These are all well-made wines.
They look hip and are portable. Many selections come in traditional bottles as well as single-serves, magnums, or boxes.
Prices are modest enough to stock up.
Look for . . .
Whites: You'll find mostly familiar varieties such as Chardonnay, Sauvignon Blanc, and Pinot Grigio. A number of brands are going upscale and offering great quality in creative packaging.
Pinks: If you shun pink wine, you're missing a lot. There are sweeter versions and dry versions. Blush wines — often indicated with the word white (i.e., White Zinfandel, White Merlot, White Shiraz) — all fall on the lightly sweet side of the scale. When well chilled the sweetness is less apparent. Dry pinks will often say "dry" on the label or be called rosé.
Reds: Think Zinfandel, lighthearted Merlot, and Shiraz.
Want more picks? Check out: Twice-the-Price Wines, Off-the-Grill Wines, Summer Wines, Snack Attack Party Food
Party Wines
Twelve bottles under $10 to please any crowd
When you're having a party, you need to load up on inexpensive wines. Here is a case of top picks that meet the following criteria:
Are widely available in grocery and wine stores.
Are focused on the most popular wine types.
Look for . . .
Whites: Despite the ABC movement (anything but Chardonnay), Chardonnay remains the favored white wine in America. Look for wines from South Eastern Australia and California for deals. Fruity, crisp Sauvignon Blanc is also a crowd-pleaser.
Reds: Syrah, also known as Shiraz, is hot these days. Look to Australia for well-priced options. Try soft and juicy Merlot from Washington State and California Zinfandel.
Want more picks? Check out these lists: Holiday Spirit, Twice-the-Price Wines, Summer Wines, Picnic Picks
Girls' Night In
Celebration of femme fatale wines
Book Club and Bunco nights are often just an excuse for a group of friends to get together to drink wine and talk. Whatever the reason, how about spending a night celebrating the femmes fatales of the wine business? The majority of wine consumers are female, yet women represent a minority in winery boardrooms and cellars. That's changing all across the wine world, though, so let's raise a glass to these amazing women . . . and their wines.
My picks range from bargain options to luxury selections that meet the following criteria:
They are top-notch examples of region and type.
Wineries are either owned by women or the wines are made by women winemakers.
The brand honors a woman in wine.
Sexy Wines
Belly-button sippers from syrah to sauternes
Wine has been the elixir used to lube relaxation gears and induce romance. So whether you're proposing marriage, going on a first date, celebrating an anniversary, or just kicking back on a Saturday night with your sweetie, try uncorking one of my belly-button sippers. My picks range from bargain options to luxury selections that meet the following criteria:
Have an exotic quality that stimulates your senses.
Are attractive to admire in the glass and intensely aromatic.
Sport a sensuous, fleshy, mouth-filling texture.
Look for . . .
Continues...