Descent into Chaos
The United States and the Failure of Nation Building in Pakistan, Afghanistan, and Cenral Asia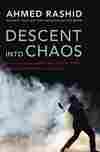 Hardcover, 484 pages, Penguin Group USA, List Price: $27.95 |
purchase
Buy Featured Book
Title

Descent into Chaos

Subtitle

The United States and the Failure of Nation Building in Pakistan, Afghanistan, and Cenral Asia

Author

Ahmed Rashid
Your purchase helps support NPR programming. How?
Book Summary
Examines how the failure of the nation building policies of the United States have contributed to increased instability in both Pakistan and Afghanistan, a result which represents the greatest threat to peace and security in the global community.
NPR stories about Descent into Chaos
Ahmed Rashid: Taliban Activity Up In Pakistan
Will Obama Bring Change To Afghanistan, Pakistan?