The Garden Primer
Paperback, 673 pages, Workman Pub Co, List Price: $17.95 |
purchase
Buy Featured Book
Title

The Garden Primer

Author

Barbara Damrosch, Linda Heppes Funk, et al
Your purchase helps support NPR programming. How?
Other editions available for purchase:
Paperback,
820 pages
, Workman Pub Co
, $18.95
, published February 28 2008
|
purchase
Buy Featured Book
Title

The Garden Primer

Author

Barbara Damrosch, Linda Heppes Funk, et al
Your purchase helps support NPR programming. How?
Book Summary
Offers advice on buying and growing different kinds of plants with an emphasis on the use of native plant species and the techniques of organic gardening.
NPR stories about The Garden Primer
Preparing For A Fall Harvest
Dodging E. Coli Contamination on the Farm
Excerpt: The Garden Primer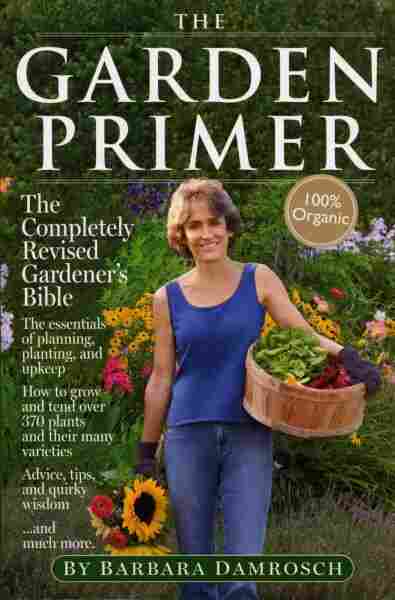 Green Side Up
I firmly believe that in order to learn anything you have to be willing to ask dumb questions. People often say to me, "I don't know anything about gardening," and some of them just let it go at that. Intimidated by the sheer volume of gardening lore that exists, much of it very scientific and arcane, they leave gardening to those who presumably have lots of time to read and better yet, have a "green thumb." But others, unable to resist a pastime they suspect may be a lot of fun, wade right in. I love people who ask things like "Why should I prune my plants?" or "What is mulch?"
The aim of this book is to answer as many fundamental questions about gardening as possible. I may not be able to anticipate everything you want to know, but I will explain how pruning can make your plants bushier, more compact, or more fruitful. I will tell you that mulch is a layer of material, such as shredded bark, that you lay down on the ground chiefly to keep weeds from growing and to keep the soil moist. And I will try to come to your aid when you're standing there alnoe in the garden, holding a plant that looks like an amorphous tangle, and you have no idea what to do with it. If I could go out there with you, I would tell you what my nurseryman friends Mary Ann and Frederick McGourty used to tell their fledgling workers: "Plant it with the green side up." Everyone has to start somewhere.
I'm the first to admit that I have my own idiosyncratic approach when it comes to gardening. Someone once called me an "old-fashioned dirt gardener," and I guess the description fits. I use almost no commercial fertilizers and no pesticides at all, except the occasional soap spray. I prefer hand tools to power ones. I take my cues from the way nature gardens, and also from the gardens of the past. I read as much as time allows about scientific advances in horticulture, and I'm usually willing to try something new, but most of what I do has come from just plain experience. There's no substitue for spending time in your garden and using all your senses to judge the results. Are your plants' leaves a healthy green? Does your soil feel porous and fluffy when you stick your fingers into it? Does your sick plant have bugs on it, or is there evidence of disease? Far more gardens fail because the gardener is absent or not paying attention than because he or she lacks erudition. Yes, you need to know your ABCs, but the more you garden, the more you'll learn what works and what doesn't.
One of the hazards of writing a gardening book is that the author is addressing gardeners in many different localities with many different climates, soil types, and selections of plants to choose from. The more exact the information I give you, the less it may apply to the specific conditions of your very own yard. I'd have to tell you what to add to your soil, for example, without knowing what is already in it. I've tried, therefore, to steer away from formulas, though there are times when saying "Add some fertilizer" is not enough. ("Should I add a spoonful or a bucketful?" I hear you asking) So use my recommendations as a starting point, and try to learn as much as you can about your own garden's needs. Local resources such as nurseries, universities, and the Cooperative Extension Service can be very helpful.
You'll find most of the general information about gardening in the first four chapters of this book; the rest deals with specific kinds of plants. Use the book by going back to the early chapters if you need to have one of those basic quesions answered. The index will help you if a cross-reference does not steer you to the answer at the point where you need it.
Gardening, for all its down-to-earthness, has always had some mystery about it, a mystery that each culture had its own ways of expressing. In olden days you might have had a village maiden dance around the fire to woo the corn god, or made a burnt offering of the harvest to thank the deity that made it possible. Now we do soil tests, make tissue cultures, and even try to become gods ourselves in our quest to create new genetic plant material. But I don't think we'll ever shed so much light on the subject that we dampen the awe a gardener feels when the first vegetable seedlings poke up in spring. We may never explain why we're drawn to flowers just as butterflies and bees are, even though normally we have no role in their pollination. Perhaps their form and fragrance are luring us to some fateful role in their survival. We'll never know all there is to know about gardening, and I'm glad there will always be some magic about it.
So just go out there and start doing it. It's often said that a green thumb is a dirty thumb. Choose good spots for your gardens, prepare the soil well, keep a close eye on things. And remember: the green side is always up.