Wiser in Battle
A Soldier's Story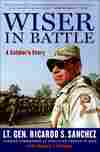 Hardcover, 494 pages, Harpercollins, List Price: $26.95 |
purchase
Buy Featured Book
Title

Wiser in Battle

Subtitle

A Soldier's Story

Author

Ricardo S. Sanchez and Donald T. Phillips
Your purchase helps support NPR programming. How?
Book Summary
The former commander of coalition forces in Iraq describes how he went from a poverty-stricken youth in Texas to a successful military career, and provides an insider account of the Iraq War and the way in which it has been mismanaged.
NPR stories about Wiser in Battle
Excerpt: Wiser In Battle
Wiser in Battle
A Soldier's Story
---
HarperCollins Publishers, Inc.
Copyright © 2008
Ricardo Sanchez
All right reserved.ISBN: 9780061562426
---
Chapter One
The Rio Grande Valley
My soul is anchored in a poverty-stricken town on the desolate banks of the Rio Grande River—an international boundary that separates a superpower from a country still struggling to make its way out of the Third World. Less than a hundred miles down the road are the Texas cities of McAllen, Harlingen, and Brownsville. But just on the other side of the river, some 1,200 meters to the south, is Mexico. The flowing water, itself, provides an oasis of life in the dusty, desert landscape—nourishing the plants, animals, and people gathered along its meandering path.
Rio Grande City, where I was born in 1951, is one of the oldest settlements in South Texas. It flourished around Fort Ringgold, a military outpost established in 1848 in the wake of the United States–Mexico War. Occupied by Confederate forces during the Civil War, and the federal cavalry afterward, Fort Ringgold was eventually closed, but was reactivated for brief periods of service during World War I and World War II. Despite the continuing presence of the U.S. military, Rio Grande City had a checkered history marked by ethnic hatred and racial intolerance.
I grew up in a Hispanic community among people who possessed little of material value. My own family was among the worst off in the neighborhood. But our poverty was balanced by a tight-knit network of extended relatives steeped in faith, tradition, and the strong values of honesty, integrity, and respect. The adults in our family were Rectos—Spanish for those whose very frames stand erect with honor and pride.
My father Domingo Sanchez was the son of a baker who had emigrated to Rio Grande City from Camargo, Mexico (directly across the river), at the turn of the century. His first marriage produced two sons, Ramon and Domingo Jr. (Mingo). During World War II, Dad was exempt from military service because of his critical skill job as a welder who built airplanes at Laredo Air Force Base. After the war ended, he returned to Rio Grande City because, as he said, "Laredo was too far away from home." It was there where in 1948 he met and married my mother, Maria Elena Sauceda, who was seventeen years his junior.
Mom also had deep Mexican roots. Her family emigrated to Rio Grande City around the turn of the century. Her grandfather was a Yacqui Indian, native to northern Mexico, who wore all whites, a sash, and sandals, and carried a machete with him wherever he went. He and his wife went off to fight in the Mexican Revolution and never returned. It's believed they were killed in battle. Their young son, Carlos Sauceda, was raised in Rio Grande City by his maternal grandparents. Eventually, he married Elena Morales, who gave birth to my mother in 1927.
Soon after they married, my parents' family began to grow. Roberto was born in 1949, then me in 1951, then Leonel three years later. After that, Magdelena de los Angeles, David Jesus, and Diana Margot came along spaced evenly about eighteen months to two years apart. We lived among the dingy, dusty houses that decorated the bedraggled Roosevelt Street. Right across the street from us was the Benito Gonzalez family. They had more than a dozen kids and were migrant workers. Because their family needed money, the Gonzalez kids left school around the age of twelve or thirteen and went to work full-time.
The first house we lived in was an old military barracks that my dad bought dirt-cheap from one of the former World War II camps. I remember them hauling it onto our property and setting it up on concrete blocks. It was only one room, fifteen feet wide by twenty-five feet long, without doors, windows, a bathroom, plumbing, or electricity. We never owned a television. For heat in the winter, my parents would gather mesquite branches from the woods and build a fire. They would place the burning embers into an old aluminum tub and bring it into the house for us to gather around. There was an outhouse on the back part of the lot and, in the far corner, we had a little wooden shack that we used for bathing. The water line on the property stretched from the front to the backyard. It was nothing more than a pipe sticking out of the ground with a faucet on it. So we filled a pail there, hauled it to the shack for bathing or into the house for cooking.
We lived in that one-room house for four or five years, until my father saved up enough money to build a small brick house on the same lot. It had only a tiny living room (about eight by ten feet) and two small bedrooms, but the brick exterior made a big difference in holding the warmth in on cold winter nights. As our family grew, Roberto and I slept in one bedroom in our own bunk beds—and the living room became a third bedroom. On a bunk bed there, my younger brothers Leo and David slept together in the top bunk, and my sisters Maggie and Diana slept in the bottom one. When that house was built, all the necessary water pipes were run in, but my father couldn't afford to buy sinks, bathtubs, or toilets, so we continued to use the outhouse and the shack in the backyard.
Because my dad earned very little as a welder, we were on welfare during most of my youth. I remember standing with my mother in the welfare lines every Thursday waiting to receive allocations of pork, beef pieces, applesauce, cheese, flour, and rice, the bulk of which was gone in a day or two. Then we were back to our normal staples of beans and rice.
Continues...<!— copyright notice —>