A Pint of Plain
Tradition, Change, and the Fate of the Irish Pub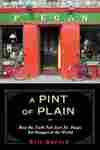 Hardcover, 242 pages, St Martins Pr, List Price: $25 |
purchase
Buy Featured Book
Title

A Pint of Plain

Subtitle

Tradition, Change, and the Fate of the Irish Pub

Author

Bill Barich
Your purchase helps support NPR programming. How?
Book Summary
Describes the author's search for a classic pub, traces the evolution of the Irish Pub Company chain in foreign countries, and explores the role of Irish music and drunk-driving laws on pub success.
NPR stories about A Pint of Plain
The 'Lost Magic' Of The Irish Pub
Excerpt: A Pint Of Plain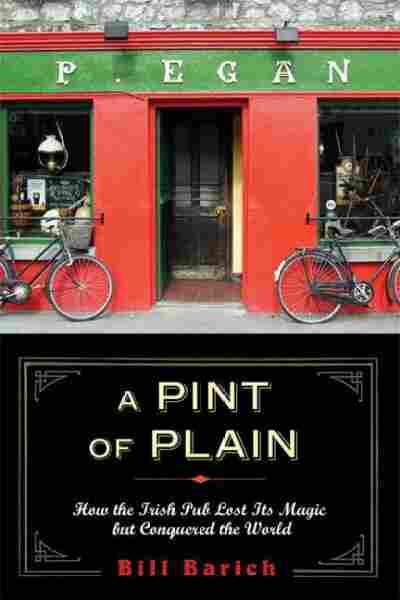 A PINT OF PLAIN
Tradition, Change, and the Fate of the Irish Pub
---
Walker & Company
Copyright © 2009
Bill Barich
All right reserved.ISBN: 978-0-8027-1701-6
---
Contents
Chapter 1:  A Pint of Plain..........................................1Chapter 2:  Jack Birchall's Ranelagh House...........................5Chapter 3:  A Shock to the System....................................23Chapter 4:  The Ancient Birthplace of Good Times.....................37Chapter 5:  Mirth Is God's Medicine..................................61Chapter 6:  The Gravediggers.........................................83Chapter 7:  The Halcyon Days of Manhood..............................105Chapter 8:  The Cobblestone..........................................127Chapter 9:  The Folly of Cong........................................151Chapter 10: A Wise Man, Indeed.......................................173Chapter 11: Closing Time.............................................197Chapter 12: Journey's End............................................219Acknowledgments......................................................237Bibliography.........................................................239
Chapter One
A PINT OF PLAIN
You could say my fascination with the Irish pub began long before I ever set foot in Ireland. Like so many other romantics, I was steeped in the allure of the country through the work of its great writers and musicians, and I thought of it as an enchanted land beyond the grip of change. I'd seen The Quiet Man far too many times, as well, and though I knew the movie was sentimental, filled with stereotypes, and deliberately unreal-a "beautiful travelogue," John Ford called it-I let it color my perceptions and felt compelled to start looking for a local as soon as I settled in Ranelagh, a neighborhood south of the Liffey, where I joined a lovely Dublin woman I had the good luck to meet on holiday in London and the good sense to follow home.
In my innocence, I assumed it would be easy to find a pub as devoutly Irish as Pat Cohan's in Cong, the village in County Mayo where The Quiet Man was filmed in 1951. The city might not deliver a whitewashed cottage with a thatched root, of course, but surely there would be many bars where a sense of tradition prevailed, and a genial but hardnosed publican kept the intrusions and distractions of the civilized world at bay to allow the art of conversation to flourish. Ireland has about twelve thousand pubs to choose from, after all. Moreover, I'd been in training for the job most of my life, starting as a bored college student trapped in the snowbound wastes of upstate New York. Whenever my boredom peaked, I had one remedy only. I hitched a ride to Manhattan, wallowed in the beery charm of such iconic spots as McSorley's Old Ale House and P.J. Clarke's, and pretended I'd fetched up on the Auld Sod.
The word "Irish" soon acquired a special meaning for me. It stood for talk, drink, laughter, fun, and a release from ordinary cares. I found the literary angle appealing, too. As a secret poet, I hoped the beer would lift me into the realm of Yeatsian glory. The lines I scribbled on bar napkins certainly seemed to improve with each pint, and before long I couldn't pass even a lowly Blarney Stone without feeling a twitch of inspiration. That may sound ridiculous, but the Irish pub, at least in its mythic form, encourages such fantasies. Its attraction is universal, and it cuts across cultural boundaries and crops up everywhere on earth with a frequency matched only by the unavoidable Chinese restaurant. A plate of dim sum doesn't conjure images as seductive as the Lake Isle of Innisfree, though. For that you need ajar of the black stuff and Van Morrison on your iPod.
In my travels over the years, I gathered further evidence of the pub's enduring popularity. At an "Irish" bar in the Caribbean, I drank rum with a noted cricketer and discussed C. L. R. James, the sport's premier author, and at another in Florence I joined some fashionable Italians, all carrying shopping bags from the boutiques on Via Tornabuoni, in a fractured sing-along of "Danny Boy." The Fountain, once my local in Islington, North London, morphed into Filthy McNasty's, rumored to be a favorite pit stop of the Pogues' Shane MacGowan, an endorsement of Irishness money couldn't buy. I sampled stout in Malaga and Vancouver, Paris and Guadalajara, and became convinced that even if I journeyed to the far reaches of the globe, to São Tomé or the Trobriand Islands, I'd catch a glimpse of the familiar Guinness logo on the horizon.
My experience was so vast I considered myself a modest expert on the subject when I made the move to Dublin. It never occurred to me that the Clancy's and O'Malley's I'd visited elsewhere were mere imitations based on an ideal, or variations on a theme. A quick tour of the city taught me that the homegrown pubs exist in a bewildering array of styles now, from the architectural splendor of Doheny & Nesbitt to the grottolike confines of the Dawson Lounge, down a tricky staircase and into a cellar with only 350 square feet of space. Café en Seine was a temple of baroque overkill furnished with a hodge-podge of statuary, ferns, and sconces, while John Kehoe looked so unadorned that it scoffed at the very notion of decoration. From friends I heard about gay pubs, Polish and Nigerian pubs, early houses that opened at seven, and illicit after-hours pubs that supposedly never closed, but I stuck to my guns.
I wanted a local with a timeless quality. It should be humble and welcoming, I thought, and have a strong sense of community, where a shared set of values still obtained. The pub I imagined embodied the virtues traditionally associated with Ireland-kind and gentle, polite, good-humored, and devoted to the spoken word in all its base and exalted forms. It would be a refuge, a safe harbor with worn wood floors, a bar that could tell stories, gents in flat caps, and a turf fire blazing on cold winter nights. There I sat at a warm corner table with my Irish pals, a postmodern John Wayne basking in tranquility and relishing the sweet mood of surcease that Flann O'Brien described so memorably in "The Workmans Friend."
When things go wrong and will not come right, Though you do the best you can, When life looks black as the hour of night- A PINT OF PLAIN IS YOUR ONLY MAN. When money's tight and is hard to get And your horse has also ran, When all you have is a heap of debt- A PINT OF PLAIN IS YOUR ONLY MAN.
I had no doubt I'd discover such a pub eventually. As I say, I was an innocent, and I still had a lot to learn.
Chapter Two
JACK BIRCHALL'S RANELAGH HOUSE
My search for the perfect local started in Ranelagh, a bustling, prosperous neighborhood with the air of a tightly knit village. The oldest houses, built in terraces of brown and rust-colored brick, date from the 1760s, although most residences are of a later vintage, Victorian rather than Georgian. Palm trees grow in some gardens, a side effect of the temperate Gulf Stream, and the sight of them takes unsuspecting visitors by surprise. (The Irish climate isn't as harsh as it used to be, I've been told. Winters can be agreeable, but the cool, gray, bloodless summers are still tough on a former Californian.) Front doors are brightly painted, the iron gates and fences are constantly retouched, and lace curtains still flutter in some windows. Although crime of any kind is rare, everyone has an alarm system, and they go off with spectacular regularity and grate on people's nerves.
Ranelagh Road, the main commercial strip, is just a block from our house. Until recently, you could walk there and buy a paper from a newsdealer who fancied the horses, pick up some vegetables at the greengrocer's, and stop at a butcher shop for some lamb chops for the evening meal, but you can't do it anymore. The small tradesmen have disappeared, driven out by whopping real estate prices and the inability to compete with supermarkets and franchised convenience stores. Ranelagh's terraces may look plain and uniform from the outside, but the new money spills over into the streets, where a fleet of shiny Range Rovers, Mercedes, and BMWs vie for attention and status. Once you could only order the most basic fare at our restaurants-glorified chip shops, actually-but now you can dine on foie gras and prune terrine with pear puree, pickled pear slices, and pistachio oil at a bistro with a Michelin star.
All that's left of the old Ireland, really, are two bookie joints and eight pubs of varying character. Six of the pubs are on Ranelagh Road, separated by only two hundred yards. It's difficult to see how they can survive in such close proximity, but the Irish have always been overstocked with licensed premises. A survey done in 1635 counted 1,189 merchants selling ale and whiskey (uisce beatha in Gaelic, or "water of life") to the roughly four thousand families who lived in Dublin, while folks in the country were even better served. As late as 1924, the Committee on Intoxicating Liquor cited boozy enclaves like Ballymore in County Sligo, where 27 of 200 houses held a license; the hamlet of Gurteen (6 of 15 houses); and Blacklion in County Cavan, where the tally was 8 of 20 houses.
The Hill struck me as Ranelagh's most eye-catching pub, so I tried it first. Founded in 1845, it occupies a knoll on the fringe of the village and has a canary-yellow paint job that flashes like a beacon on gloomy, overcast afternoons. Off the beaten track, it doesn't attract many outsiders, and its stalwart regulars give it an inbred quality a stranger-or a "blow-in," as the Irish put it-might have trouble cracking. I felt more comfortable at Corrigan's Mount Pleasant Inn around the corner, a forthright, unpretentious spot. It was as if I'd wandered into the parlor of somebody's maiden aunt, where the upholstery was slightly faded and a long-haired cat, invisible yet somehow present, was on the prowl. Corrigan's made you want to curl up for a nap, maybe removing your shoes and socks in the process, but the TV, tuned to Sky News, a cable network that recycles the same stories for hours-there was no TV at Pat Cohan's-was a minor nuisance, plus the Mount Pleasant area was just a little too far from home to be practical on a stormy night.
Next I turned to the pubs on Ranelagh Road, where I ruled out Russells right away. On some weekends, it functioned as a singles bar with burly bouncers in black at the door, and that caused me to suffer California flashbacks. Santa Monica belongs in Santa Monica, not Dublin-that was my attitude. Whenever I strolled past Russells on a frigid evening in the so-called Irish summer, my heart went out to the young women waiting in line, who shivered in skimpy dresses intended for a balmy beach town and showed off their Fake Bake tans. They could have taken shelter at the Four Provinces nearby, but I understood their reluctance. The Four Provinces (gone now, bought by a supermarket chain along with its license to sell alcohol) was both cavernous and anonymous, no more cozy than a bus station fed by a steady stream of transients. In my single visit, I could feel plots being hatched and ill-advised liaisons about to burst into flame, so I crossed it off my short list.
I explored Smyths and T. Humphreys, Grocer more thoroughly. The pubs are adjacent to each other, so a customer is never far from redemption. If you play the fool at Smyths and get the boot, you're only steps away from an unblemished record and a fresh pint at Humphreys, where a big front window allows pedestrians to observe the drinkers inside. Most pubs block their windows with panels of leaded or stained glass, or just shades or shutters, to guarantee privacy, and that leads to a trove of folklore among abstainers about the goings-on behind closed doors. (Two bridges over the Liffey are named in honor of temperance advocates, in fact.) Smyths was very efficient and well run, and the "pub grub" could be excellent, but the place carried a hint of the sports bar and also depended on recorded music to create an atmosphere-there was no recorded music at Pat Cohan's, only impromptu song-while Humphreys, though nice enough, never affected me one way or another.
That left only two pubs to consider, just ten yards apart-Jack Birchall's Ranelagh House and R. McSorley & Sons, no relation to the renowned watering hole of my youth. I peeked into McSorley's first and was captivated. Like Humphreys, the pub had once sold groceries and sundries as well as alcohol, and it retained a musty dignity that spoke of permanence. An antique apothecary's cabinet was on display, its drawers labeled "iodine" and "oil of camphor," while a penny-farthing bike collected dust by some scruffy church pews probably bought for a pittance at a rummage sale. I enjoyed the eclectic flavor and the haphazard charm, and interpreted the apparently random accumulation of bric-a-brac as a symbol of the genuine. That's what I craved, after all-some contact with the authentic, that soulful Ireland of legend.
At McSorley's, I established myself as a two-pint man, referring to the number of beers I consumed at a sitting, although the figure wasn't carved in stone and I surpassed it at times, always to my detriment. An Irish poet had alerted me to this token of identity when we met by chance at a B and B in West Cork. He was working on an autobiography and asked if I'd help him recall the spots where he might have hung out as a visiting professor in the Bay Area many years ago. I was happy to oblige and listed the prime suspects near City Lights Books-Vesuvio, Tosca, Grant & Green, then a chow mein overdose at New Woey Loy Goey-although my participation cast the art of the memoir in a new light. The poet swore he was a three-pint man-about average, I'd guess, based on casual observation-but not a performance that would rattle any of Dublin's truly heroic pintmen, whose hollow legs are the stuff of myth.
Quality matters as much as quantity to such serious topers as Tommy Lusty, who once testified to Kevin Kearns, a splendid oral historian of Dublin's street life. "Dooley's, that was one of the most famous pubs around when I started drinking about 1935," Lusty began, warming to his story. "Now there was plenty of other pints along the quay, but that pint, I'll tell you, it was always perfect. Oh, what a drink! They had one of the best cellars in Dublin. Pulled from the barrel down below, and you could feel the substance of it. And no rush. It might take ten minutes to bring it to a head, the cream. Oh, lovely. You could drink about twenty of them and the next morning you'd be like a two-year-old, there'd be no hangover."
Often I envy the talents of others, but I didn't envy Tommy Lusty despite his obvious pride in his gift. The idea of twenty pints of stout burbling through my system was enough to strangle any notions I might have harbored about becoming a truly heroic pintman myself. Content with my modest lot, I fell into the habit of visiting McSorley's in the early evening, when the pub was still calm and quiet and conducive to reading or meditation. "If you study the good pintman," mused Tom Corkery, another of Kearns's informants, "you will observe how he can stand staring into the glass for long periods, thinking deep thoughts." Corkery was correct up to a point, but he went overboard when he added, "This is because he knows the truth lies at the bottom of the glass." All I ever saw down there was some brindled foam.
At any rate, I adjourned to McSorley's at the cocktail hour two or three times a week. 1 couldn't call myself a regular since my commitment was not absolute. Such bonds are forged for life, barring bad behavior or an accident of fate, so I failed to command the same barstool or chair I'd grabbed the day before, and the day before that, on into eternity. I could plant myself anywhere, really, because the crowd didn't materialize until much later. Many of the Irish avoid the pub until after dinner, a sound strategy for promoting relative sobriety, and they roll in about eight or nine o'clock, with their numbers increasing exponentially as closing time draws near at eleven thirty. Some pubs, McSorley's among them, purchase special late-night exemptions that let them serve drinks until two A.M. on Thursday, Friday, and Saturday, and they're often packed with revelers-little wonder, then, that the average price of a Dublin pub in a decent location is about seven million dollars.
I never had the nerve to ask Kevin Hynes what he and his partner, an investor from Arklow, paid for R. McSorley & Sons. (Some Irish pubs keep the name of the original licensee.) The deal, done in private, took me by surprise. There were no "For Sale" signs posted, no gossip or rumors to tip me off in advance. Just as I'd begun to eye a particular stool and covet it as my seat, destiny kicked it out from under me, and I felt cheated. There was more bad news, too-the owners planned to redecorate. The pub might look full on Saturday night, Kevin once explained to me, but business was slow in general. McSorley's required a complete makeover, and that's what it got. When it reopened, it resembled a swanky gentlemen's club in dark wood and leather, with a lounge bar spacious enough for a DJ and a dance floor. Again, I thought of America-of New York City's slick Upper East Side. I missed the bric-a-brac, that symbol of the genuine. Kevin set me straight. The bric-a-brac was phony. A designer had sourced it from various suppliers to manufacture a nostalgic, traditional atmosphere. The bicycle and the church pews were junk, worthless, no more than stage props. Had they been authentic antiques, Kevin might have saved them. He's canny, engaging, and in his thirties, one of ten children and a son of Dessie Hynes, an eminent publican who's now retired. Dessie owned several pubs in Dublin and put Kevin to work as a teenager to teach him the trade. Later Kevin emigrated to the U.S. and ran some Irish bars in Manhattan, and though he loved the flash and the speed of the Big Apple, he returned home to be closer to his aging parents, though he vowed to be a New Yorker again some day soon.
(Continues...)