That Little Something
Poems
Hardcover, 73 pages, Houghton Mifflin Harcourt, List Price: $23 |
purchase
Buy Featured Book
Title

That Little Something

Subtitle

Poems

Author

Charles Simic
Your purchase helps support NPR programming. How?
Book Summary
Presents a collection of poems that examines the darker side of history and human behavior, looking at the strange interplay between ordinary life and extremes and between reality and imagination.
NPR stories about That Little Something
A Spring Bouquet of Poetry
Excerpt: That Little Something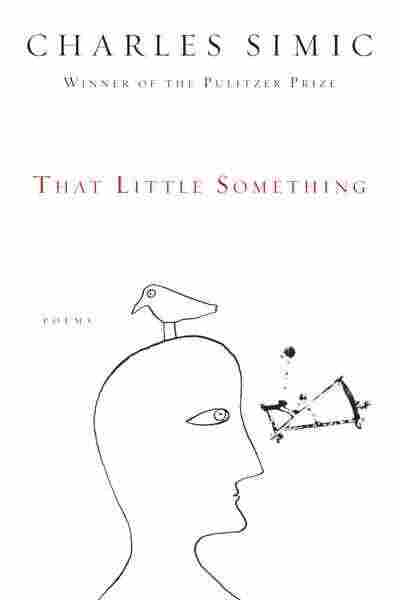 I
WALKING
I never run into anyone from the old days.
It's summer and I'm alone in the city.
I enter stores, apartment houses, offices
And find nothing remotely familiar.
The trees in the park—were they always so big?
And the birds so hidden, so quiet?
Where is the bus that passed this way?
Where are the greengrocers and hairdressers,
And that schoolhouse with the red fence?
Miss Harding is probably still at her desk,
Sighing as she grades papers late into the night.
The bummer is, I can't find the street.
All I can do is make another tour of the neighborhood,
Hoping I'll meet someone to show me the way
And a place to sleep, since I've no return ticket
To wherever it is I came from earlier this evening.
THAT LITTLE SOMETHING
for Li-Young Lee
The likelihood of ever finding it is small.
It's like being accosted by a woman
And asked to help her look for a pearl
She lost right here in the street.
She could be making it all up,
Even her tears, you say to yourself,
As you search under your feet,
Thinking, Not in a million years . . .
It's one of those summer afternoons
When one needs a good excuse
To step out of a cool shade.
In the meantime, what ever became of her?
And why, years later, do you still,
Off and on, cast your eyes to the ground
As you hurry to some appointment
Where you are now certain to arrive late?
THE ELEVATOR IS OUT OF ORDER
Grandmothers and their caged birds
Must be trembling with fear
As you climb with heavy steps,
Stopping at each floor to take a rest.
A monkey dressed in baby clothes,
Who belonged to an opera singer,
Once lived here and so did a doctor
Who peddled drugs to wealthy customers.
The one who let you feel her breasts
Vanished upstairs. The name is not familiar,
But the scratches of her nails are.
The bell rings, but no one comes to open the door.
That old man, with a face powdered white,
You caught peeking out of a door,
Whom did he expect to see if not you,
All frazzled and descending in a hurry?
NIGHT CLERK IN A ROACH HOTEL
I'm the furtive inspector of dimly lit corridors,
Dead light bulbs and red exit signs,
Doors that show traces
Of numerous attempts at violent entry,
Is that the sound of a maid making a bed at midnight?
The rustle of counterfeit bills
Being counted in the wedding suite?
A fine-tooth comb passing through a head of gray hair?
Eternity is a mirror and a spider web,
Someone wrote with lipstick in the elevator.
I better get the passkey and see for myself.
I better bring along a book of matches too.
SOUVENIRS OF HELL
Empty beer cans tied to an old model car.
A small circus tent in a parking lot.
Sparrows chirping in rows of trees
That have never known leaves.
The stores on Main Street were boarded up,
Except for a brightly lit tattoo parlor.
Persephone's daughters on show
With orange hair and spiked collars.
You wish to know about the fires?
We saw mills the color of dried blood
Half-shadowed, half-lit by the setting sun,
Their many windows mostly broken.
The drunk who asked for spare change,
Wanted to tell us about his time in prison,
But with Satan's palace still to see,
We left him right there with his mouth open.
DRAMATIC EVENINGS
You take turns being yourself,
Being someone else,
Addressing mirrors, airing your grievances
To a goldfish in a bowl.
Your Queen Gertrude and Ophelia
Are snoring away across town.
Your father's ghost is in the bathroom
Reading Secret Life of Nuns,
While you pace back and forth
Clenching and unclenching your fists,
As if planning a murder,
Or more likely your own crucifixion.
Or you stand frozen still
As if an idea so obvious, so grand
Has come to you
And left you, for once, speechless.
Outside, you notice, it has started snowing.
You press your feverish forehead
Against the cold windowpane
And watch the flakes come down
Languidly, one at a time,
On the broken bird feeder and the old dog's grave.
DEPARTMENT OF COMPLAINTS
Where you are destined to turn up
Some dark winter day
Walking up and down dead escalators
Searching for someone to ask
In this dusty old store
Soon to close its doors forever.
At long last, finding the place, the desk
Stacked high with sales slips,
Concealing the face of the one
You came to complain to
About the coat on your back,
Its frayed collar, the holes in its pockets.
Recalling the stately fitting room,
The obsequious salesman, the grim tailor
Who stuck pins in your shoulders
And made chalk marks on your sleeves
As you admired yourself in a mirror,
Your fists clenched fiercely at your side.
Copyright © 2008 by Charles Simic
All rights reserved. No part of this publication may be reproduced or transmitted in any form or by any means, electronic or mechanical, including photocopy, recording, or any information storage and retrieval system, without permission in writing from the publisher.
Requests for permission to make copies of any part of the work should be submitted online at www.harcourt.com/contact or mailed to the following address: Permissions Department, Houghton Mifflin Harcourt Publishing Company, 6277 Sea Harbor Drive, Orlando, Florida 32887-6777.