The Broken String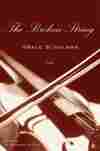 Hardcover, 84 pages, Houghton Mifflin Harcourt, List Price: $22 |
purchase
Buy Featured Book
Title

The Broken String

Author

Grace Schulman
Your purchase helps support NPR programming. How?
Book Summary
Celebrates the wonders and limitations of life through the power of music, covering such themes as joy, faith, death, and the human heart.
NPR stories about The Broken String
Excerpt: The Broken String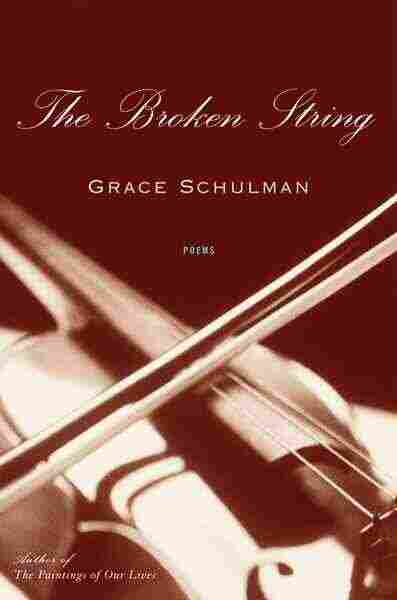 The Broken String 1 When Itzhak Perlman raised his violin and felt the string snap, he sank and looked down at legs unfit to stand and cross the stage for a replacement. He bowed to the maestro, played radiant chords, and finished the concerto
with the strings he had. Rage forced low notes as this surf crashes on rock, turns, and lifts.
Later, he smiled and said it's what you do: not just play the score, but make new music with what you have, then with what you have left.
2 What you have left: Bill Evans at the keyboard, Porgy. The sound rose, but one note, unworthy, stalled in his head above the weightless chords, above the bass, the trumpet's holler: Porgy.
A sudden clenched fist rose, pounded the keys,
fell limp: a heroin shot had hit a nerve.
I Loves You, Porgy. Sundays at the Vanguard he soloed, improvised — his test that starved nameless fear. Hands pitted against each other, like the sea's crosscurrents, played away anger.
3 My father bowed before the Knabe piano, scanned notes, touched fingers lightly, and began, by some black art, I thought, his hearing gone for years. And always, Mozart, Liszt, Beethoven.
One day I gasped, for there were runs
he never heard, played as a broken kite string launches a lifelike eagle that might soar on what the flier holds, what he has left.
Not even winds that howl along these shores and raise the surf can ever ground that flight.
Late Snow
First day of spring and winter can't let go.
I can't let go, through dread, of silver maybes: of black that glows, as a cowbird's sheen, of gray dawns when, mud-colored, slow,
the river to the west gurgles hosannas.
Now near the end of the middle of my life, all I want is more wakings like this one, to watch day break, hear the trash truck growl,
glance at my love's body, shadowy under bed linen, shaping a luminous question.
I'll have a pale sun strike the air conditioner, turn its ice particles into asterisks,
and wake a bewitched maple that will bloom despite the park's tossed soda cans, dope fumes, dog piss, rat poison, banal conversation — green as on the first day of Creation.
Northern Mockingbird
Day comes up like dirt islands at low tide, revealing what I cannot lose: gulls circling, a skiff upended, caulked for a new launching, a tern flying in place before a dive,
lobster traps hidden in phragmites to catch — what, Moses? Long days promise miracles.
But there, on the juniper's topmost bough, a bird does its high-wire act, twisting
as though for ballast, singing two-note phrases: the years, the years. Rank bird, how it persists.
Showoff. Not singing. Mimicking, cleverly mocking my dream to hold this day forever.
The northern mockingbird, of the same species Walt Whitman heard on this same shore, and penciled in his diary. Not the same bird, of course, but with a heritage, a long line,
if not long life. Its message is harsh.
I won't see it forever, nor the juniper sprung up inside the center of a rosebush grown, somehow undaunted, on dry sand,
unless my song can recycle this day and pass it on like flotsam, in a sea that inlays glass, wears white stones smooth, and tosses them, shining, on this shore.
Come, love, let us run into the waves past the rosebush on fire, dodging clamshells, though an echoing bird calls, years, the years, and a worn fence unrolls like thumbed pages.
Copyright © 2007 by Grace Schulman. Reprinted by permission of Houghton Mifflin Company