The Moment
Wild, Poignant, Life-Changing Stories from 125 Writers and Artists Famous & Obscure
Paperback, 344 pages, HarperCollins, List Price: $14.99 |
purchase
Buy Featured Book
Title

The Moment

Subtitle

Wild, Poignant, Life-Changing Stories from 125 Writers and Artists Famous & Obscure

Author

Larry Smith
Your purchase helps support NPR programming. How?
Book Summary
The creators of the best-selling Not Quite What I Was Planning present a collection of brief and moving personal stories about how a single instant, decision, accident, conversation or message prompted profound changes, in a treasury that includes contributions by such individuals as Melissa Etheridge, Justin Halpern and Jennifer Egan. Original.
NPR stories about The Moment
A Secret, A Kiss: 'The Moment' Your Life Changed
Excerpt: 'The Moment'
Portrait Of The Artist As A Young Woman
By Jennifer Egan

In the summer of 1981, at the tail end of a year off between high school and college, I flew to Europe alone, with a backpack and a Eurail pass, determined to cure my absurd lack of worldliness in one grand voyage. Two weeks into the trip, I began having panic attacks that I mistook for drug flashbacks (having read, like the rest of my generation, Go Ask Alice), which I feared were a first step toward real insanity. I stuck it out a few more weeks, but eventually called my mother, weeping, from Rome, and went home early. And yet it was during that short time in Europe that I decided to become a writer.
Recently, I returned to my leatherbound journal in search of the moment when this revelation took place. But if there was a moment, I'd failed to record it. What strikes me, rereading those pages for the first time in many years, is how happy I sound at times. Maybe, having worked and saved for most of my year off to pay for the trip, I couldn't bear to admit (even to myself) that it was evolving into a nightmare. Maybe I've forgotten how much genuine happiness was commingled with the fear. But I suspect it was the fact that writing in the journal made me happy — even when the experiences I described were frightening or desperate. I'd stumbled on the sheer pleasure of writing, and it's been with me ever since. Following are some annotated snippets from the diary:
5/17/81 [San Francisco, days before departure]
I can't decide whether I'm unusual because I'm one of the few who even analyzes myself to this extent, or whether the analyzation [sic] is merely a result of dissatisfaction which most people just don't feel.
5/31/81 London
I adore paintings. They're little windows into other worlds, or other peoples' perceptions of their worlds. It's the closest you can get to living someone else's life. Or one step closer than just watching them live and imagining what it must be like for them, anyway. Through paintings you see their world through their vision. Now of course you see their vision through your own, but that's unavoidable.
I think I'll go to Copenhagen for one night after Holland. I CAN'T BELIEVE I CAN REALLY DO ANYTHING I WANT TO!!!
6/8/81
Early this morning off to Luxembourg, an amazing many-leveled city. No one sight is too amazing, but the whole picture is dramatic: bridges, airplanes, crumbling castles and underground caves, a park in a gorge, spires, overpasses, a canal or a river, below some ancient- looking shacks, square farm plots with people bent over their dry soil. A woman named Chris and I saw all this.
6/12/81 Reims
Last night I became terrified. I may be having nerve or psychological problems, but right now I'm too close to the situation to analyze it, and it doesn't make sense anyway, so I'll skip it for now.
6/19/81 Paris
For some reason my subconscious is on a guilt trip, or a repremandation [sic] trip anyway. That's the little beastly voice which is constantly inquiring about whether or not I'm making the most of whatever moment I happen to be living. Perhaps my subconscious is responsible for the heaviness and melencholy [sic] I so often feel hanging on me when I wake up, as well. It's like some ghastly, dripping garment that I have to peel from my body. Once I've wriggled free of it I feel light as smoke — elated.
6/22/81 Paris
I'll have to always remember the Cave, that perfect restaurant crowded with thick red candles that smelled faintly of flowers, the beautiful waiter and the piano player, whose music seemed to fall like snowflakes on the room. And also the two Lebanese students we* met later that night and had coffee with, the one so serious and honest, and looking like a statue off the side of a cathedral, with his dark beard and large eyes.
6/25/81 Chamonix
Today we† took trams up into the snow; what a totally different, awesome‡ world it was. Fog descending in loose tufts, mountains just seeming to leap into the air in sharp points — I can't believe I scrambled around in the snow today in worn-out tennis shoes! We never reached Lac Blanc, but we had a helluva good time trying.
* My companion in Paris was a marvelous woman named Janet. She was a few years older, a ski instructor from Colorado who had ridden her bicycle from Belgium right into Paris, and who seemed capable of anything. In her company, I felt safe from the Terror, as I'd come to think of it.
† In Chamonix I had the good fortune to meet another travel companion: a college student at Chapel Hill named Sabra. We stuck together for a week or so, exploring Albi and Arles, and I felt protected by her presence.
‡ In 1981, there was not even a hint that "awesome" would achieve the colloquial ubiquity it has since attained. Then, it was a rare and genuine superlative, along the lines of "momentous" or "stunning."
6/26/81 Albi
I feel an undercurrent of sadness running through my life, and I'm at a loss to understand it. Of course I'm so buoyant at times, and I do feel overjoyed and inspired and all that, but the sadness, the dull sense of fear (possibly more a fear of what isn't there than what is) seems always to resurface. When I feel myself not allowing myself to make the most of things, I fall into a pit of knowing despair; I know that I'm the only one who can judge the success and worth of my life, I know that my sad, empty feeling is a waste of my advantages, and I know that the only cause of that sad, empty feeling is myself. It's a circle that I'm drawing, yet I feel trapped inside it.
We decided to sleep by the river. Well, it rained. We fled to the train station at 4:00 am; wet, dirty, grumpy, yet still partially magnetized by the sight of the illuminated orange church against the purple-blue night.
6/27/81 Arles
We bought chicken, apples, yoghurt, cheese, wine, juice, whole wheat bread, and gorged overlooking the square and watching a haze of raindrops descend on the trees and tables. A off-key marching band paraded around and honked and slammed. From above we could see how wet their hair was.
6/29/81 train from Arles
Night. Beers. Boys; Italian and English. Wine, talk. Trouble. Sleep.
7/6/81 Rome
The question is this; do I treat my vague, shapeless whirlpool of fear that my life has not been "real"; ie has not, and will not
oh, I can't write about it. My mind moves too quickly. Forget it.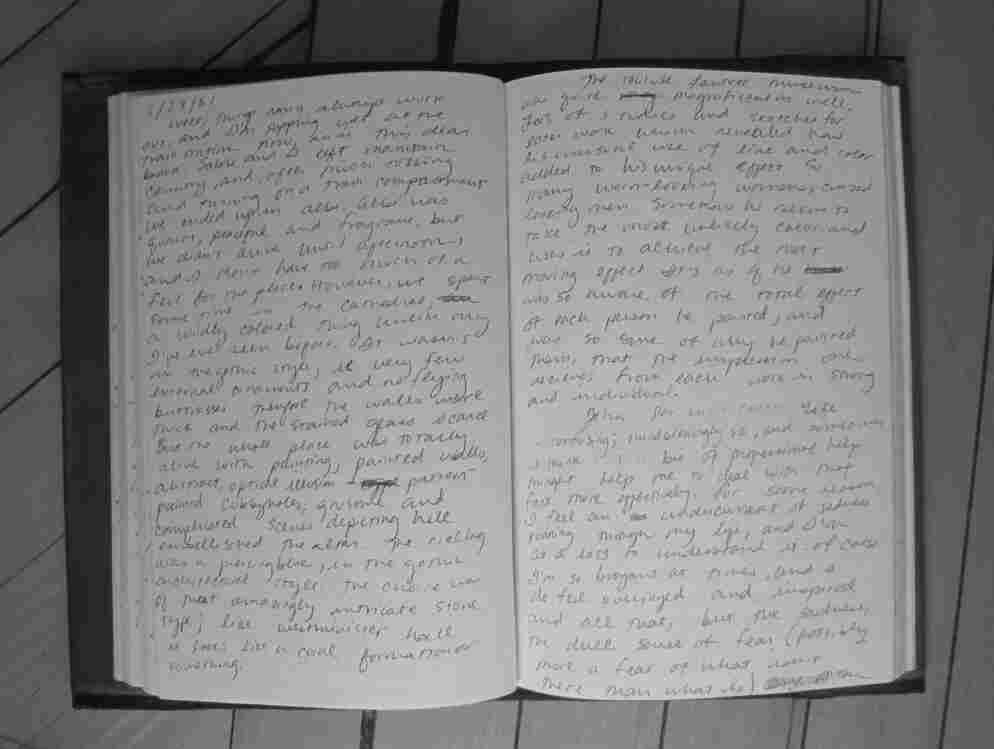 I feel like a doctor who snatches up his patient's heart monitor reading and realizes that he's been dead for the past 18 years without the doctor's knowledge. Why must I direct my obvious mental zeal into the destructive channel of self flagellation? Too many questions, and I can't stop them. Once I come to a point when I could stop them, they already exist. I have that nervous, pursued feeling. I am definitely hiding from something. I run and run but its still the same.
Let's hope I can write about this later, because I can't see any other justification for it. And it had better be a masterpiece.*
---
* Clearly, the moment — if there was a moment — had already occurred. Maybe, like the Terror itself, it was too big and amorphous to capture. Maybe I knew it gradually, not suddenly. Maybe my dread of spending the rest of my life in a mental institution overshadowed whatever epiphany I'd had about what I might do with my life if by some fluke I managed to avoid the mental institution.
I did make good on my hope of writing about the experience. In my first novel, The Invisible Circus, the eighteen-year-old protagonist, Phoebe, follows much of my own itinerary through Europe as she tries to solve the mystery of her older sister's suicide. In Paris, Phoebe takes LSD, and I unleash upon her a version of the hallucinatory terror I'd felt.
Not a masterpiece, but a start.
Excerpted from The Moment, edited by Larry Smith. Copyright 2012 by SMITH Magazine. Excerpted by permission. All rights reserved.