The Eighteen-Day Running Mate
McGovern, Eagleton, and a Campaign in Crisis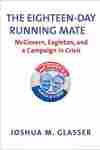 Hardcover, 381 pages, Yale Univ Pr, List Price: $26 |
purchase
Buy Featured Book
Title

The Eighteen-Day Running Mate

Subtitle

McGovern, Eagleton, and a Campaign in Crisis

Author

Joshua M. Glasser
Your purchase helps support NPR programming. How?
NPR Summary
Joshua M. Glasser recounts Thomas Eagleton's brief tenure as the Democratic vice presidential candidate to George McGovern in 1972, before revelations of his history of electroshock therapy derailed the campaign.
NPR stories about The Eighteen-Day Running Mate
Excerpt: The Eighteen-Day Running Mate
Eagleton was still paging through Time and Newsweek in the bedroom of his Ivanhoe suite when he heard the phone ring at 3:45 p.m., just fifteen minutes before the deadline. Within seconds, Doug Bennet, Eagleton's top aide, was knocking on his door. "George McGovern is on the phone," he said, motioning toward the living room. As Eagleton rushed to take the receiver, Bob Hardy, the St. Louis radio reporter encamped with the Eagleton crew all day, flipped the switch on his recorder.
"I want to help in any way I can," Eagleton gasped, before breaking for a few seconds.
"I've thought it over carefully, and I think you would make a good contribution to the ticket and in office," McGovern said. "I'd like you to accept the vice presidential nomination."
"I'm flabbergasted, George," Eagleton said, his voice rising in jubilation, "Are you kidding me? Why, ah, before you change your mind, I hastily accept."
The long days of anticipation were past. George McGovern had finally offered him the nomination. The cheers of friends and staff filled the room at the Ivanhoe.
"Oh, my God, George, well, I'm as pleased as I could be," Eagleton continued. "I'm honored, I'm flattered, and, uh, will do whatever I can. I hope I don't let you down."
Precisely thirty-eight seconds into the conversation, Frank Mankiewicz took McGovern's end of the line.
"Frank? God bless you, God bless everybody, and I, I feel that you had something to do with this and thank you very much. Alright, well I have to start working on speeches," Eagleton said.
"No skeletons rattling in your closet?" Mankiewicz asked.
"Right," Eagleton responded, drawing out the word as was typical of his smooth style of speech.
No more than three seconds elapsed between the time Eagleton finished saying he had to work on speeches until he said "right," a narrow window for inquiring about Eagleton's past.
From The Eighteen-Day Running Mate by Joshua M. Glasser.Copyright 2012 by Joshua M. Glasser. Excerpted by permission of Yale University Press.