Ways of Forgetting, Ways of Remembering
Japan in the Modern World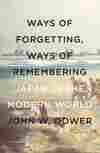 Hardcover, 324 pages, Perseus Distribution Services, List Price: $26.95 |
purchase
Buy Featured Book
Title

Ways of Forgetting, Ways of Remembering

Subtitle

Japan in the Modern World

Author

John W. Dower
Your purchase helps support NPR programming. How?
NPR stories about Ways of Forgetting, Ways of Remembering
Excerpt: Ways Of Forgetting, Ways Of Remembering
On January 17, 1947, a clever letter published in the Asahi Shimbun under the title "What's Fashionable in the Capital Now" offered a snapshot of life in Tokyo less than a year and a half after Japan's defeat. The vignette was simultaneously lively and bleak — a nice mirror, in every way, to the ambience of the time.
Those who peopled this cityscape bore little resemblance to the "hundred million" whose hearts had supposedly beat as one a few years earlier, when the militarists controlled the scene and the emperor's soldiers and sailors were engaged in a mad campaign to create a new "Greater East Asia" imperium. Ichioku isshin (one hundred million, one heart) was surely the most overworked slogan of the war years. The Asahi's letter writer, by contrast, portrayed a society in which a myriad hearts seemed to be working at cross-purposes. Japan's vaunted social harmony was nowhere to be seen.
Pistol-wielding robbers, gangs of thieves, pickpockets, swindlers, runaway prisoners, kidnappers, murderers, and "fake police detectives" prowled these streets, alongside prostitutes, black market operatives, purged ex-officials, and a horde of functionaries who had totally reversed their expressed views about right and wrong. Dark deeds took place in bright daylight. Prices were rising so fast that postcards with the postage printed on them quickly became out of date. (What to do? Buy a sheet of supplemental stamps, cut them with scissors, paste them on with glue.) Disruptive strikes and demonstrations were erupting everywhere. People played the lottery, looking like cheerful Ebisu, the god of good luck, when they won — and like Enma, the scowling guardian at hell's gate, when they lost.
The transportation system was a horror. Robbers worked the railways as they worked the streets. The trains ran late or were canceled entirely, largely because of the shortage of coal. They broke down and had dreadful accidents. ("Don't let your beloved child travel," the writer warned.) Deliveries did not arrive on time. Fake edibles — pickled garnishes with misleading labels, "imitation cakes without sugar, saké and soy sauce diluted with water" — were being sold. Consumers were confronted with "light bulbs with short lives, pencils that break when sharpened, knives that don't cut even when sharpened, screws that bend when turned." This was but a fraction of what could be told. Japanese society, alas, threatened to "go on descending, descending, into a bottomless pit."
What made this satire particularly droll was that it was a take-off on a famous fourteenth-century parody of the same title — an anonymous lampoon that ridiculed the sorry state into which the capital city of Kyoto had fallen during the so-called Kenmu Restoration, when civil war plagued the land. Times changed and did not change, and the possibility of ransacking the past for language and precedents usable in the present made the sting of defeat more bearable. Past, present, and future were inextricably linked in defeated Japan.
"What's Fashionable in the Capital Now" is a small example of what I have characterized elsewhere as the "bridges of language" that enabled many Japanese to navigate the transition from war to peace with a certain sense of continuity — even, indeed, with a sardonic sense of humor. Wartime Japan tolerated homespun jokes alongside satire of the enemy, and periodicals such as the monthly magazine Manga (Cartoon) kept a substantial cadre of housebroken humorists and cartoonists employed right up to (and through) the surrender. In the crushing sanctimony of the holy war, however, it was taboo — and seriously hazardous to one's health — to openly mock such targets as the state and "national polity," or the ruling groups, or the vaunted "Yamato spirit" that purportedly made every Japanese an obedient subject tingling with patriotism, loyalty, and filial piety. The fragile but venerable tradition of public satire and self-mockery that had taken root in late feudal Japan and carried over to the early twentieth century was one of the more minor casualties of the war. It was also one of the first "traditions" to recover.
From Ways of Forgetting, Ways of Remembering: Japan in the Modern World by John Dower. Copyright 2012 by John W. Dower. Excerpted by permission of The New Press.