This Will End in Tears
The Miserabilist Guide to Music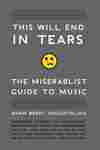 Paperback, 368 pages, HarperCollins, List Price: $16.99 |
purchase
Buy Featured Book
Title

This Will End in Tears

Subtitle

The Miserabilist Guide to Music

Author

Adam Brent Houghtaling
Your purchase helps support NPR programming. How?
Book Summary
Including an A-Z list of entries of the masters of melancholy, this compendium of the greatest sad songs and artists of the modern era is accompanied by essays that explain the power of particular songs and artists, the particular types of sad music and their effects on the listener.
NPR stories about This Will End in Tears
'This Will End In Tears': Soundtracks For Down Days
Excerpt: This Will End In Tears: A Miserabilist Guide to Music
It's a perfectly gray winter Sunday in Brooklyn. The air is brisk but comfortable, and the streets are just shy of empty. Looking for a suitable soundtrack for my walk to the subway, I pull my phone out of my jacket pocket and scroll through the list of artists I had compiled (randomly, over time, as one does): David Ackles, American Music Club, Patsy Cline, Billie Holiday, Echo and the Bunnymen, Townes Van Zandt, Low, Joy Division, Johnny Cash, Portishead, Radiohead, Gyorgi Ligeti, James Carr, Tindersticks, David Sylvian, Robert Wyatt ...
Looking over the list, I notice that almost every artist, regardless of genre or the decade in which they were active, has a natural affinity for melancholy, the dark stuff, an elemental leaning toward the shadowy side. Throughout my life, much of the music that has most affected me — certainly from my late teen years on — has come from artists with this defining attribute, this uncommon understanding of the varying shades of sorrow. They all manage to "own" misery, and to infuse desperation, loneliness, heartbreak, grief, and ponderous wonder into their work in a manner that sets them apart.
Most of my favorite songs are sad songs, and I know I'm not alone. The devotees of Miserabilist music are not confined to any single genre but seek out the downcast heart of song no matter where it may lie. They lower the shades and listen reverentially in the half-light to Skip James, Nick Drake, and Morrissey. They wait anxiously for new albums from the Cure, Leonard Cohen, and the Blue Nile and buy up the deep catalogs of Nina Simone, George Jones, and Scott Walker.
I soon began to wonder, What is it about these artists that makes them more attuned to grief? What makes Billie Holiday's voice such a perfect vessel for sadness? How does a piece of music such as Samuel Barber's heartbreaking "Adagio for Strings" or Radiohead's "How to Disappear Completely" work on our brains to induce feelings of sadness? And how do those same songs somehow also contain the ability to make us happy?
This book was born partly of the struggle to comprehend what Winston Churchill infamously referred to as his Black Dog. It's an attempt to bridge that bitter, unpredictable purgatory of depression with song, an indisputable source of joy, and celebrate the mean between the two: melancholy, in a perhaps bygone sense of the word.
In the liner notes for the ECM recording of modern interpretations of lachrymose sixteenth-century composer John Dowland's songs, In Darkness Let Me Dwell, composer Robert White notes the connection between Dowland's fascination with the lachrimal, accompanied by the larger Elizabethan celebration of melancholy, and our current preoccupation with depression, saying, "What his age knew, and we sometimes lose sight of, is that meditating on a beautiful expression of sadness can help to provide a thoroughly uplifting sense of consolation." Sting, who recorded an album's worth of Dowland material on 2006's Songs from the Labyrinth, defined the vital difference between depression and melancholy while discussing Dowland's work, saying, "I think depression is different to melancholy. Depression is a clinical condition. Melancholy comes about through self-reflection. And it's not necessarily a bad thing to be melancholic."
In William Styron's Darkness Visible, the author suggests that depression lacks the artful command of "melancholia." To him, depression is "a noun with a bland tonality" and "a true wimp of a word for such a major illness." (Later in the book he chronicles a number of the artists who have spent their creative spurs giving shape and vocabulary to melancholy, including the "suffering that often touches the music of Beethoven, of Schumann, and Mahler, and permeates the darker cantatas of Bach.") But while melancholy can and should be celebrated as a natural part of life that allows our bodies to recover from traumas and disappointments and provides the opportunity to learn and grow, the knotty grip of true depression can be a great ruiner of lives and is to be treated as such. Unfortunately, the two have become entwined by a culture armed with abundant pharmacology and an honest-to-goodness "happiness industry."
Consider this book a small stone cast in the war against chasing the healthy aspects of gloom away — to do battle with that is to struggle against what it is to be human, to misunderstand happiness, and to dismiss the possible catharsis afforded by the artists and songs represented in this book.
This is not meant to be a comprehensive exercise in summing up the Western world's musical malaise, but rather an attempt to coalesce disparate artists separated by time and traditional genres into a new system based on emotional cues and to allow lovers of melancholy music the ability to discover new artists and to quickly immerse themselves in their work. The more I wrote, the more pervasive the theme became. So, heeding the story of Robert Burton (the author of The Anatomy of Melancholy, who spent the better part of a lifetime attempting to chase away his depression and define its scope), and in an attempt to find an ending line, I needed to pull back my scope and focus on only the most important artists and songs.
From This Will End In Tears: A Miserabilist Guide to Music by Adam Brent Houghtaling. Copyright 2012 by Adam Brent Houghtaling. Excerpted by permission of HarperCollins Publishers.