Unsinkable
A Memoir
Hardcover, 306 pages, HarperCollins, List Price: $28.99 |
purchase
Buy Featured Book
Title

Unsinkable

Subtitle

A Memoir

Author

Debbie Reynolds and Dorian Hannaway
Your purchase helps support NPR programming. How?
Book Summary
The film legend and Hollywood icon shares the highs and lows of her life as an actress during Hollywood's Golden Age, including stories from her lifelong friendship with Elizabeth Taylor and intimate details of her marriages and family life.
NPR stories about Unsinkable
The 'Unsinkable' Debbie Reynolds Looks Back On Life, Love And A Boozy Busby Berkeley
Excerpt: Unsinkable
Miss Burbank 1948
Right around my sixteenth birthday, I heard about a contest for Miss Burbank. You had to be sixteen to enter, and every contestant received a free blouse and a scarf. Wow! That was a big deal.
So I signed up, intending not to compete. I just wanted the blouse and scarf, and I kew I wouldn't win because I was too short. Aren't all beauty contest winners tall? My mother told me that if I was going to take the blouse and scarf, I had to earn them—and that meant showing up. Daddy agreed.
I wore a secondhand Cole bathing suit with a hole in the seat to the contest. Jerry Odens, a friend of mine from school, drove me to the Olive Recreation Center in Burbank and lent me his record player. I dragged it onstage and then lip-synced to "I'm Just a Square in the Social Circle," that Betty Hutton sings in the 1945 movie The Stork Club, dancing and mugging just like when I did it in the Girl Scouts. My brother and his buddies sat in the back and laughed and laughed, sure that I would never win. When I did, I fooled them and myself—but not Jerry. What a friend.
In those days the studios were looking everywhere for talent. Solly Baiano, the talent scout from Warner Brothers, and Al Trescone from MGM were in the audience. They were both interested in me and flipped a coin. Solly won. The contest was in May. The following July the Los Angeles Times ran an article with the headline girl wants blouse—gets film contract.
Jack Warner had seen my screen test and told Solly to sign me for seven years at $60 a week, with a raise to $75 after six months. That was more than my father made! The article talked about my plans to continue high school and get dramatic training at Warner Brothers.
Because I was a minor, the court in Los Angeles ordered that 20 percent of my earnings had to be invested in government savings bonds. The road to Warner Brothers was not easy. My family were members of the Church of the Nazarene and very religious. Our minister didn't approve of the movies or the sinners who worked in them. Daddy and Mother made a trip to Warner's so they could decide for themselves whether to let me work there. When they saw all the carpenters, truck drivers, painters, and other "regular" folks doing the many jobs it took to make a film and run Warner's, they were satisfied that more than the Devil's work was being done at the studio.
So there I was, riding my bike the few blocks from our house to the studio and then, after work, taking the bus between Warner Brothers and my high school. Pretty amazing stuff for a sixteen-year-old kid.
Warner Brothers was always buzzing with activity. Burt Lancaster, Kirk Douglas, Bette Davis, and Olivia de Havilland were the big stars on the lot. I loved seeing Jimmy Cagney because we were about the same height. Humphrey Bogart and Errol Flynn made their classic films there.
My classroom at Warner's was right next to the gym where Mushy Callahan was training Douglas to play a prizefighter in The Champion. I used to sneak in to watch the real, retired champion teach the actor how to box. It was very exciting. Boy, did they have great bodies. Mae West would have loved their pecs.
Jack Warner was the head of the studio. He was ever so dapper, with a thin, perfectly trimmed mustache. A small white fence surrounded the circular driveway outside his office. I'd wait there every day to see him arrive in his big Rolls-Royce, hiding behind the fence and watching all the activity as Mr. Warner got out of his car. Two guards were always there to walk him into his building.
One day Mr. Warner spotted me.
"Who's that?" he asked.
"Hi, Mr. Warner," I greeted him. "I'm your new contract player."
"Really? What's your name?"
"I'm not sure yet," I said.
He looked down at me quizzically. "What does that mean?"
"Well, my name is Mary Frances Reynolds. But they think Mary's too plain, and Frances is a talking mule."
William Orr, one of Mr. Warner's executives and his son-in- law, takes credit for renaming me Debbie. Delmer Daves, a writer-producer at the studio, had a new baby named Debbie. Mr. Orr thought this was a cute name that suited me. For years afterward, I only answered to "Frannie" or "Mary Frances" because I didn't identify with my new name. Mr. Warner usually referred to me as "the kid." I put up a fight when they wanted to change my last name. Reynolds was Daddy's name, and I insisted on keeping it.
The next three pages are from my assignment at John Burroughs High School in Burbank, California, in 1948. It's my essay on what it's like to be a movie starlet.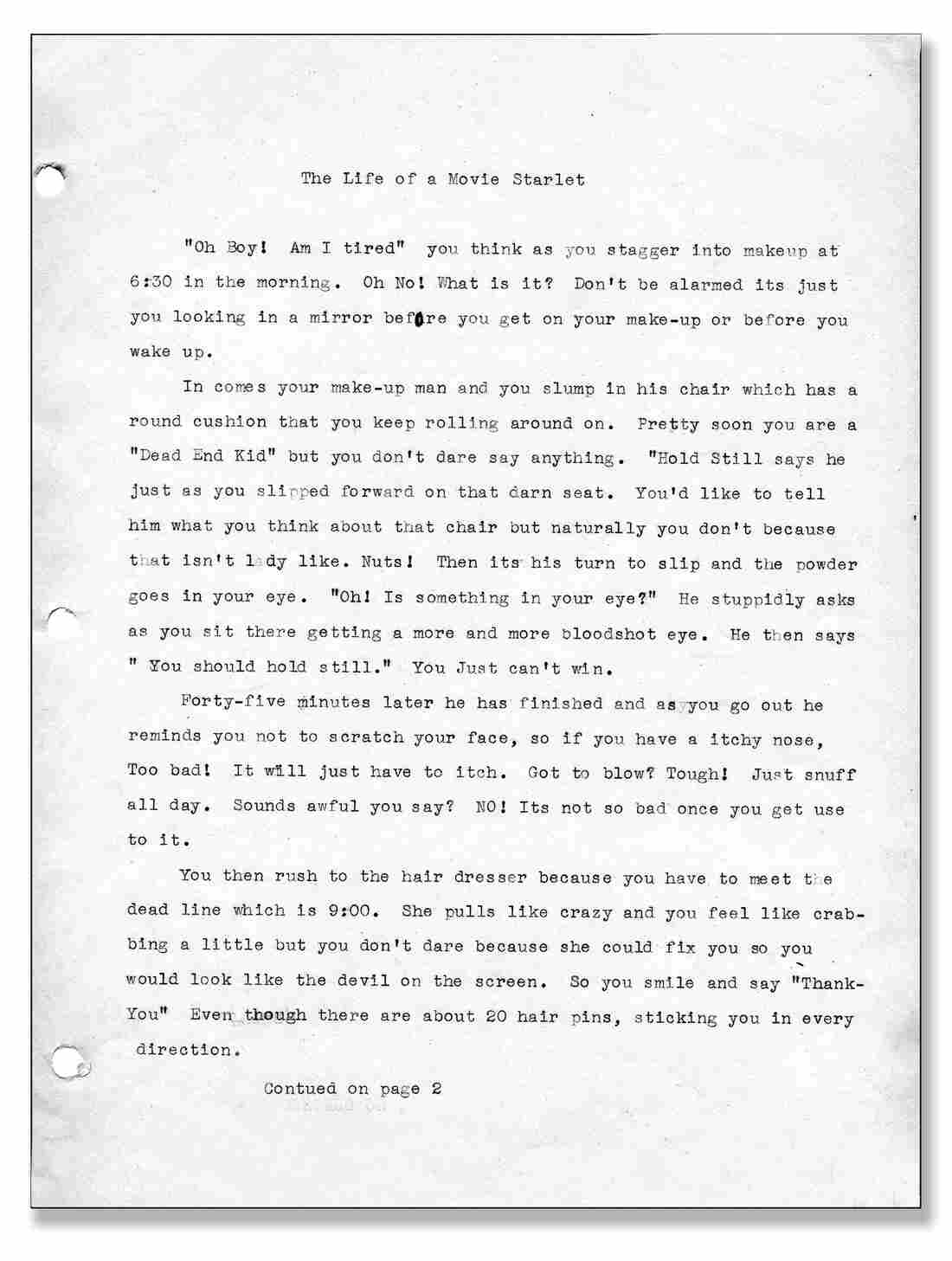 From Unsinkable by Debbie Reynolds and Dorian Hannaway. Copyright 2013 by Debbie Reynolds and Dorian Hannaway. Excerpted by permission of HarperCollins Publishers.