Matilda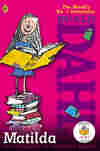 Paperback, 232 pages, Penguin Group USA, List Price: $6.99 |
purchase
Buy Featured Book
Title

Matilda

Author

Roald Dahl
Your purchase helps support NPR programming. How?
Book Summary
Matilda is the story of an exceptionally gifted girl who outsmarts her cruel parents and the brutish school headmistress Miss Trunchbull with the help of her magical abilities and her kind teacher Miss Honey. Illustrated with vivacious drawings by Quentin Blake.
NPR stories about Matilda
Read 'Matilda' With NPR's Backseat Book Club
Excerpt: Matilda
The Reader of Books
It's a funny thing about mothers and fathers. Even when their own child is the most disgusting little blister you could ever imagine, they still think that he or she is wonderful.
Some parents go further. They become so blinded by adoration they manage to convince themselves their child has qualities of genius.
Well, there is nothing very wrong with all this. It's the way of the world. It is only when the parents begin telling us about the brilliance of their own revolting offspring, that we start shouting, "Bring us a basin! We're going to be sick!"
School teachers suffer a good deal from having to listen to this sort of twaddle from proud parents, but they usually get their own back when the time comes to write the end-of-term reports. If I were a teacher I would cook up some real scorchers for the children of doting parents. "Your son Maximilian," I would write, "is a total wash-out. I hope you have a family business you can push him into when he leaves school because he sure as heck won't get a job anywhere else." Or if I were feeling lyrical that day, I might write, "It is a curious truth that grasshoppers have their hearingorgans in the sides of the abdomen. Your daughter Vanessa, judging by what she's learnt this term, has no hearing-organs at all."
I might even delve deeper into natural history and say, "The periodical cicada spends six years as a grub underground, and no more than six days as a free creature of sunlight and air. Your son Wilfred has spent six years as a grub in this school and we are still waiting for him to emerge from the chrysalis." A particularly poisonous little girl might sting me into saying, "Fiona has the same glacial beauty as an iceberg, but unlike the iceberg she has absolutely nothing below the surface." I think I might enjoy writing end-of-term reports for the stinkers in my class. But enough of that. We have to get on.
Occasionally one comes across parents who take the opposite line, who show no interest at all in their children, and these of course are far worse than the doting ones. Mr. and Mrs. Wormwood were two such parents. They had a son called Michael and a daughter called Matilda, and the parents looked upon Matilda in particular as nothing more than a scab. A scab is something you have to put up with until the time comes when you can pick it off and flick it away. Mr. and Mrs. Wormwood looked forward enormously to the time when they could pick their little daughter off and flick her away, preferably into the next county or even further than that.
It is bad enough when parents treat ordinary children as though they were scabs and bunions, but it becomes somehow a lot worse when the child in question is extra-ordinary, and by that I mean sensitive and brilliant. Matilda was both of these things, but above all she was brilliant. Her mind was so nimble and she was so quick to learn that her ability should have been obvious even to the most halfwitted of parents. But Mr. and Mrs. Wormwood were both so gormless and so wrapped up in their own silly little lives that they failed to notice anything unusual about their daughter. To tell the truth, I doubt they would have noticed had she crawled into the house with a broken leg.
Matilda's brother, Michael, was a perfectly normal boy, but the sister, as I said, was something to make your eyes pop. By the age of one and a half her speech was perfect and she knew as many words as most grown-ups. The parents, instead of applauding her, called her a noisy chatterbox and told her sharply that small girls should be seen and not heard. By the time she was three, Matilda had taught herself to read by studying newspapers and magazines that lay around the house. At the age of four, she could read fast and well and she naturally began hankering after books. The only book in the whole of this enlightened household was something called Easy Cooking belonging to her mother, and when she had read this from cover to cover and had learnt all the recipes by heart, she
decided she wanted something more interesting.
"Daddy," she said, "do you think you could buy me a book?"
"A book?" he said. "What d'you want a flaming book for?"
"To read, Daddy."
"What's wrong with the telly, for heaven's sake? We've got a lovely telly with a twelve-inch screen and now you come asking for a book! You're getting spoiled, my girl!"
Nearly every weekday afternoon Matilda was left alone in the house. Her brother (five years older than her) went to school. Her father went to work and her mother went out playing bingo in a town eight miles away. Mrs. Wormwood was hooked on bingo and played it five afternoons a week. On the afternoon of the day when her father had refused to buy her a book, Matilda set out all by herself to walk to the public library in the village. When she arrived, she introduced herself to the librarian, Mrs. Phelps. She asked if she might sit awhile and read a book. Mrs. Phelps, slightly taken aback at the arrival of such a tiny girl unaccompanied by a parent, nevertheless told her she was very welcome.
"Where are the children's books please?" Matilda asked.
"They're over there on those lower shelves," Mrs. Phelps told her. "Would you like me to help you find a nice one with lots of pictures in it?"
"No, thank you," Matilda said. "I'm sure I can manage."
From then on, every afternoon, as soon as her mother had left for bingo, Matilda would toddle down to the library. The walk took only ten minutes and this allowed her two glorious hours sitting quietly by herself in a cosy corner devouring one book after another. When she had read every single children's book in the place, she started wandering round in search of something else.
Mrs. Phelps, who had been watching her with fascination for the past few weeks, now got up from her desk and went over to her. "Can I help you, Matilda?" she asked.
"I'm wondering what to read next," Matilda said.
"I've finished all the children's books."
"You mean you've looked at the pictures?"
"Yes, but I've read the books as well."
Mrs. Phelps looked down at Matilda from her great height and Matilda looked right back up at her.
"I thought some were very poor," Matilda said, "but others were lovely. I liked The Secret Garden best of all. It was full of mystery."