The Daniel Plan
40 Days to a Healthier Life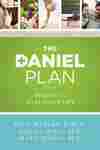 Hardcover, 346 pages, Harpercollins Christian Pub, List Price: $24.99 |
purchase
Buy Featured Book
Title

The Daniel Plan

Subtitle

40 Days to a Healthier Life

Author

Rick Warren
Your purchase helps support NPR programming. How?
Book Summary
Three self-help authors offer an innovative approach to achieving a healthy lifestyle by encouraging the use of support groups to optimize health in the key areas of faith, food, fitness, focus and friends.
Excerpt: The Daniel Plan
Wow! Everybody's FAT!
That shocking thought kept reverberating in my mind one bright spring day as I was baptizing 827 adults.
I'll admit it wasn't a very spiritual thought for a pastor to have, especially while baptizing! But I was getting tired, since our church baptizes the way Jesus was baptized in the Jordan River — by lowering people under the water, then lifting them back up.
That day, based on the average weight of Americans, I lifted more than 145,000 pounds!
I had read plenty of articles about the growing epidemic of obesity, diabetes, and heart disease in America, but that day I actually felt the weight of America's health problem in a dramatic way.
While my first thought was that everyone I baptized was overweight, my second thought was more personal and pointed:
But I'm fat too! I'm as out of shape as everyone else is!
In that moment of clarity, I realized the terrible example I was giving with my own health. How could I expect my congregation to take better care of their bodies if I was such a poor model? I had ignored my own growing problem for thirty years.
Let me explain:
I grew up in a family that didn't drink alcohol or smoke, but all food — no matter how unhealthy it might be — was considered okay. And growing up, much of my life centered around food.
Every memory of my childhood, both good and bad, was connected to food. When we were happy, we celebrated by eating. When we were sad, we consoled ourselves with comfort food. If I had a difficult day as a child, the antidote was cookies and milk or a piece of fresh pie.
Living on five acres in the country, my dad grew a huge vegetable garden, my mom loved to cook, and we all loved to eat. Eating was our entertainment, and we had huge meals every night. In fact, our handmade fourteen-foot dining table made of a single four-inch slab of redwood was the largest piece of furniture in our house. It dominated our home, and our family life revolved around the meals we shared together.
Blessed with good health, a high metabolism, and an active life, I could eat everything I wanted and as much as I wanted and never gain a pound. When I married Kay, I was as thin as a flagpole even though I rarely exercised and ate junk food constantly. I paid no attention to my health.
Then, in 1980, at age twenty-five, I became the founding pastor of Saddleback Church in Southern California. As the church rapidly grew to thousands of members, I worked long days, ate meals on the run, and spent hours sitting while leading meetings, counseling people, and studying for sermons. I began adding a few pounds every year, but because my energy remained high and I didn't care much about appearance, I ignored my growing health problem. By 2010, I was severely overweight.
Ironically, over the past decade I had sent nearly 21,000 of our church members overseas to 196 countries to serve the sick and the poor through a program we developed called the P.E.A.C.E. plan. The C of the P.E.A.C.E. stands for "Care for the sick," and our members had compassionately cared for the health of others around the world who were suffering from poor nutrition, poor water, malaria, and HIV/AIDS. But I ignored my own declining health and that of my own members.
That baptism was my wake-up call to the health issues in my life and in the lives of those in our congregation. I knew drastic changes were needed, so I began educating myself about preventative health. What I learned shocked me:
For the first time in history, as many people are suffering from the result of too much food as malnutrition. While millions of people suffer from not having enough to eat, millions are struggling with the effects of being overweight.
Seven in ten Americans are overweight.
Diabetes, heart disease, and other "lifestyle-based diseases" now kill more people than infectious diseases worldwide.
The next Sunday, I stood before my congregation and made this public confession:
Friends, I've been a poor steward of my health and a terrible example for you. While we've been helping many around the world, I've ignored the problem here at home.
So today I am publicly repenting, and I ask for your forgiveness! God expects us to take care of the bodies he has given us, but I have not done that. Now, I've only gained two to three pounds a year, but I have been your pastor for thirty years. So I need to lose ninety pounds! Do any of you want to join me in getting healthy?
The audience responded with sustained applause.
Honestly, I expected that maybe a couple hundred people would join me in my quest to get healthy, so I was overwhelmed when more than 12,000 Saddleback Church members signed up that day! Now I needed a plan. It had to be simple, inexpensive, and scalable. Since I was preaching that day about a man in the Bible named Daniel who refused to eat junk food and challenged a king to a health contest, I named the program The Daniel Plan.
Since I knew nothing about getting healthy, I recruited three nationally known doctors — Dr. Daniel Amen, Dr. Mark Hyman, and Dr. Mehmet Oz — to coach me in getting healthy and help me design The Daniel Plan to be used in our church. All three doctors graciously volunteered their expertise and time for free because they care about our health.
Over the first year of The Daniel Plan, Saddleback members collectively lost more than 250,000 pounds! But even more important, we learned insights, developed skills, and established habits for a lifetime of healthy living. The Daniel Plan is far more than a diet. It is a lifestyle program based on biblical principles and five essential components: Food, Fitness, Focus, Faith, and Friends. These last two components — faith and friends — are what I call the secret sauce that makes The Daniel Plan so effective. When you have God and a group helping you, you now have far more than willpower helping you make positive changes, and you are far more likely to stay consistent.
Let me be clear: There is no magic pill, no quick fix, no instant formula, and no shortcut that will make you healthy overnight. You must make wise choices every day. You will likely have setbacks. I have! In fact, as I write these words, I am recovering from a recent setback. My family experienced a tragic loss that was devastating to all of us. In my grief, I didn't sleep much, and that left me exhausted, both emotionally and physically. Overwhelmed by sorrow and fatigue, I stopped making healthy choices and began to add unwanted weight. All those pounds I had lost kept finding me! But as anyone in recovery will tell you, setbacks are part of the process in long-term change. Rather than beat myself up, I simply asked God and my friends to help me get back on track.
The plan you will read about in this book is really quite simple.
Dedicate your body to God. Ask for his help, and get involved in a small group of some kind that will support you on your journey. Then start making healthy choices — such as replacing donuts with fresh fruit and making exercise a part of your daily routine. Make whole foods a regular part of your diet. Live a more active lifestyle. Get more sleep. Cut down on your stress. It's not rocket science. It's just good, common sense. After all, God expects you to use the brain he gave you.
Many diets and fitness plans use guilt as a motivation, but that never works in the long run. You can guilt yourself into doing anything short-term, but the change will last only as long as the guilt (or fear) does. In contrast, The Daniel Plan is built with love as the motivation: Experiencing God's unconditional love for you, learning to love him back, learning to love whom God made you to be, and learning to give and receive love from others in a small group setting.
The Bible says, "Love never gives up, never loses faith, is always hopeful, and endures through every circumstance" (1 Corinthians 13:7 NLT). It is love — not fear, not guilt, and not peer pressure — that causes us to keep going when we feel like giving up.
The Bible also tells us that lasting change begins with committing your body to God. Romans 12:1 – 2 says, " ... give your bodies to God ... Let them be a living and holy sacrifice — the kind he will find acceptable. This is truly the way to worship him. Don't copy the behavior and customs of this world, but let God transform you into a new person by changing the way you think" (NLT, emphasis added). Notice the strong mind-body connection in this verse. Two thousand years after this verse was written, we now know that not only do our minds affect our bodies, but also our bodies affect our minds.
What you do with your body sets the tone for everything else.
Physical health influences your mental health, your spiritual health, your emotional health, your relational health, and even your financial health. How many times have you read a book, heard a message, or attended an event that motivated you to make some change, but then you didn't have the physical energy to do it? Instead, you laid down on your couch and watched TV.
A major motivation for me to be physically healthy is that I want the energy and alertness to make other changes in my life. My guess is that you too have other areas of your life you would like to improve. So we are going to begin by raising your energy level, since you can't do anything without a body! We are going to start at the most basic level of your life: your physical health.