How About Never - Is Never Good for You?
My Life in Cartoons
Hardcover, 285 pages, Henry Holt & Co, List Price: $32.50 |
purchase
Buy Featured Book
Title

How About Never - Is Never Good for You?

Subtitle

My Life in Cartoons

Author

Bob Mankoff
Your purchase helps support NPR programming. How?
NPR Summary
A memoir in cartoons by a longtime editor of The New Yorker collects his most popular illustrations in a tribute to the form, tracing his youth and career while assessing the psychology of cartooning.
NPR stories about How About Never - Is Never Good for You?
'New Yorker' Cartoon Editor Explores What Makes Us Get It
Excerpt: How About Never - Is Never Good For You?
"Doting" is probably too mild a word to describe my mother's obsessive attention to my existence, so long in doubt (there had been a number of miscarriages) and which she felt could be snatched away from her at any time. I'm told that when I was sleeping, she would put a mirror up to my mouth to see if it would fog over, showing that I was indeed breathing and alive. I still do that myself, every once in a while, just to make sure. I think Mollie's ministrations instilled in me a potential for hypochondria, a potential that has been fully realized and has made its way into a number of my cartoons, with the name used in them no coincidence.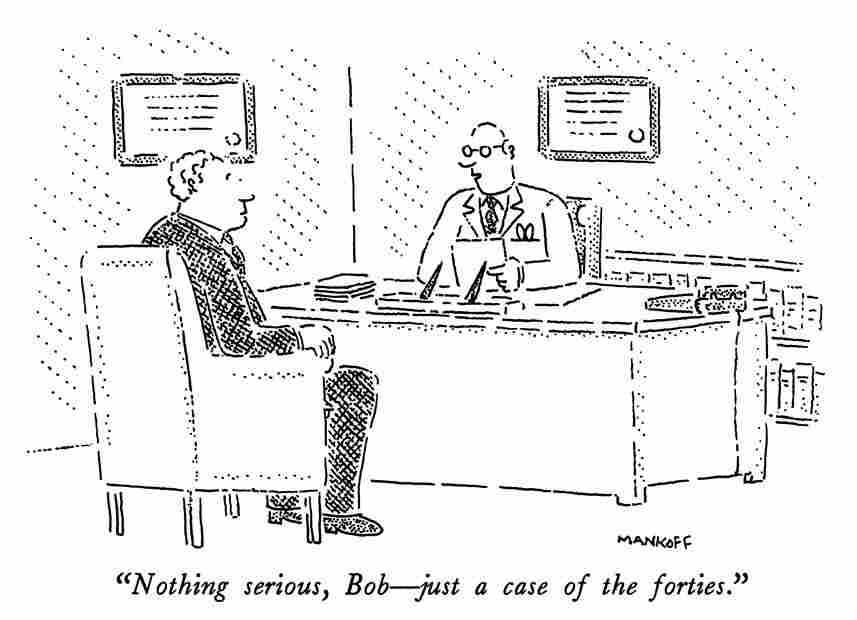 Or maybe I just inherited the disposition from her. She was what I would call in robust ill health her whole long life (she lived to ninety-three). Whenever I asked her how she felt, she would always reply, "Not a hundred percent." I think her high-water mark was around seventy-four percent. Whether about a real or imagined illness or some other problem, real or imagined, my mother was either panicking or making preparations to panic, and my father was always there ready to say, "This too shall pass" and stick with it until whatever was troubling Mollie did pass.
During the war, my father had to placate my mother from afar by mail. In one letter, he tries to calm her by explaining that it's not a lack of love that's causing the lack of letters she's getting from him but army logistics.
A lot of what you need to know about my dad is in that letter. Even as he complains about her complaining, he says, "I know how you feel and can hardly blame you . . . everybody likes to get mail." He also had a dry sense of humor. In another letter he mentions a handbag he has sent her and quips, "It's pretty popular in Paris, so it should be OK in the Bronx."
And despite the war and wartime postal problems, things were okay in the Bronx, if a bit crowded. In addition to my mom, there were my mom's mother and father, my mom's sisters, Annie and Sarah, Sarah's husband, Jack, and their kids, my cousins, Mike, Joan, and Irwin, all crammed into the top floor of a little house at 1453 Teller Avenue.
In 1945 my dad came home from the war. He was a welcome sight to my mother and everyone else in the household, except me. I had never laid eyes on him, or vice versa. My mother had gotten pregnant while he was on leave, and he'd been sent overseas a few months before I was born. Family lore has it that when I saw him for the first time, I cried, "Who is that man!"
That man, and the rest of us, confronted a severe postwar housing shortage in New York at that time, which this contemporaneous New Yorker cartoon [at left] refers to.
This led to the landlord of 1453 needing the top floor (where we all lived) for his own relatives, which led to us, all of us, being booted out, all the way to Queens. Ex-sergeant Lou Mankoff took command, marching his troops from B (the Bronx) to Q (Queens).
There, all of us decamped to a little house not all that different from the previous one, but now we occupied both floors. Luxury.
Two years later, my dad used a VA loan to buy the house right next door, and me, my dad, my mom, and my aunt Anne moved there: 76-37 169th Street, just the four of us, with two floors all our own—the lap of luxury.
Really. And the lap was about to get larger. The booming fat fifties of postwar America were just around the corner, with television, air-conditioning, and a new car in the garage every two years (if it could fit).
Not to mention wall-to-wall carpeting, which I really have to mention because this particular postwar luxury was the way my dad earned a living. He was the owner of Atlas Floors, selling wall-to-wall carpeting, a previously out-of-reach luxury that was available, for the first time, to a middle class now flush with some surplus cash. Wall-to-wall in the new living room said you'd arrived and were a stakeholder in the American dream. Due to wall-to-wall, we were soon living that dream.
From How About Never — Is Never Good for You?: My Life in Cartoons by Bob Mankoff. Copyright 2014 Bob Mankoff. Excerpted by permission of Henry Holt and Co.