We Mammals in Hospitable Times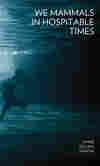 Paperback, 56 pages, Carnegie Mellon Univ Pr, List Price: $15.95 |
purchase
Buy Featured Book
Title

We Mammals in Hospitable Times

Author

Jynne Dilling Martin
Your purchase helps support NPR programming. How?
NPR Summary
Sometimes paranoid, occasionally manic, often very funny, these poems consult archaeologists, biologists, psychiatrists, encyclopedias and even aliens, trying to understand how so many disparate things can be interrelated.
NPR stories about We Mammals in Hospitable Times
Impressions From The Ice: A Poet Returns From Antarctica
Excerpt: We Mammals in Hospitable Times
EVERYTHING WE CAN SEE IN THE UNIVERSE GLOWS
A giant ice cube at South Pole Station captures
extragalactic neutrinos. Please take me to where you are,
pleaded the pregnant Korean widow to her lost love
in a sixteenth-century letter an archaeologist
found folded in a tomb. Telescopes see only light;
faces from our dreams, unspoken desires, dead stars
go undetected. Come to me secretly and show yourself
she whispered. Hans Spemann plucked a fine hair
from his newborn daughter to tie an embryo egg in half.
The microscope zooms in on a freshly formed eyeball
gazing expectantly back. The archaeologist feels ill,
presses twice-boiled tea leaves to his forehead,
unfolds and refolds the letter again. The fastest thing
in the universe is light; the slowest is forgiving
then forgetting. The seal gnaws a hole in the sea ice,
sunlight flashes on a million emerald cod flitting below.
Captured neutrinos flare pale blue; embryos float
in drops of glistening saline fluid and await their fate.
Quartz cuvettes filled with seawater and lavender dye
slide into a spectrometer, colors the human eye
cannot see fan out inside a box. Please, come in a dream,
there is no limit to what I want to know. I wait here.
Am Going South, Amundsen
An oil painting of a jaguar eating an emperor penguin
is the start of a daydream in the Royal Society library.
Nineteen ponies wedged in narrow wooden stalls
sail south; they will soon go blind from miles of radiant snow,
lap at volcanic ash for a last smack of salt, be shot
and fed to dogs. For now they sway this way, sway that.
The magnetic needle dips. Only afterwards we ask if it cost
too much. Will this species be here tomorrow or not?
says the scientist to her assembled team. The ponies eat oats
in silence, the instruments keep ticking, the icy water
washes on and off the deck. A bell abruptly rings a warning:
oxidative stress, methane concentrations, too much heat.
The dragonfish lays her pearlescent eggs beneath the ice
and for ten months stands guard. The sea-stars sway this way,
sway that. We all hope for the best. The adaptive might survive,
the needy will not. Then again, the adaptive likely won't either.
Sorry we realized too late: we wipe reindeer hair from our eyes,
the glaciated passages too dazzling to quite see clearly.
From We Mammals in Hospitable Times by Jynne Dilling Martin. Copyright 2015 by Jynne Dilling Martin. Excerpted by permission of Carnegie Mellon University Press.