Trigger Mortis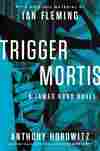 Hardcover, 310 pages, HarperCollins, List Price: $27.99 |
purchase
Buy Featured Book
Title

Trigger Mortis

Author

Anthony Horowitz
Your purchase helps support NPR programming. How?
NPR Summary
James Bond and an American agent work together to stop a demonstration of Soviet strength at an international Grand Prix in West Germany.
NPR stories about Trigger Mortis
Excerpt: Trigger Mortis
Back to Work
James Bond opened his eyes. It was seven o'clock exactly. He knew without having to look at the alarm clock beside the bed. The morning sun was already seeping into the room, feeling its way through the cracks in the curtains. There was a sour taste in his mouth, a sure sign of one whisky too many the night before. What time had he gone to bed? Well after midnight. And bed had not meant sleep.
'What time is it?' The woman lying next to him had woken up. Her voice was soft and drowsy.
'Seven.' Bond reached out and stroked the black hair, cut short above the neck, then gently trailed his finger down. 'Come on, James. I need my shut-eye. It's way too early.'
'Not for me.'
Bond swung out of bed and padded into the bathroom. It was one of the peculiarities of the flat in the converted Regency house where he lived, just off the King's Road in Chelsea, that the brightly lit, white-tiled master bathroom was exactly the same size as the bedroom. Perhaps one was too small and one too large but Bond had got used to it and there was absolutely no point knocking the place about, wasting time with architects and builders simply for the sake of convention. He stepped into the glass shower cabinet and turned on the water, very hot and then icy cold for five minutes, the same way he started every day.
He got out, wrapping a towel around himself, and went over to the basin. In a life where nothing was predictable, when even life itself could be threatened or terminated without warning, this morning ritual was important to him. It was good to start each day with a sense that everything was in its right place. He shaved, using the orange and bergamot shaving cream that he bought from Floris in Jermyn Street, then rinsed off. The mirror had steamed up and he ran a hand across the glass to expose blue-grey eyes that were quietly assessing him as they always did, a lean face and thin lips that could so easily be cruel. He turned his head to examine the burn on his right cheek, caused by a bullet fired at close range in a Stratocruiser high above the Atlantic Ocean. Fortunately, it had almost faded. Bond already had a permanent scar on his face and it occurred to him that one injury might be dismissed as a misfortune but two would most definitely invite comment – far from desirable, given his profession.
He pulled on a pair of Sea Island cotton shorts, then walked back into the bedroom. The bed was empty, the sheets still warm with the memory of the night before. He went over to the wardrobe and took out a dark suit, a white silk shirt and a thin, double-ended grey satin tie. He dressed quickly, at the same time noticing, with approval, the smell of coffee coming from the kitchen. Finally, he drew on a pair of black leather moccasins, then slipped his gunmetal cigarette case into his inside pocket, and made his way out. It was a little after seven thirty.
Pussy Galore was waiting for him in the kitchen, wearing an oversized man's shirt and nothing else. As he came in, she turned and looked at him with the extraordinary violet eyes that had first attracted him when he'd met her at the warehouse in Jersey City barely more than two weeks ago. Then she had been the head of a lesbian organisation, The Cement Mixers, brought in by Auric Goldfinger to help him pull off the heist of the century. As things had turned out, the two of them had become allies and then, inevitably, lovers. The conquest had been particularly satisfying to Bond who had instantly recognised in her that untouchable quality, a refusal to be loved. He had desired her the moment he saw her, walking towards him in a well-cut suit, holding her own in a room full of mobsters. He examined her now; the black hair carelessly cut, the full lips, the decisive cheekbones. It was hard to believe that this was a girl who had felt nothing but suspicion and hatred towards men until he had come into her life.
She poured two cups of coffee – the extra-strong De Bry blend that Bond favoured – then brought a single boiled egg to the table.
'Here you go,' she said. 'Boiled for three and a third minutes, just how you like it.'
She didn't eat anything herself. She'd already made herself a Bloody Mary with a large slug of Smirnoff White Label vodka and enough Tabasco sauce to set the lining of her stomach on fire. She sat with it in front of her, absent-mindedly stirring it with a stick of celery. 'So what are you getting up to today,
Bond?' she asked. 'You get to work at eight thirty. In my line of business, I never got out of bed before ten. I could think of plenty of things to do before breakfast, depending on who I was with. I used to stay in these swanky joints in New York and, I'm telling you, I gave "maid service" a whole new meaning. But you're different, right? Saving the country three times before lunch ...'
Excerpt from Trigger Mortis. Copyright © 2015 by Ian Fleming Publications Ltd and The Ian Fleming Estate. Provided courtesy of Harper, an imprint of HarperCollins Publishers.