Start your day here: Antony Blinken in Africa; More Pfizer boosters on the horizon; Violence at the Belarus-Poland border
Good morning.
Here's what we're following today:
Secretary of State Antony Blinken in Nairobi: His visit marks the Biden administration's highest-level trip to Africa so far. The Horn of Africa region is in turmoil, with an ongoing civil war and humanitarian crisis in Ethiopia and a recent military coup in Sudan.
Pfizer boosters for all adults: The Food and Drug Administration is expected to announce this week that it will grant emergency authorization for booster doses of the Pfizer-BioNTech COVID-19 vaccine for anyone 18 and older.
Violence at the Belarus-Poland border: Thousands of migrants are still stuck in dire conditions along the border. Guards on the Polish side used tear gas and water cannons to keep them from crossing.
🎧 Also on Up First, our daily podcast, Democrats begin a nationwide drive to try to sell President Biden's agenda.
— The Morning Edition live blog team
(Carol Ritchie, Rachel Treisman, Nell Clark and Chris Hopkins)
Sen. Amy Klobuchar says her first post-cancer exam confirms that she's cancer-free
Link Copied
Sen. Amy Klobuchar shared some good news with her Twitter followers on Wednesday morning: Her six-month post-cancer exam results came back all clear.
"I'm so grateful to be healthy and thankful for my family, friends, and the incredible doctors and nurses who have helped me," she wrote. "And don't forget — schedule that mammogram today!"
The Minnesota Democrat announced in September that she had undergone radiation treatment for breast cancer earlier this year. She wrote in a Medium post that doctors confirmed the treatment had gone well and that her chances of developing cancer again were "no greater than the average person."
Klobuchar noted at the time that many people have delayed routine exams because of the pandemic, herself included.
"It's easy to put off health screenings, just like I did. But I hope my experience is a reminder for everyone of the value of routine health checkups, exams, and follow-through," she wrote. "I am so fortunate to have caught the cancer at an early enough stage and to not need chemotherapy or other extensive treatments, which unfortunately is not the case for so many others."
Routine cancer screenings declined by nearly 90% at the height of the pandemic, as NPR's Yuki Noguchi has reported. Health experts worry that because of systemic inequities, people of color and residents of rural areas are all more likely to have missed, postponed or canceled such appointments.
Noguchi notes that a delay of a few months shouldn't be cause for too much concern. But those delays can ripple out, prompting a rise in the numbers of cancers diagnosed or diagnosed at a later stage.
And the problem isn't just limited to cancer screenings. With that said, here are five key types of in-person medical appointments that you should stop putting off.
Apple will soon sell you parts and tools to fix your own iPhone or Mac at home
Link Copied
Apple customers who want to fix their own devices will soon have access to the necessary parts and tools as part of a new self-service repair program.
The program builds on Apple's efforts to expand access to repairs over the last several years, the company said in a Wednesday statement. It also comes as a growing number of states introduce "Right to Repair" legislation that aims to make it easier for people to fix their own products, citing financial and environmental benefits.
"Creating greater access to Apple genuine parts gives our customers even more choice if a repair is needed," said Jeff Williams, Apple's chief operating officer. "In the past three years, Apple has nearly doubled the number of service locations with access to Apple genuine parts, tools, and training, and now we're providing an option for those who wish to complete their own repairs."
Self Service Repair will be available in the U.S. early next year and expand to additional countries throughout 2022. And it will roll out in phases, starting with the iPhone 12 and 13 lines and to be followed soon after by Mac computers with M1 chips.
Apple says the first phase will focus on "the most commonly serviced modules," like the iPhone display, battery and camera. Capabilities for additional repairs are slated for later in the year.
How it will actually work
Historically, when your Apple phone or computer breaks, you have a few options. You can take it to an Apple store, an Apple-authorized service provider or an independent repair provider that has access to Apple parts, tools and manuals.
Now you can add your own home to the list, so long as you are comfortable and capable of doing repairs yourself.
Apple says customers should first review the repair manual, then place an order for the Apple parts and tools using the company's new online store. Then they can return their used part for recycling and receive credit toward that purchase.
The company cautions that DIY repairs are not for everyone, however.
"Self Service Repair is intended for individual technicians with the knowledge and experience to repair electronic devices," reads the release. "For the vast majority of customers, visiting a professional repair provider with certified technicians who use genuine Apple parts is the safest and most reliable way to get a repair."
Ongoing efforts to make repairs more accessible
Apple says it's been working for years to provide more suppliers with genuine parts, tools and training in an effort to make repairs more accessible.
It says it has nearly doubled the number of such service locations in three years.
Apple's Independent Repair Provider program — which launched in the U.S. in 2019 and aims to give independent repair shops access to the same resources as authorized service providers — has grown to more than 200 countries and now includes more than 2,800 providers.
Apple notes that it also offers repairs through its global network of more than 5,000 authorized service providers.
Wednesday's announcement comes approximately four months after President Biden signed an executive order calling on the Federal Trade Commission to write regulations that would force manufacturers to allow "the right to repair."
Consumer groups say it's problematic that big companies retain control of the repairs business, since they can talk customers into buying a replacement instead. That's bad for their wallets and for the environment, they say. Here's more on the movement.
Editor's note: Apple is among NPR's financial supporters.
A Frida Kahlo self-portrait smashes records at auction
Link Copied
Frida Kahlo's "Diego y yo," a painting of herself with her husband's image on her forehead, sold for $34.9 million in a Sotheby's auction Tuesday night. The art dealer described it as "the last of her great self-portraits."
It's the most money ever paid at auction for a work by a Latin American artist. The price is also more than triple the highest amount previously paid for a Kahlo work in an auction.
It's not the first time "Diego y yo" has made history: when the painting sold for $1.4 million in 1990, Kahlo became the first Latin American artist to surpass the $1 million mark at auction.
Kahlo created the painting in 1949, 20 years after she married the muralist Diego Rivera. It marked a time when the Mexican artist was at the height of her abilities, and also when her health was declining: Kahlo had numerous surgeries on her spine in 1949, and she began a nine-month hospital stay. When she emerged, she often relied on a wheelchair.
In "Diego y yo," Kahlo depicts herself with three tears flowing from her eyes, with her husband superimposed above her famous eyebrows. By 1949, Kahlo and Rivera had reconciled many of their differences in the turbulent relationship. But the painting is widely seen as Kahlo's expression of pain over Rivera's affair with the actress María Félix -- Rivera painted a portrait of a barely clothed Félix in that same year.
With a final sale price approaching $35 million, "Diego y yo" obliterates the previous auction record for a Latin American piece of art, which was set by Rivera's painting "The Rivals." Kahlo's husband painted The Rivals a few years after they married; it fetched a $9.8 million price at a Christie's auction in 2018.
Rep. Paul Gosar is facing censure over the anime video he shared of himself murdering AOC
Link Copied
The House of Representatives will vote today on whether to censure Republican Rep. Paul Gosar of Arizona over the violent video he shared on Twitter last week.
The anime-style video, which has since been removed, showed Gosar's character murdering Democratic Rep. Rep. Alexandria Ocasio-Cortez with a sword and attacking President Biden. It was interspersed with imagery of migrants, Border Patrol agents, Democratic leaders, Republican representatives on the attack, blood splatters and words like "crime" and "violence."
The video ignited a wave of criticism and calls to action from House Democrats, including Ocasio-Cortez and House Majority Leader Steny Hoyer, who said it may constitute a criminal act.
For his part, Gosar issued a statement last week saying he does not "espouse violence or harm towards any Member of Congress or Mr. Biden," but stopped short of issuing an apology. He defended the video as a "symbolic portrayal of a fight over immigration policy."
House Democrats returned from recess this week demanding that Gosar face consequences, and moved ahead with a censure resolution when it became clear that House Minority Leader Kevin McCarthy would not take action, as Politico reports.
The resolution would formally reprimand Gosar as well as remove him from his two committees,: the House Natural Resources Committee and the House Oversight Committee —, of which Ocasio-Cortez is also a member.
If approved, Gosar would have to stand in the well of the chamber and listen to the rebuke as it is read out loud, according to NPR congressional editor Deirdre Walsh.
Walsh notes that this would be the second time in recent months that a House Republican has faced penalties for over-the-line political rhetoric. The House stripped Georgia Rep. Marjorie Taylor Greene of her committee assignments in February over a string of threatening comments she made about Democrats.
Republican leaders warned at the time that calling out lawmakers for controversial statements sets a bad precedent, and the move to censure Gosar has been met with opposition by many GOP lawmakers (with a few exceptions, like Illinois Rep. Adam Kinzinger).
House Speaker Nancy Pelosi said on Tuesday that the move is necessary because the video both endangered a member of Congress and insulted the institution of the House of Representatives.
"We cannot have members joking about murdering each other as well as threatening the president of the United States," she said.
Ocasio-Cortez told reporters that if Republicans oppose the measure, they are sending a message that they believe such behavior towards women is acceptable at workplaces across the country.
Violence erupts between migrants and guards at the Belarus border with Poland
Link Copied
Violence flared between border guards and migrants stuck between Belarus and Poland on Tuesday. Migrants desperate to cross into the European Union threw rocks and sticks at border guards, who responded with tear gas, stun grenades and water cannons.
The migrants, fleeing turmoil from the Middle East, Africa and Asia, came to Belarus in recent months as leader Alexander Lukashenko increased the number of visas it grants to those seeking refuge from war and poverty.
But the visas are typically only good for seven days, and Lukashenko is having the migrants bused from the capital, Minsk, to borders with Poland and other European Union neighbors. Poland isn't letting the migrants in. EU leaders say Lukashenko is using the migrant crisis to retaliate for the EU's economic sanctions, which Belarus denies.
CNN's Matthew Chance, who is reporting from the Belorussian side of the border, told Morning Edition that a riot erupted when migrants surged toward the barricades and threw stones at the guards.
"You've got a situation where you've got a couple thousand frustrated refugees sitting in very poor conditions in the forest right on the border, pressed up against the barbed wire fence," Chance said.
The migrants are angry, having paid thousands of dollars to get to Belarus and now are left with nothing, he explained. "They were hoping that they were going to be let in. They were told, I think, by the Belorussian authorities that they were going to have easy access through to a better life in the European Union," Chance reports.
Chance himself was hit by water cannons. Listen to his description, plus more on how the crisis arose, at this link.
Several migrants have died from sleeping in freezing conditions, and humanitarian groups have tried to provide water, food and legal advice to them. You can see more photos here of their dire situation.

Australian zoo acquires venomous 'megaspider' — and wants to find more
Link Copied
A zoo in Australia has acquired what officials there say is the largest funnel web spider they've ever seen.
Measuring in at 8 centimeters, the so-called "megaspider" possesses a potentially deadly bite with fangs strong enough to pierce a human fingernail.
The spider was handed in anonymously to the Australian Reptile Park, about an hour's drive north of Sydney, as part of the zoo's antivenom program.
"Having MEGASPIDER handed into the venom program is so amazing, in my 30+ years at the Park, I have never seen a funnel web spider this big!" said Michael Tate, education officer at the Australian Reptile Park, in a statement.
The zoo encourages members of the public to turn in funnel spiders they find in the wild so the zoo can milk their venom and create antivenom, which it says is the only program of its kind in the country.
Now the Australian Reptile Park is hoping to find the anonymous donor of the megaspider, because it may lead them to an area with more unusually large arachnids that produce larger amounts of venom for the antivenom program.
"She is unusually large and if we can get the public to hand in more spiders like her, it will only result in more lives being saved due to the huge amount of venom they can produce," Tate said.
Booster authorization for all American adults could be right around the corner
Link Copied
Should every American adult be eligible for a booster shot?
Experts at the Food and Drug Administration are considering that question this week. Tens of millions more Americans would become eligible if authorization is granted for the Pfizer-BioNtech booster for anyone age 18 and older.
NPR's Health Correspondent Rob Stein joined Morning Edition with the details; listen here.
Many U.S. adults have already been eligible for a booster. In fact, eligibility is already so broad that something like two out of every three fully vaccinated people already meet the criteria for getting a booster, Stein reports.
Some states such as California have already made boosters eligible for all adults. Even so, millions don't yet qualify and will be watching for the possible booster authorization this week.
Scientists are still debating the issue of whether all people truly need a booster right now. Some experts say open eligibility for boosters is vital to reinforce people's immunity as much as possible from such a deadly and disabling illness.
But others experts argue the focus should instead be on getting unvaccinated people in the U.S. and around the world their first shots.
A new licensing deal from drug manufacturer Pfizer will soon assist in the fight against the pandemic in counties with low vaccination rates and limited vaccine access.
Yesterday, Pfizer announced a licensing deal that will make its anti-viral treatment for COVID-19 much more accessible for low and middle-income countries. It follows a similar move from Merck and could have a huge impact.
The treatment is a series of pills meant to be taken early on by an infected person, including those who are unvaccinated. The company reports studies showed the pills can significantly decrease a person's chances of being hospitalized and of dying from COVID-19. The treatment isn't yet available to the public; Pfizer announced earlier this week it is seeking federal emergency use authorization in the U.S.
The new licensing deals make it possible for generic drug makers to produce the pill, strengthening supply.
NPR global health correspondent Nurith Aizenman joined Morning Edition to explain how the plan touches on big health equity questions. Listen here on NPR.one.
Los Angeles' Staples Center will soon become the Crypto.com Arena
Link Copied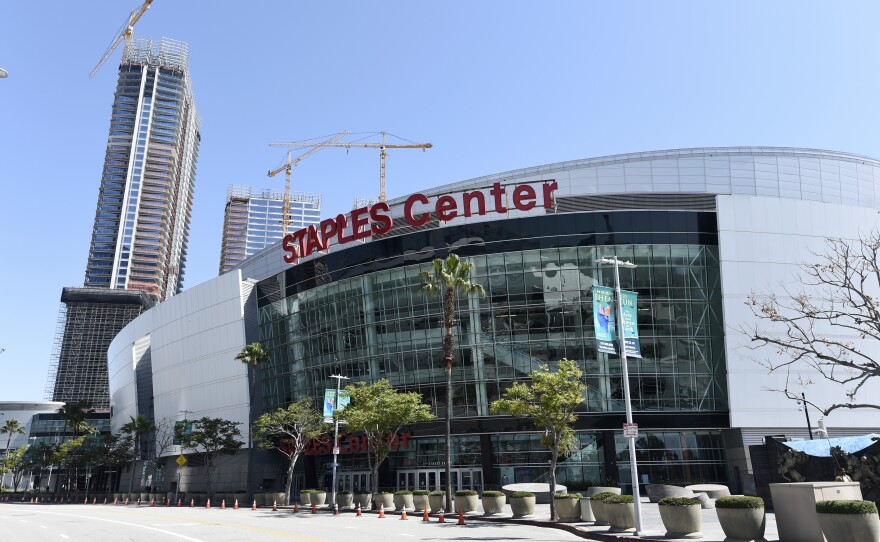 One of Los Angeles' most iconic sports and entertainment venues is rebranding after two decades.
The Staples Center will go from bearing the name of an office supply retail chain to that of a cryptocurrency platform when it becomes the Crypto.com Arena next month.
That's thanks to a new agreement between AEG — which owns and operates the venue — and Singapore-based Crypto.com. They will unveil the arena's new logo and branding materials when the Los Angeles Lakers host the Brooklyn Nets on Christmas Day, according to the announcement, and all of its external signage will be replaced by June 2022.
"This partnership is about the future," Dan Beckerman, AEG's president and CEO, said in a statement. "AEG and Crypto.com not only share a vision about innovation and the future of sports and entertainment, but we also have a shared commitment to our communities where we work and live."
The 20,000-seat venue hosts more than 240 events each year and has an especially storied history. Among other distinctions, it's the official home of local teams like the NBA's Lakers and Clippers, the NHL's Kings and the WNBA's Sparks The arena has hosted 19 of the last 21 Grammy Awards shows and held memorials for public figures including Kobe Bryant and Michael Jackson.
The Staples office supply retailer bought the naming rights to the venue — which opened in 1999 — at the cost of $116 million for 20 years.
ESPN and other outlets report that Crypto.com is paying $700 million over 20 years to rename the building, in what is believed to be the richest naming rights deal in sports history. The agreement also makes Crypto.com an "official cryptocurrency platform partner" of the Los Angeles Lakers and the LA Kings, according to the announcement.
So what will this new arrangement look like for spectators? Lots of Crypto.com signage and branding, including in the form of a 3,300 sq. ft "activation space" at the building's entrance and "dedicated activation areas" throughout the arena.
Crypto.com and AEG also say they want to work with the community to prioritize sustainability and local engagement. In the news release, they note that AEG was one of the first companies to adopt a greenhouse reduction goal based on the 1.5 ̊ C global warming limit recommended by the Intergovernmental Panel on Climate Change, and Crypto.com is committed to becoming carbon negative by the end of 2022.
Secretary Blinken kicks off the Biden administration's highest-level trip to Africa
Link Copied
U.S. Secretary of State Antony Blinken arrived in Nairobi today, kicking off the Biden administration's highest-level trip to Africa so far.
His three-nation tour comes as much of the Horn of Africa is in disarray: Ethiopia is facing a civil war and accompanying humanitarian crisis, while Sudan recently experienced a military coup.
Blinken is hoping to show that the U.S. is engaged in Africa and seeking to help the continent. Plus, the Biden administration is planning a democracy summit next month, and all of these countries he's visiting on this trip are invited.
NPR diplomatic correspondent Michele Kelemen is traveling with with the secretary of state, and spoke to Morning Edition from Nairobi about his to-do list. Listen to her conversation with host Noel King and read highlights below.
Trying to prevent a spillover of the war in Ethiopia
Rebels from the Tigray region are closing in on Ethiopia's capital, with the U.N. blaming all sides for atrocities including extrajudicial executions, torture, rape and attacks on refugees. The humanitarian situation is growing more dire by the day: A de facto blockade has kept aid trucks and relief flights from reaching the region, which is facing a worsening famine. Read more about it here.
So what's Blinken trying to do from Kenya?
"In short, he's trying to keep Ethiopia from imploding and spilling over into a wider regional conflict," Kelemen says, adding that he also wants to help head off famine in the Tigray region.
The U.S. wants to partner with Kenya and other countries in the region to prevent a spillover of the war and is mostly playing a supporting role, in part because Ethiopia has reacted angrily to U.S. pressure. It has accused the U.S. of siding with the Tigrayan rebels, which Ambassador Linda Thomas-Greenfield, the U.S. representative to the U.N., has pushed back against.
"There are no good guys here. There are only victims on all sides," she said in remarks last week, and Kelemen says we can expect to hear similar comments coming from Blinken.
Supporting the transition to democracy in Sudan
The U.S.-backed traditional government of Sudan was pushed out during a military coup, threatening the country's movement towards democracy.
Kelemen says that the U.S. is trying to get countries that have influence with the Sudanese military to use that influence and roll back the military takeover. But it's not clear that this is working, she added, as the military has violently cracked down on protesters and internet blackouts have made it hard for activists to organize.
Promoting democracy with an eye toward China
As King notes, President Biden used his virtual summit with Chinese President Xi Jinping to talk about competition between the two countries, and China has been "bullish" in terms of its investments in East Africa.
The Biden administration sees the situation as a competition between autocracy and democracy, Kelemen explains. Blinken says he wants to show that "democracies deliver to people, while China's aid often saddles people with debt."
Blinken warned of a global "democratic recession" while meeting with activists in Kenya. He pointed to challenges like misinformation, political violence and voter intimidation — and noted that the U.S. is struggling with them too.