'It's About Human Nature': What Science Tells Us About Being A Bandwagon Nats Fan
'It's About Human Nature': What Science Tells Us About Being A Bandwagon Nats Fan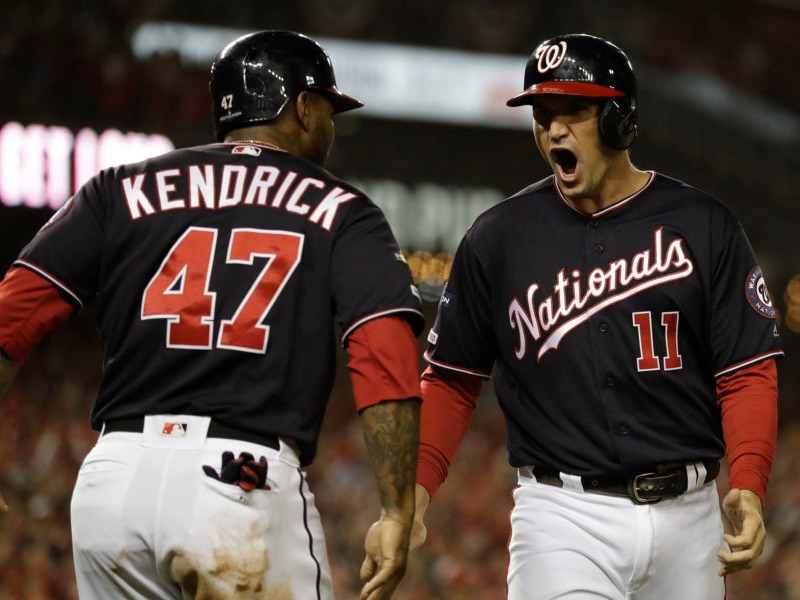 We've all done it. We've jumped on the bandwagon because something became popular.
Many people in the region are now jumping on the Nationals' bandwagon as they head to the World Series this week.
One of the team's newest self-proclaimed fans, John Loughney, found himself the local face of bandwagon supporters last week after exclaiming he'd been a fan "since today" following the Nationals' win that clinched them a spot in the World Series. A video clip of Loughney's admission has been viewed more than 1.2 million times since it was posted last week.
"Every fan has to start somewhere so mine started [Tuesday]," he said of his recent fandom.
One of the best places to see baseball fans and the bandwagon movement in action is at a local sports bar.
"I'm a full on bandwagon fan for any sport because who's got time to watch stuff during the regular season?" D.C. resident John Costonader said sitting at Lou's City Bar in Columbia Heights with a group of friends. "There's too many games."
A few tables over, Nina Abelson sat watching the Astros and the Yankees play Game 4 in the Championship Series. Abelson, who describes herself as a die-hard Yankees fan from New York, had some criticism for bandwagon fans. She sits with a few other devoted Yankees fans, drinking beer, eating wings and wearing Yankees' paraphernalia.
"There are 162 games a year," Abelson said. "I feel like you, you know, don't really know anything about the team, have never been to a game, but you're rooting for the team, then you're kind of a bandwagon jumper."
Another D.C. resident Cody Ross, who calls himself a bandwagon Mets fan says he'll root for the Nats in the World Series and join other new local fans coming out of the woodwork.
"I've lived here for about a year and a half. I didn't realize there were so many Nats fans around 'till literally the last few days," Ross said.
There's also longtime D.C. resident David Alexander who became a bandwagon fan last week when his friends invited him to a Nats playoff game.
"Can I just say something in defense of bandwagon fans?" Alexander said, "It's not about sports, it's about human nature. People like to have something to get excited about and like to connect with people."
The Bandwagon Effect
Social psychologists such as American University professor Trina Ulrich describe the desire to join trends and popular celebrations as the Bandwagon Effect.
"[It's] essentially a psychological phenomenon that happens when people are doing something because others are doing it already," Ulrich said.
It has to do with a psychology term called dispositional hope. It's the belief that you can achieve personal goals.
"And this hope resides in everybody," Ulrich said. "Some people have higher dispositional hope and others have lower dispositional hope."
So if you have a bunch of die-hard Nats fans with high dispositional hope, they will draw in other fans that may have a low dispositional hope. It has to do with the feel-good hormones in the brain like serotonin, oxytocin and dopamine.
"When [the hormones] rise because of motivation and excitement and success, the brain gets bathed in this and there is a pleasure effect," Ulrich said. "So why not feel this way too when you see someone else feeling this way?"
The Bandwagon Effect also has something to do with conformity, she explains.
In the 1950s Polish-American Psychologist Solomon Asch was a pioneer of social psychology. He devised an experiment that Ulrich uses every year in her class.
In her version, she asks students to match a horizontal line with one of three vertical lines on a whiteboard.
One of those vertical lines is much longer than the horizontal line. The second line is closer in size, but just a bit bigger. And, the third is exactly the same size.
But just before class, she picks a handful of students to passionately make a case for the wrong line.
"I want you to tell me that the line that is almost the same length as the horizontal line, is the same length and see what happens to the rest of the class," Ulrich tells her students.
Nearly every time, the class goes along with what the three or four handpicked students say.
"But it's interesting also that there's always one or two students who really retaliate and stand up and say, 'No, come on. Let me measure that!' And they're very detail-oriented," she said.
Ulrich added that having people with diverse traits and backgrounds in a group can prevent complete conformity.
But when it comes to the Nats playing in the World Series, she believes, the Bandwagon Effect can be a good way to unite people in the region and help them forget about what might divide them for a few nights of baseball.
This story was updated to include John Loughney's reflection on his recent fandom.
Questions or comments about the story?
WAMU 88.5 values your feedback.