How The Negro League's Homestead Grays Shaped D.C. Baseball
How The Negro League's Homestead Grays Shaped D.C. Baseball
There have been several stories recently highlighting the last time a Washington baseball team won a World Series. The answer most given is the Senators in 1924. Now, it's true that the Senators were Washington's last major league baseball team to win a World Series. But there was another very successful team to come afterward.
The Homestead Grays won three Negro League World Series titles. Add 10 Negro National League pennants and you get the winningest baseball team in Washington history.
Now, there are plenty of reasons why baseball enthusiasts would disagree with this argument. They might say that the Grays were not exclusively a Washington team. They were founded in Pittsburgh in 1912 and didn't start splitting time until 1940.
"Part of it was a matter of having a facility," said Frederick C. Bush, a Negro League historian.
Like many Negro League teams, the Homestead Grays did not have a dedicated field. They played home games at Forbes Field when the Pittsburgh Pirates were on the road and were desperate to find another place to play. Washington Senators owner Clark Griffith saw a financial benefit to letting the Grays play some of their games at his stadium in D.C., Bush said.
"And so it worked out for both. Griffith got a little bit of extra revenue, and the Grays got to expand their audience and had more of an opportunity to play games," he said.
Thus, the team became the Washington Homestead Grays.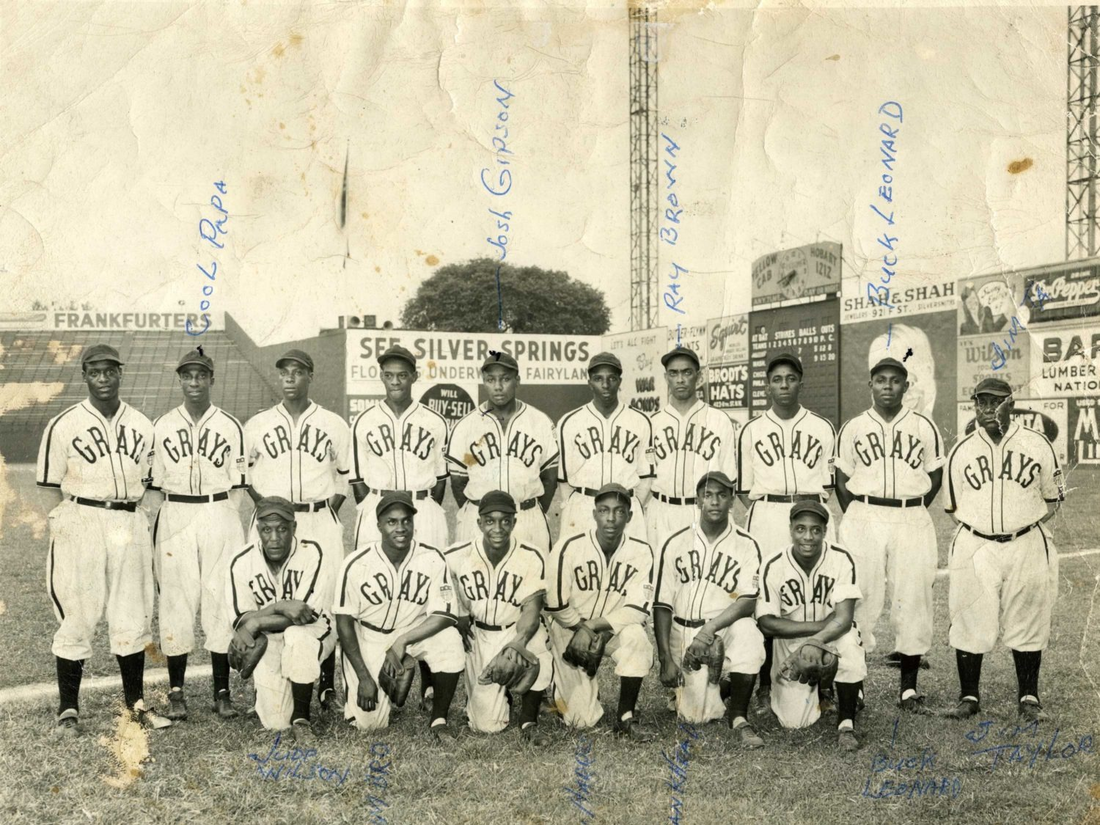 Bush co-edited the book, "Bittersweet Goodbye: The Black Barons, The Grays and the 1948 Negro League World Series." The Homestead Grays beat the Birmingham Black Barons in five games (none of which were played in Washington, by the way). It was the last time the Grays, or any Negro League team, would play in a World Series.
There was a push, led largely by the African American press, to integrate baseball. Jackie Robinson became the first African American to play in the major leagues in 1947. Larry Doby also joined that year and a few more followed in 1948. The integration of baseball was both a blessing and a curse, Bush said.
"Organized baseball began to raid the Negro Leagues for all of their best talent. And those who were left in the Negro Leagues could see the end coming," he said. "If you were an older player, you were not going to have the chance to join a team in organized baseball. So, a lot of them knew that playing baseball was going to fall by the wayside pretty soon."
Better African American players in the major leagues meant a shift in attention, both from the press and the fans. The Negro National League folded after the 1948 World Series. The Negro American League struggled on until the early 1960s even though game attendance steadily declined. This marked a big blow for many in the African American community who had seen the Negro League and its players as beacons of light for nearly three decades.
The Washington Nationals have paid tribute to several Homestead Grays on the Ring of Honor, a list of names adorning the upper decks of Nationals Park. Players like James "Cool Papa" Bell, Buck Leonard and Josh Gibson are among those represented. Gibson is one of the most celebrated baseball players of all time.
"They used to call him the 'Black Babe Ruth' by the way, Josh Gibson. Some folks say he hit 900 home runs, some say 800, but everybody knows what he's done," said Ray Banks, co-founder and curator of the Hubert V. Simmons Museum of Negro Leagues Baseball in Owings Mills, Maryland.
Legend has it that Gibson is the only person to have hit a ball out of Yankee Stadium. But according to an ESPN article in 2008, Gibson debunked this rumor himself. The stories don't end there. Buck Leonard once claimed to have seen Gibson hit a home run that traveled 600 feet. But alas, only anecdotal evidence exists. Recordkeeping of Negro League games and players was spotty, and a lot of information has been lost. Some of what hasn't is now housed in museums like the one at the Owings Mills Public Library.
Exhibits are right off the elevators on the first, second and third floors. Patrons have no choice but to walk right through black baseball history. Banks has collected Negro Leagues memorabilia for more than 20 years. He said he wants visitors to understand and respect the struggle that these athletes endured to play the game.
"Appreciate what these guys did for you because you're standing on the shoulders of giants that paved the way for you," Banks said.
The story of the Negro Leagues is one rooted in American history, said Raymond Doswell, vice president and curator of the Negro Leagues Baseball Museum in Kansas City, Missouri.
"It could only have happened in America in many respects. Like jazz. Negro Leagues baseball reflects both the greatness and the bitterness for African Americans. And yet, it isn't a sad story. It is a story of triumph over adversity,"said Doswell.
Although the integration of baseball spelled an end to the Negro Leagues, Doswell said, the success of the Negro Leagues almost forced the hand of organized baseball to recognize talented athletes of color. And he said the integration of baseball helped white Americans to see black people as equals.
"And for white fans, especially to not only see how well the athletes could play, but how well they work together with their white teammates really begins to change the minds of people and slowly, but surely, sports and particularly baseball helped chip away at the veneer of racism," Doswell said.
The legacy of Negro Leagues baseball is apparent today in the Washington Nationals, Doswell said. Imagine the team being as successful as they were this year without players like Howie Kendrick or Juan Soto.
Thankfully, that's a scenario Nationals fans don't have to think about.
Questions or comments about the story?
WAMU 88.5 values your feedback.