New Beer Laws In Maryland Mean More Craft Beer In More Places
New Beer Laws In Maryland Mean More Craft Beer In More Places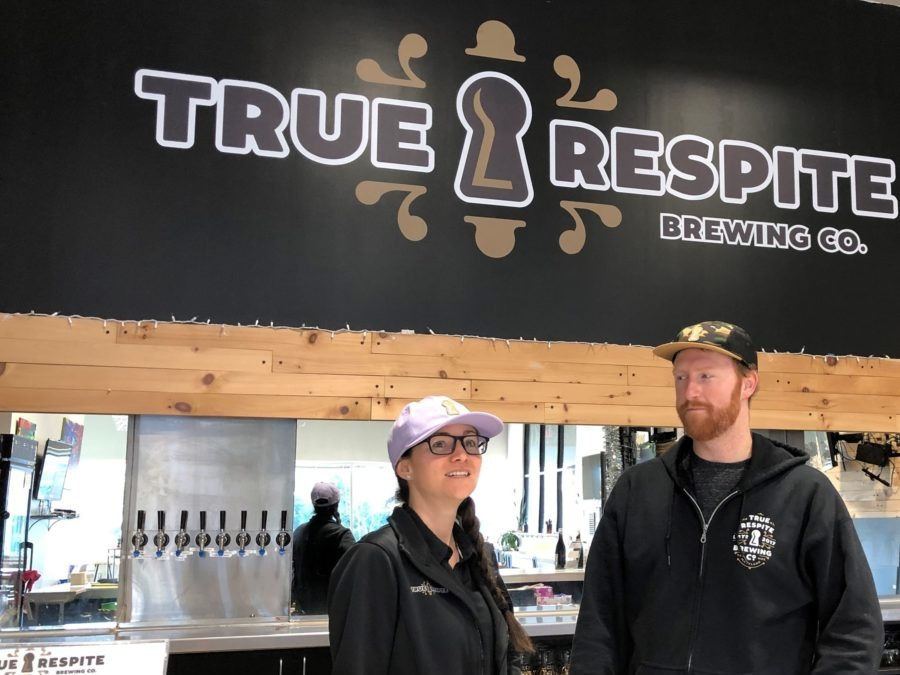 If you ever get accepted into Brendan and Bailey O'Leary's inner circle, they'll name a beer after you. The owners of True Respite Brewing Company in Rockville, Maryland, have an entire series of beers inspired by close friends and family. There's "Button and Muffin," pet names of a couple of their employees, and "It's Too Foggy," a phrase uttered by their sassy toddler when she doesn't get her way.
"She loves it. Every time she comes in the taproom, she points at it and tells everyone, 'That's my beer,'" says Bailey O'Leary.
True Respite's inner circle series could expand next year. Not because the O'Learys are taking on more friends, but because the new year brings more opportunities for growth to Maryland craft beer brewers.
Two new laws — the Brewery Modernization Act and the Beer Franchise Law — will dramatically alter the craft beer industry. One law increases the amount of beer craft brewers can produce and sell. The other loosens provisions on contracts between brewers and wholesalers. The changes mean craft beer enthusiasts will see more of their favorite drinks in stores around the Washington region.
The Brewery Modernization Act
The first law, the Brewery Modernization Act, which took effect on July 1, increases the number of barrels of beer brewers can sell in their taprooms to 5,000 a year — which is still the lowest cap in the country.
"We were at 2,000 barrels before. That was by far the lowest in the nation," says Kevin Atticks, executive director of the Brewers Association of Maryland. "But when we look around at what our brewers had been selling and how many were nearing the caps, 5,000 [barrels] gives them a lot of headroom to grow, and there was a clear understanding and an agreement by all parties [during 2019 legislative session] that if we grow into that and that new cap becomes a burden, we have a new discussion about it."
There's something strangely ironic about the arbitrarily low cap on craft beer production and sales in Maryland, especially if we examine the state's historic defiance to Prohibition. Maryland was the only state to resist all attempts by Congress to close off and dry up the flow of alcohol around the country. The city of Baltimore played a major role in the bootlegging era. Maryland's moniker "The Free State" was born out of this insubordination.
One hundred years later, major shifts in Maryland's political structure and leadership, coupled with the rapid growth and influence of the craft beer industry, have fueled the changes being seen today in the Free State.
Another provision of the Brewery Modernization Act raises the number of barrels of beer brewers can self-distribute from 3,000 a year to 5,000. Bailey O'Leary says this could be a boom for the state's craft beer industry, which has a lot of room for economic growth.
"Maryland has a pretty average number of breweries per capita if you compare us to the rest of the country. But, in 2018, Maryland was 50th in economic impact from breweries. That's terrible," she says.
She is referring to data compiled by the Brewers Association of America, an industry trade group. Maryland has about 118 craft breweries with an estimated per capita economic impact of $200 million. By comparison, D.C. has about a dozen breweries with an estimated economic impact of $393 million. Kevin Atticks says craft beer is a net positive, "because the margin on craft beer is better. A craft beer consumer is a more reliable, engaged customer. They're interested in trying new things. They're not afraid to spend $12 to $15 a six-pack."
The Beer Franchise Law
Consumers are also becoming more active in Maryland politics. Atticks says a younger demographic in Annapolis is helping to push through new laws allowing the craft beer industry to thrive. The Beer Franchise Law — which takes effect Jan. 1, 2020 — essentially dictates the terms by which a brewery can terminate a contract with a wholesaler. Atticks says this law is something that several Maryland brewers pushed for.
"We've got probably 60 breweries that are in some form of distribution. A large number of them have had disagreements with their wholesalers and have attempted to get out and have not been able to get out of their relationship," he says.
In Maryland, if a brewer wants to break a contract with a wholesaler, they need to give 180-days' notice and show "good cause" as to why they want to leave. The contract is then subject to arbitration.
Nearly every state has a franchise law on the books except D.C., Alaska and Hawaii. Most require brewers to give notice that they want to leave a contract — anywhere from 30 to 120 days. Maryland was the only state to require more than 120 days' notice. Most states also require brewers to show "good cause."
Maryland's Beer Franchise Law removes the "good cause" provision and lowers the notice time to 45 days. Brendan O'Leary says the law provides brewers more flexibility and freedom to self-distribute.
"The pros to being self-distributed is you don't have to pay margins to anyone. You control your product from grain in a bag all the way until kegs hooked up to a tap at a retailer or cases on a shelf," he says. "[And] you have direct relationships with your customers."
There are also pros to using a wholesaler, O'Leary says. True Respite is using one to help expand into other states. The trick is finding the right partner, like a marriage, says Betty Buck, president of Buck Distributing in Upper Marlboro.
"If a brewer goes into it and realizes that it doesn't fit, or a beer distributor realizes it doesn't fit, I think [the Beer Franchise Law] is a fair law that gives them an option on what to do about it," she says.
The Beer Franchise Law won't hurt her business, Buck says, and officials with the Maryland Beer Wholesalers Association say the same. They add that the law will actually improve relationships between craft brewers and wholesalers by easing some courtship tensions and minimizing wedding-day jitters.
Questions or comments about the story?
WAMU values your feedback.