A Republican Group Hopes To Craft A Winning Message In Blue Northern Virginia
A Republican Group Hopes To Craft A Winning Message In Blue Northern Virginia
At the Lil Havana Cigar Club in McLean, Va., Ron Wright laid out a birthday cake for Ronald Reagan. It was just hours before President Trump's State of the Union Address, but Wright wasn't hosting a watch party. He prepared for a monthly gathering of Republican cigar aficionados.
This meeting is more than good conversation: it is Wright's attempt to lift his party out of a rut in the suburbs.
A Wake Up Call For The GOP
Wright created this Conservative Smokers club a year ago as part of the Suburban Virginia Republican Coalition, or SUVGOP.
"Everybody desires a good conversation," said Wright, who owns a software company. "It's just a friendship, I think. Of course, you talk politics, but here nobody takes a hard line either way."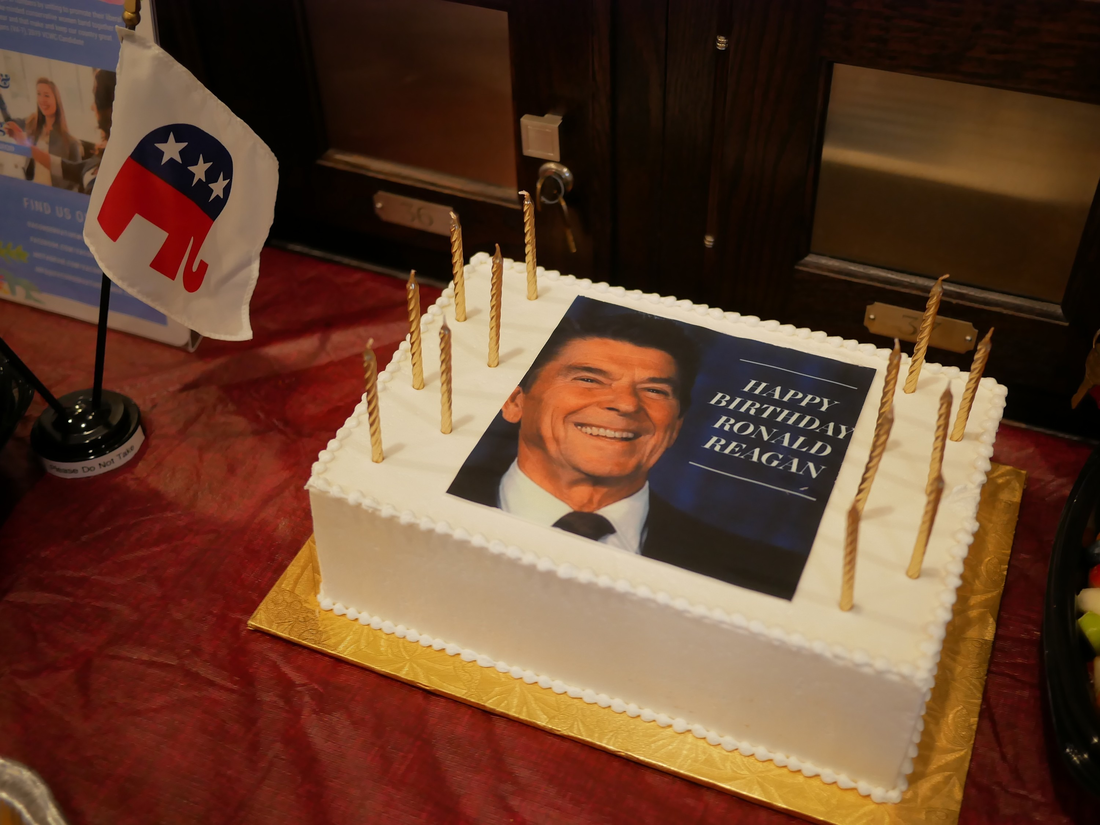 McLean in Fairfax County embodies the challenge suburban Republicans are facing. It is home to the CIA and the mansions of powerful Republican lobbyists and donors. Just two decades ago, the county was evenly split between Republicans and Democrats. But immigrants and out-of-state transplants have flocked to its jobs, affordable housing and proximity to Washington. They have filled newly built townhouses and opened businesses like restaurants, dry cleaners and the cigar club.
As in suburbs around the country, many of the newcomers vote Democrat. In elections over the past three years, the Northern Virginia suburban vote helped Democrats gain control of every statewide office and the General Assembly.
Wright said it was a wake up call to his party, which he says grew complacent during years in control.
"We were in power so we didn't have to change," he said.
Wright's cigar night was not sponsored by the Republican Party of Virginia. In fact, Wright's fellow cofounder Mike Ginsberg contrasts their strategy with that of the establishment GOP. While the state party has doubled down on Trump and fired up its rural base, Ginsberg saw suburban voters weren't buying it.
This cigar night is part of a strategy to appeal to moderates, delivered at low-key events designed to fit into people's lives. Harking back to earlier incarnations of the Republican Party, the message is about small government, lower taxes and conservative values.
It's a message the party has struggled to deliver in an increasingly diverse Northern Virginia and in suburbs nationwide.
"We sort of think of ourselves as political entrepreneurs," said Ginsberg. "There is a vacuum or a niche that isn't being filled."
Filling The Niche
Conservative Smokers is trying to bridge that gap, where the SUVGOP opened the smoky back room to a wide range of guests.
Seyla Seng, 49, gently singed the edge of a Plasencia cigar from Nicaragua before he lit it.
"This is a medium body, so it's not going to make you spin or anything like that," he said.
Seng arrived in Virginia as a child when his family fled Cambodia. He lived in New York for a few years before returning to McLean, where he runs a digital marketing agency. He met Wright at this cigar lounge and has never missed a Conservative Smoker meeting. Seng said he voted for Obama in 2008, but was turned off by the prospect of paying for Obamacare.
He didn't expect the Republican Party to welcome immigrants like him, and so he was pleasantly surprised by his experience at the SUVGOP events.
"In the Democratic Party, you can see all different flavors there," said Seng, who is an independent. "On the Republican side there's not as much, but it certainly is more than I thought."
Seng is the kind of voter the GOP needs to win again in the suburbs. He was aware the Republicans were courting him, but he appreciated their approach.
"It was subtle and it opened up many new conversations and relationships," Seng said.
In the same room, Vinson Palathingal, an IT entrepreneur, tried a cigar for the first time. He ran a failed bid for the Fairfax County School Board last year, and said he's often the only Republican among his community of fellow Indian immigrants.
Republican Harrison Clark, from Annandale, bucks the trend of African Americans who largely vote Democrat. He said Democratic policies hurt, rather than help, the black population by encouraging dependence on handouts.
As a conservative in deep-blue Northern Virginia, Clark says he enjoys being provocative.
"During the election in 2016 I wore my Trump hat in Whole Foods. I love to do that, just to get the reaction from people," Clark recalled. "And several people patted me on the back to say, 'You're so brave.'"
Work To Be Done
Carole Stadfield, 75, sat among the men, disappointed her friends hadn't shown up. She lives in McLean and grew up Republican in Northern Virginia.
The region has changed dramatically, and so has the party she's known all her life. And she says that's a good thing.
"The diversity is wonderful, actually," she said. "So many people think for themselves, and they should. This is America."
The ideas circulating in the SUVGOP have caught the attention of Tom Davis, who represented parts of Fairfax County in Congress and chaired the National Republican Congressional Committee.
He agrees Republicans are in trouble in suburbs, especially in the Trump era.
"Donald Trump doesn't speak the language of suburbia," Davis said. "We've seen that not just in Northern Virginia. Republican strength has been eroding in suburbs across the country."
Davis said he planned to speak at an upcoming SUVGOP seminar for prospective candidates for public office. He is one of that earlier generation of moderate Republicans, and he hopes the party follows the SUVGOP playbook.
"I think they're on the right track," Davis said of the group. "The problem is they're not part of the mainstream party."
The leaders of the group aim to have an impact on the wider party. Ginsberg, Wright and their fellow co-founder Jill Cook are all running for leadership in the state party in May, where they'll have a bigger platform for their ideas.
Inside the Lil Havana Cigar Club, the evening was a success. The owner of the lounge, Lebanese-American Mohamad Berjaoui, said he was open to the fiscal policies of Republicans. When Berjaoui closed his shop, Wright continued to chat with smokers outside in the unseasonably warm February night.
A trip to a neighboring strip mall, however, underscored the work still to be done.
At a Chinese restaurant, Elizabeth Chen and her fiancé Matt Miyamoto ate green onion pancakes and glass noodles. Chen, a consultant in her twenties, is the daughter of conservative Taiwanese immigrants, and in the past, she voted for Republicans. These days she prefers Democratic positions on business, the environment and guns — and she says Republicans are too soft on the president.
"A lot of Republicans do not agree with a lot of the things he says but they are willing to let it go," she said. "It makes me lose trust in the whole party."
Miyamoto, 25, said he was turned off by Trump's policies of separating migrant families.
"There's migrant camps along the border where there are kids who are just locked up," he said. "The Republican party especially is just blatantly ignoring it."
Miyamoto lives in Baltimore, but he plans to move to Virginia to join Chen. They will be one more couple the GOP may try to sway.
Questions or comments about the story?
WAMU values your feedback.