It's Safe To Donate Blood During The Coronavirus Pandemic. Hospitals Wish You Would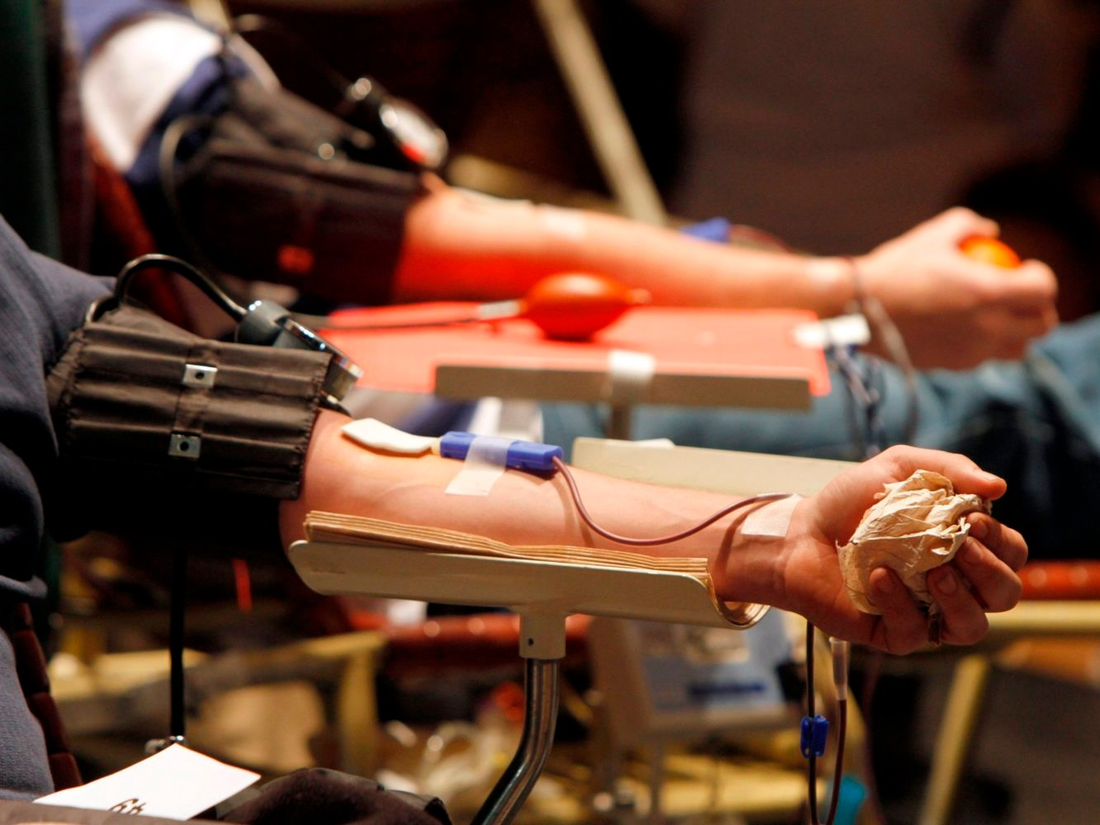 "Are you feeling healthy and well today?" a nurse asked me. Yes, I was. She took my temperature — normal.
She also asked me to look over an information sheet about coronavirus. Since I haven't been diagnosed with a coronavirus infection, don't live with someone diagnosed or suspected of having an infection and haven't traveled to an area with an outbreak, I was good to go.
Well, almost. Turns out I couldn't donate blood because I've gotten a tattoo in the past year.
The nurse and I were both disappointed. Blood donations have plummeted across the country, as schools, offices and other sites that typically host blood drives shut down to prevent the spread of coronavirus. People practicing "social distancing" are cancelling appointments at hospitals and blood donation centers.
Donations were down by 18,000 units from March 9 to March 13 at American Red Cross donation centers nationwide. On Monday, the Red Cross announced that it would give blood donors $10 gift certificates for donating before the end of the month.
"Healthy, eligible donors are strongly encouraged to donate amidst rising coronavirus concern," the email read. "Donating is a safe process."
While there is often a drop in blood donations around the holidays and during cold and flu season, "this is beyond that," says Regina Boothe Bratton with the American Red Cross. She says several hundred blood drives have been cancelled across the country during the past week.
The situation is similar at INOVA Blood Donor Services, the organization that supplies blood to INOVA hospitals in the Washington region and Virginia Hospital Center in Arlington.
"Our inventory is currently at about 60% of where it should be," says Terri Craddock, INOVA's senior director of blood services. Many blood drives have been cancelled in the last 48 hours as school systems close and people turn to telework.
"It's definitely scary, and we really need people to donate blood," Craddock says.
Individuals are not at risk of contracting coronavirus through the blood donation process or through blood transfusion, according to AABB, a nonprofit that represents the blood transfusion field.
To ease the public's concerns, the Red Cross and other blood donation services take potential donors' temperature at the beginning of all appointments. They also disinfect hard surfaces and have hand sanitizer at the ready.
But as the blood supply continues to fall, some doctors and health practitioners have begun discussing mitigation plans, including postponing elective procedures or surgeries that typically require high amounts of blood transfusions.
"We're scrutinizing every blood transfusion that we do to ensure that those who are in greatest need get what they need," Craddock says. INOVA has not formalized any mitigation plans yet, but she did confirm that conversations are taking place.
"Everything is being closely scrutinized," echoes Dr. Meghan Delaney, the chief of pathology and lab medicine and the director of transfusion medicine at Children's Hospital. However, the lower-than-normal blood supply isn't the only reason that elective surgeries could start getting postponed: She says staffing concerns and patients not wanting a surgery at this time could also contribute.
For healthy people looking for a way to help out during the pandemic, donating blood at a hospital or donation center could be a quick and easy way to contribute. "We need healthy individuals to donate," Bratton with the Red Cross says. "Although systems shut down and schools shut down, patients do not get a break in this type of emergency. Health care does not stop."
Some efforts to increase donations appear to be working. Children's Hospital recently put out a call to employees to donate blood, and enough people responded that one nurse at the blood donation center said they're doing "booming business."
"I don't want people to be alarmed or afraid," Delaney says. "Blood donation is safe."
Questions or comments about the story?
WAMU 88.5 values your feedback.