D.C.-Area Housing Market Remains Strong — For Now — Despite Coronavirus Outbreak
D.C.-Area Housing Market Remains Strong — For Now — Despite Coronavirus Outbreak
Zenia Laws and her husband, Hassan, bought a cozy 500-square-foot condo in D.C's Columbia Heights neighborhood about two and half years ago. Life in their tiny space has been great, she says. But last month, the couple decided to buy a bigger place.
"We listed our home in early March and we got an offer a day after listing," Laws, 32, says.
The Laws had until May to find a new home. They went to several open houses in D.C. But as the coronavirus spread, Laws says they started to feel uncomfortable entering other people's homes.
"We even went to an open house recently where it's apparent that the sellers are still living in the home. And you couldn't really explore the house in the same way that you would probably want to," she recalls.
As sellers, the Laws also had concerns about letting outsiders into their small apartment. When the original offer on their condo fell through, they decided not to relist.
"We could not really imagine having open houses or just any of the things that we had just gone through in the past month. Also there was a sense of relief as well, knowing that we would not have to move during a pandemic," Laws says.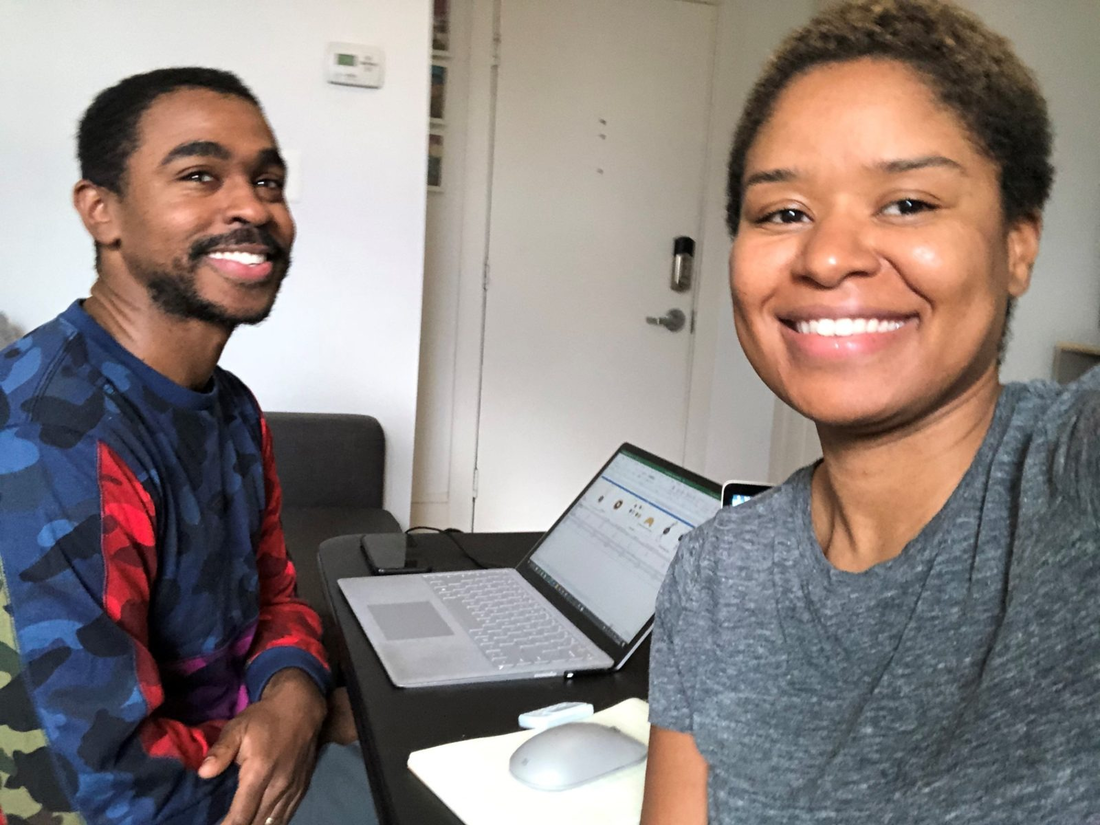 The coronavirus outbreak has upset the basic mechanics of buying and selling homes. Many real estate agents have taken to offering virtual tours of houses to keep activity going, and they say the housing market remains strong for now, as buyers with steady work have maintained demand. But as the shutdown of public life continues, and as the national economy shakes, it's not clear how long the real estate market will hold.
A Record Quarter Closes With Uncertainty
Before the outbreak, first-quarter home sales in the region were on track to outpace last year. Even as interest rates fluctuated in late February and early March, home sales soared. There was a sharp drop in sales at the end of March, but overall purchases were still 2.3% higher than they were for same time last year.
Also in late March, hundreds of people in D.C., Maryland and Virginia did like the Laws and took their homes off the market.
"Those numbers skyrocketed in the last two weeks," says Clint Mann, President of D.C-based Urban Pace, a new home sales marketing firm. "We had 72 of those temporarily off the market in week 11. We had 232 in week 12, and we had 332 in week 13."
While this affected the overall supply of homes on the market, demand stayed the same. Mann says he's cautiously optimistic consumer demand won't disappear entirely.
"If they needed to downsize before, they likely still need to downsize. If their family is growing and they needed more space before, one can only imagine how they will feel after this time in self-quarantine with their family," Mann says.
Spring is normally the start of the busy real estate season. Mann still expects to see a busy season, but one that starts later than usual. Dana Rice, a real estate agent with Compass Realty, agrees.
"The buyers that we see right now, three weeks into quarantine in the United States are going to be buyers who have solid jobs, have confidence about getting through this, and also have a great need to find a new place," Rice says.
Rice says now is a good time for those who can afford to look for a home to do so, because competition may not be as cutthroat as it usually is in this area. Buyers should be prepared to complete the entire process online — from the initial search, to virtual open houses, to signing closing documents. Virtual technology is not a new tool in real estate, but it's definitely the new normal.
Concern For The Future
For many, though, the dream of purchasing a new home could be deferred beyond the quarantine.
A record 6.6 million people filed unemployment claims in the U.S. the last week of March. Despite the rose-tinted outlook from some real estate agents, an extended economic slowdown could spell disaster for the housing market. Unlike the financial crisis of 2008, which saw unemployment grow gradually over the months following the market crash in September, the coronavirus pandemic has almost completely shut down the U.S. economy.
"This has been a very abrupt shift, I must say, compared to the last housing crisis," Sanjiv Das, the current CEO of Caliber Home Loans who headed CitiMortgage in 2008, told CNBC. "If unemployment gets as deep as some people are predicting, if it gets to the mid-teens, then it could be far deeper than the subprime crisis."
Eli Tucker, an Arlington-based real estate agent with a column on Arlnow.com, points out that the 2008 financial crisis was based in the mortgage industry and directly impacted the housing market. The coronavirus pandemic is affecting everyone, everywhere in every industry. Tucker says that while he is optimistic about the future, he also recognizes that these are exceptional, unpredictable times.
"The fact is that we have never experienced a complete economic shut-down like this, nor do we know how long it will last, and economic/real estate forecasting models aren't tuned for this. It's still too early to say with any level of certainty right now what the mid/long-term fallout will be for real estate or any other industry," Tucker says.
Zenia Laws says she and her husband are thankfully still employed, and she's hopeful the two of them will come out of this unscathed. But buying a new home is no longer a priority.
"Your goals can shift at different times. Like at that time a month ago the goal was to purchase a home and to move. And right now I can't say that that's a goal of mine anymore. It just doesn't feel as important right now."
Questions or comments about the story?
WAMU 88.5 values your feedback.