In Shadow Of Coronavirus, Virginia Lawmakers To Freeze New Spending In State Budget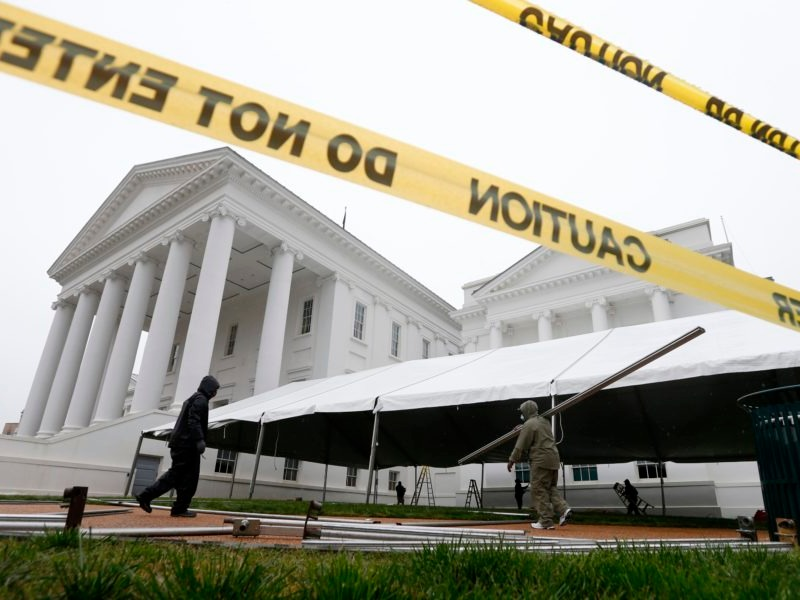 Virginia lawmakers return to Richmond for a reconvened session Wednesday to revisit an ambitious budget the state can no longer afford due to the coronavirus. The House of Delegates planned to meet in a tent outside the General Assembly, while the state Senate was set to meet at the Science Museum. Lawmakers are expected to wear masks but no ties, which can harbor germs.
These changes, imposed to allow for social distancing, were a fitting backdrop for a remarkable hold on new spending, which the Democratic governor and his allies in the legislature said was inevitable as the state's economy has contracted and unemployment spiraled.
"The entire budget was basically built on a bunch of assumptions that completely imploded," said state Sen. Scott Surovell (D-Fairfax). "So I think the prudent thing to do is step back."
Just a little over a month ago, the new Democratic majority enshrined its priorities in a $135 billion budget that would increase funding for education, healthcare, criminal justice reform and raise the minimum wage. The spending appeared to be within reach, as Virginia announced a record $2 billion rainy-day fund and general fund revenue growing at twice the rate of the official forecast.
There were ominous signs: on the same day lawmakers passed the budget, Gov. Ralph Northam declared a state of emergency. Still, Democrats ignored Republican calls to delay a vote on the budget until more was known, although they set aside $10 million to deal with the pandemic.
Now, the view is much changed. Revenues from income tax and sales tax have cratered due to shuttered businesses, while some 9% of the Virginia workforce is unemployed. House Appropriations Committee Chair Luke Torian (D-Prince William) co-wrote an opinion piece with fellow lawmakers and the governor to announce a budget strategy they called a "timeout": "Pause all new spending, leave it in place but set it aside, then return later in the year to update the budget once the economic picture is clearer and our economy is moving again."
Torian told WAMU he was disappointed to see higher education initiatives put on ice, including funding universities to offset a tuition freeze.
"I really wanted to see the tuition moderation remain in place," Torian said. "Working families sending their sons and daughters to college would appreciate a tuition freeze."
Still, he said "there's no appetite from my perspective" to reject the timeout.
"It's money that is gone because of a revenue shortfall," Torian said. "We do not have the money to spend right now."
Other areas that will see a freeze include increased reimbursements for healthcare providers; funding for 50 new public defenders; more transportation funding; and a raise for public employees, including teachers.
In addition to the budget, lawmakers will also approve or reject Northam's amendments to bills they passed. His changes include delaying a raise in the minimum wage by four months to go into effect in May 2021 rather than January.
The adjusted expectations come after Democrats celebrated a historic session in power, with the most diverse class of lawmakers in the state's history. House Speaker Eileen Filler-Corn, the first woman and Jewish lawmaker to hold the post, said the coronavirus forced her to rebalance her priorities.
"We are committed to protecting the historic, progressive gains made during the 2020 General Assembly session while also allowing the Commonwealth the time to appropriately forecast the fiscal consequences of the unprecedented public health, public safety and economic crisis facing Virginia," Filler-Corn wrote in an email to WAMU.
Longtime political commentator Bob Holsworth anticipated lawmakers would try to move through both the budget and amendments within a day, to minimize the risk of transmitting disease. He said the governor and his fellow Democrats who control the legislature were largely in agreement, although he said the delay in the minimum wage could give an opening to opponents to try to quash it in next year's legislative session.
One area where the coronavirus impact is unclear is elections. Northam has proposed to delay local elections that are scheduled for May to November. A number of Democrats, including Chap Petersen of Fairfax, have suggested moving those elections to the end of June instead.
Some Democratic gains will endure even with the economic uncertainty. Earlier this month, Gov. Northam signed bills to tighten gun control, including a universal background check, a "red-flag" law and a restriction of one handgun purchase a month. Those laws will remain, as will measures to protect LGBTQ people from discrimination, to make abortion more accessible, and to increase voter access.
The vote on the two-year budget comes as many in Virginia are focused on the immediate consequences of the coronavirus. Hundreds of protesters said on Facebook they would attend a drive-in demonstration Wednesday to demand the governor lift his closure of non-essential businesses.
Some Republican state lawmakers have encouraged them.
"Virginia can't go on like this," leading GOP state senators wrote in a statement. "For the sake of our state's economy and the quality of life of all Virginians, we need to prepare for a safely 'Reopened Virginia' as soon as possible."
Surovell said he was elected to office during the Great Recession, when spending was tight, and continued to serve through many lean years.
"This was the first budget where we actually had some really decent revenues to spend," he said. "To watch it all just go poof is pretty upsetting."
Questions or comments about the story?
WAMU 88.5 values your feedback.