Protesters In D.C. Were Met With Heavy Police Presence And Helicopters After Curfew
This story was last updated at 11:15 a.m.
On the fourth day of protests in D.C. over the death of George Floyd in Minneapolis, a night of extraordinary scenes began when police cleared protesters from the areas outside the White House so the president could pose in front of St. John's Church.
Then, in the hours after a citywide lockdown went into effect, helicopters flew close to the ground, seeking to disperse groups of protesters. People remained on the streets for hours, met regularly by police officers who gave chase using canisters of smoke and rubber bullets. The attorney general of the United States and the chairman of the joint chiefs of staff both personally came out to observe the situation.
One of the tensest standoffs came off in Dupont Circle, where police blocked off the street and confronted protesters who were out past D.C.'s 7 p.m. curfew.
Dozens of protesters took refuge and were trapped in a house as officers closed in on Swann and 15th streets NW with what appeared to be pepper spray and flash bangs, until the curfew lifted at 6 a.m., when the protesters left without arrest.
Rahul Dubey, the homeowner who sheltered the protesters, told DCist, "If my kid grows up to be like any of them it'd be awesome," speaking of the demonstrators.
Along the U Street corridor, police also blocked off roadways to stop protesters, and a fire broke out in Columbia Heights.
Around 10 p.m., in what aviators are calling a "show of force" usually used in combat zones, a Blackhawk helicopter with U.S. Army markings descended over protesters near Capital One Arena. The helicopter came low enough for its wind to rip branches from trees and scatter debris toward protesters.
Earlier in the evening, military officers cleared a large demonstration near Lafayette Park by firing tear gas and violently pushing protesters and media crew back. Plumes of smoke rose above demonstrators on 16th and H streets NW as the officers charged toward protesters. Some demonstrators took a knee and chanted "I can't breathe."
President Donald Trump addressed the nation from the Rose Garden around 6:30 p.m., where he said he was taking "swift and decisive" action and dispatching "thousands and thousands" of military personnel and law enforcement.
As Trump spoke, explosions could be heard in the background.
"What happened in the city last night was a total disgrace," Trump said, later adding "Our 7 o'clock curfew will be strictly enforced. Those who threaten innocent life and property will be arrested, detained, and prosecuted to the fullest extent of the law."
The president would have to invoke the Insurrection Act of 1807 to send in military troops into American cities. Multiple news outlets reported that President Trump has called up military police units from Fort Bragg in North Carolina to provide security in D.C.
As law enforcement cleared out the area around the White House, Trump walked across the street after his address for a photo op at St. John's Episcopal Church, which briefly suffered a fire Sunday night. Every president since James Madison has visited the more than 200-year-old church. Bishop Mariann Budde of the Episcopal Diocese, who says church leaders were not warned about the visit, later tweeted: "The President used our sacred text as a symbol of division."
Tonight President just used a Bible and a church of my diocese as a backdrop for a message antithetical to the teachings of Jesus and everything that our church stands for. To do so, he sanctioned the use of tear gas by police officers in riot gear to clear the church yard. 1/1

— Mariann Budde (@Mebudde) June 2, 2020
Mayor Muriel Bowser slammed the president's move to disperse peaceful protesters before her 7 p.m. curfew went into effect.
"A full 25 minutes before the curfew & w/o provocation, federal police used munitions on peaceful protesters in front of the White House, an act that will make the job of [D.C. police department] officers more difficult. Shameful!"
White House Deputy Press Secretary Judd Deere said in a statement to NPR that the "perimeter was expanded to help enforce the 7 p.m. curfew in the same area where rioters attempted to burn down one of our nation's most historic churches the night before. Protesters were given three warnings by the U.S. Park Police."
Officers from the Arlington County Police Department have also been providing support during the D.C. protests as part of a mutual aid agreement with the U.S. Park Police. But after Trump's appearance at St. John's Church, Arlington's county manager and police chief told the officers to come back.
"Suddenly ... they've been used to clear the park for this photo op which is totally inappropriate," County Board Chair Libby Garvey told DCist. "That our police should be used this way is just — I can't say it strongly enough — very wrong."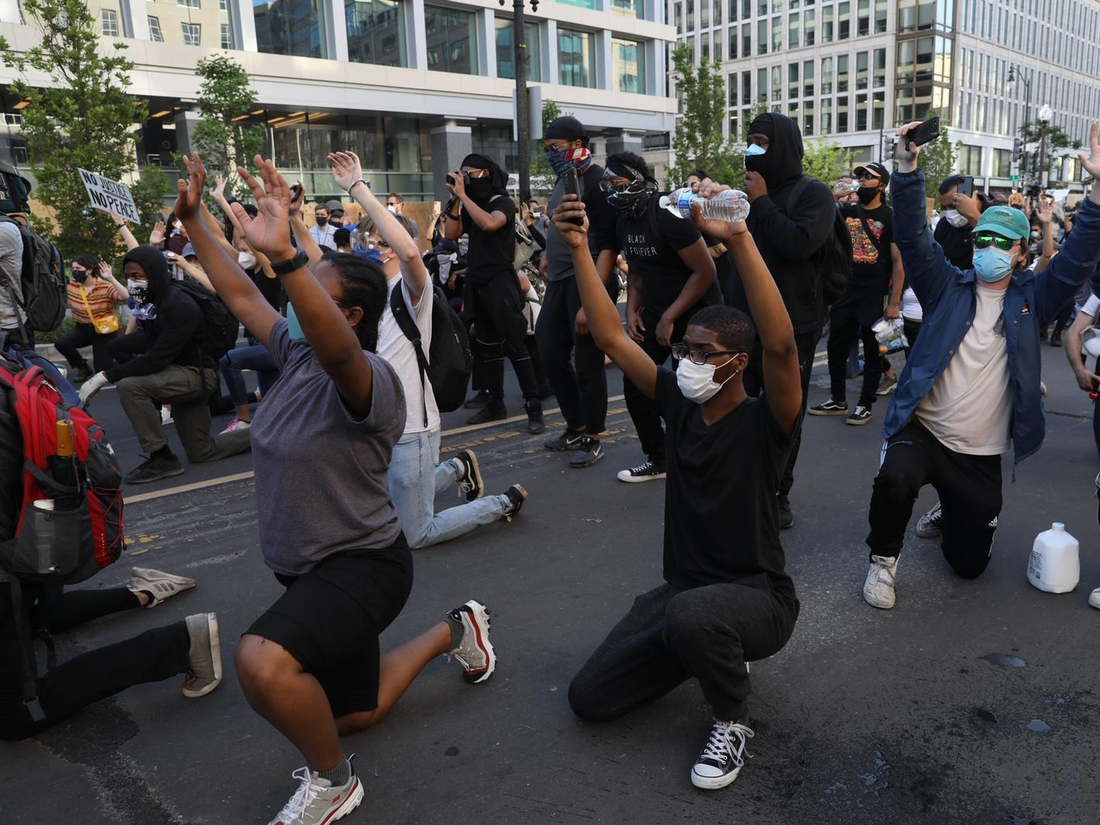 After providing support for the previous protests, Monday was slated to be the last night Arlington police went downtown, Garvey said.
Earlier in the evening, Bowser and Metropolitan Police Chief Peter Newsham reminded residents to abide by the 7 p.m. curfew for Monday and Tuesday, which would last through 6 a.m. the following morning. All nonessential businesses were ordered to close by 7 p.m., and across the city many workers were spotted boarding up windows in anticipation of potential property damage.
"I want to implore D.C. residents to stay at home," Bowser said. "If you are out, then you are subject to be stopped and/or arrested, so it is very important you stay at home." Bowser said the curfew will distinguish between the peaceful protesters and those "hellbent on destruction."
About 90 minutes past curfew on Monday night, Near 16th and I streets NW, a group of nearly two dozen protesters sat on the road chanting "No justice no peace!" as police took them one-by-one to neighboring police vans.
Kyle Johnson, 24, said protesters were peacefully demonstrating when police pushed them back near I Street.
"It's necessary to show that we're not doing anything wrong. Everybody was just peacefully protesting ... The cops are the ones that are pushing us back. It's just a peaceful protest."
He said that, as a white man, he felt it was important to be there and provide support. "I'm not the one to lead here," he said.
Protester Chris Smith, 33, planned to head home right as the curfew started, saying he didn't want to see people get injured.
"At the end of the day, it's going to take a continuing fight," Smith said. "The civil rights movement worked because it was day after day after day. People have to survive to be able to protest over and over again, so if my man gets beat up right here and I have to carry him to the hospital, how is he going to be here tomorrow? We've got to be here everyday."
According to the Metropolitan Police Department's latest arrest numbers, 88 people were arrested over the course of the protests Sunday night into Monday morning on counts including felony, rioting, and curfew violation among others. However, many of those felony rioting counts were dropped Monday in D.C. Superior Court.
Numerous federal law enforcement agencies were in D.C on Monday. Attorney General William Barr sent riot teams from the Federal Bureau of Prisons to D.C. and Miami, per the Washington Post. Trump ordered D.C.'s National Guard to help protect the White House and the federal monuments.
In a call with governors on Monday, Trump said that "Washington had large groups, very large groups ... but Washington was under very good control, but we're going to have it under much better control. We're going to pull in thousands of people ... We're going to clamp down very, very strong."
Bowser said on Monday afternoon that she was "concerned about all the conflicts between people and law enforcement," including the potential increase in tensions with federal law enforcement. "We've seen a lot of conflicts between people and the police in recent days." She noted that D.C. police officers are accountable to local officials, though federal law enforcement is not, which "makes me concerned," she said.
A separate protest also began Monday evening in Dupont Circle in response to the police killing of Tony McDade, a transgender black man fatally shot by an officer in Tallahassee, Fla. The demonstration comes on the first day of Pride Month.
Protests are also forming throughout the region. In Manassas, Va., members of the sheriff's department took a knee with the crowd, at the urging of protesters.
The mayor's curfew extends to Tuesday night, beginning at 7 p.m,. and ending at 6 a.m. on Wednesday. As it is Election Day in D.C., and the polls close at 8 p.m., voting will not be considered a violation of the curfew.
Questions or comments about the story?
WAMU 88.5 values your feedback.