D.C. Protests Remain Markedly Peaceful After Days Of Intense Clashes
By Tuesday night, nearly every conceivable law enforcement agency was stationed in the District. Images of the National Guard positioned on the steps of the Lincoln Memorial and looming over protesters below seemed destined to become iconic. At the start of the night, people handed out goggles and helmets to fellow protesters.The crowd near the White House appeared to grow to its biggest size in five consecutive nights of large demonstrations in the District.
Yet as the District girded for a fifth night of violent clashes, there was instead overwhelming calm.
Protesters looped throughout the city—walking up to U Street, passing under the Convention Center, marching through Dupont Circle, chanting on K Street, passing long lines of voters at polling stations, returning to the area around the White House—for hours after the District's 7 p.m. curfew went into effect. Demonstrators were trailed at times by Metropolitan Police Department officers on bicycles, but law enforcement didn't try to stop the peaceful demonstrations.
"I think we came together collectively and forced their hand to relax tonight," Maryland resident Greg Jules said as the protest moved through U Street.
It stood in marked contrast to Monday evening, when police violently cleared protesters from the area outside the White House even before the city's lockdown was in place. Military helicopters buzzed over the heads of demonstrators in a "show of force." Police barricaded a group of protesters in a one-way street in Dupont. Chemical sprays, rubber pellets, and canisters of smoke were in liberal use.
Just twenty-four hours later, reports of violent clashes were scarce.
"Last night was a war zone. You could feel the tension so much that the hair on my arms was standing up," said April Goggans, a longtime Black Lives Matter activist.
But as the curfew came and went without a repeat of those scenes on Tuesday night, she observed that "it really feels like they don't want to do anything that looks as bad as last night."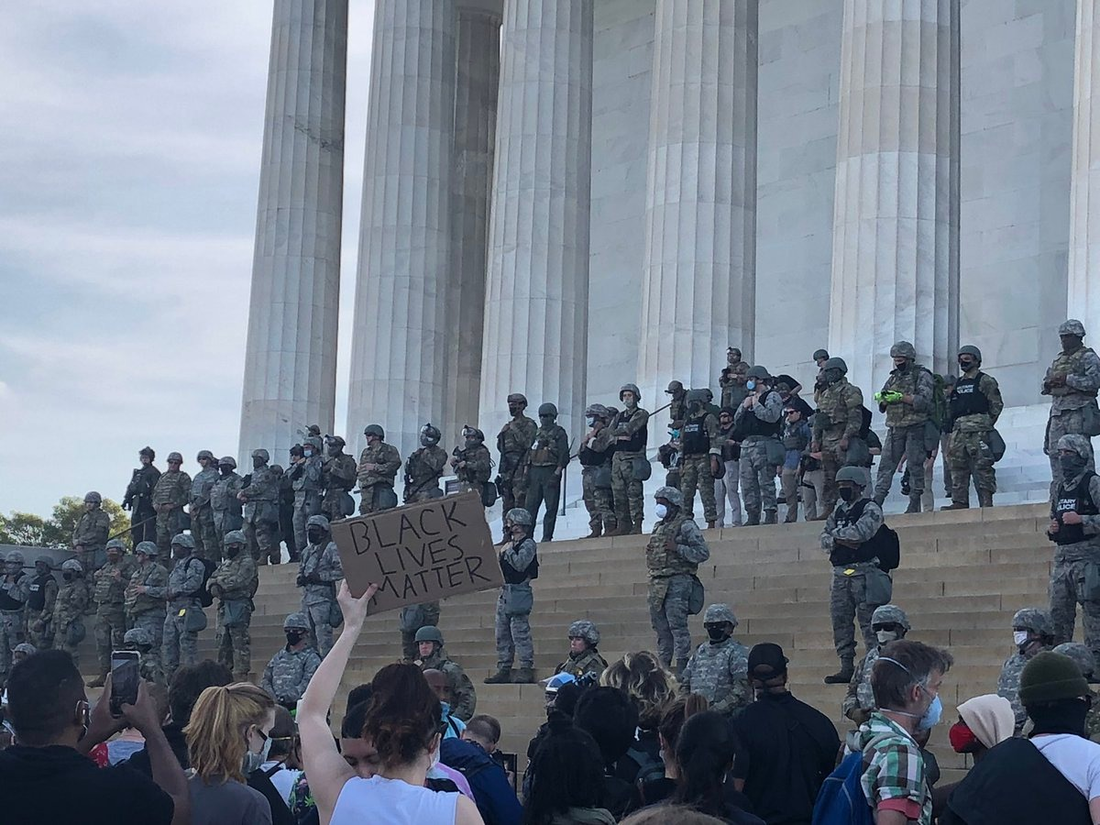 In other major cities around the country, protests appeared largely peaceful on Tuesday, though some grew more violent as the day wore on. In New York, tensions flared between police and protesters on the Manhattan Bridge early in the evening.
In Los Angeles, demonstrators gathered peacefully outside the mayor's residence, and many sat on the ground, though police officers arrested the protesters in the hours after the 6 p.m. curfew. In Milwaukee, police fired tear gas at protesters after demonstrators threw rocks and glass.
In the District, a number of people came out to the demonstrations on Tuesday for the first time, motivated to participate after watching previous protests play out, or as a result of the president's actions.
After seeing police use tear gas to clear protesters from Lafayette Square so President Donald Trump could take a photo outside St. John's Episcopal Church on Monday, Kathy Jones volunteered to hand out snacks and drinks nearby.
Jones, 57, said, "I wanted to do something to basically reconsecrate the church, and make it holy ground again."
Despite "a draining few days," Messai Belayneh also came out for the first time, in particular after the president's remarks.
"After last night and after yesterday and a lot of the comments Trump has made, it's been a little bit more motivating to come outside—to make a stance and choose a side to stand on in history," he said.
Others said they wanted to help in case of another night of violent altercations.
Early in the evening, Mike Whitfield stood at a makeshift station at 16th and I streets with two friends, handing out supplies, including bottled water, baby shampoo, and saline solution.
Whitfield had not participated in any of the earlier protests, but saw photos of participants getting pepper-sprayed by police. Having been pepper-sprayed himself when he was in the military, he decided that he could lend a hand.
"I know things to do after," he says. "And so, I want to make sure I can help as many people as possible. Hopefully all of this is completely overdoing it and I don't need to do anything, but in case I do, then it's a good thing I'm here."
As it turned out, there was generally little need for such assistance.
Still, there were a handful of altercations as the crowd around Lafayette Park thinned around 1 a.m.. Independent journalist Abdallah Fayyad reported that military police threw stun grenades and non-lethal bullets. As the situation escalated, some protesters fled westward and people largely dispersed, according to accounts from Fayyad and journalist Ford Fischer.
Meanwhile, fears that violence could interfere with the primary also didn't appear to come to pass (the election wasn't smooth for other reasons, as some Washingtonians found themselves waiting past midnight to vote.)
A spokesperson for Mayor Muriel Bowser did not respond to a request for comment on the deescalation in tactics used by law enforcement.
In addition to protests downtown, there were also a variety of demonstrations throughout the day, including in Cardozo and on 14th Street, and elsewhere in the region. High school students organized a protest in Bethesda that drew hundreds of people in the afternoon, while a large crowd came out to a midday protest in Clarendon.
On 16th Street, a couple hundred people gathered at 5 p.m. for a vigil for George Floyd outside All Souls Unitarian Church.
The demonstrators lined both sides of the street, holding signs and clapping as passing cars honked their horns in support, including a couple of Metrobuses and one MPD squad car.
Some saw the vigil as a safer option compared to the protests downtown.
"I'm a black woman, and I have a black baby girl and a black husband. As much as I want to be protesting, I don't think that's the best option for us today," said Rochelle Rice, the church's associate director of music and arts, who was there with her young daughter.
The church tolled its bell for eight minutes and 46 seconds: the amount of time a white Minneapolis police officer had his knee pressed into Floyd's neck before Floyd died. The crowd dispersed soon after.
In Mount Pleasant, residents banged on pots and pans—a clanging protest known as a cacerolazo in Latin America—in the hour after the 7 p.m. curfew went into effect.
But the center of the demonstrations remained in the area around the White House. At one point, Senator Elizabeth Warren strolled through the crowd with her husband and dog.
And throughout the night, many described their participation as part of a historic moment.
Joi Robins brought her 3-year-old son, Randy Lambert III, with her Tuesday evening. As she stood at the corner of Vermont Ave and H Street, she said the demonstration is a teaching moment, one he wouldn't have in a classroom.
"I just feel like this is something they won't teach him when it's his time to go to school," she says. "He's a black man, I'm a black woman, and I want him to understand the importance of your rights and exercising them, and justice and injustice, and just being aware."
Robins, 29, said she had participated twice since the demonstrations began on Friday. She hopes her son will be able to look back on this moment with pride when he grows up.
"I want him to be able to look back on this 10, 20 years later, and somebody asks him ... what we were doing around this time," she says, "and I'm gonna say, 'We were right there. You were there. You were a part of it."
Denielle Sanders, who was participating in the protests for the first time on Tuesday, said she felt like posting on social media was no longer enough.
"It's scary to see history being made, and to be a part of it is, honestly, it means a lot to me as a black woman," she says.
Sanders said that the injustices black people in America face have taken an emotional toll. "I'm 21 years old and I am tired," she says. "I shouldn't have to fear for my life or my brother's life or my family's life, or anybody that is a human being, no matter the color of their skin, should not have to fear."
Questions or comments about the story?
WAMU 88.5 values your feedback.