National Guard Shuttled To D.C. Protests On Tour Buses, Lodging At Local Hotels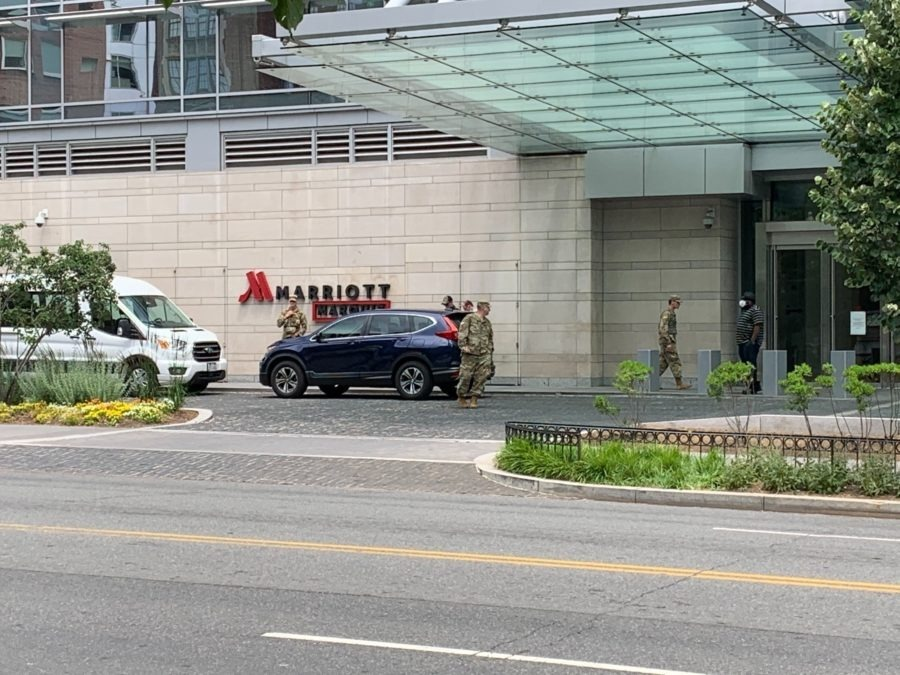 What appeared to be hundreds of Army National Guard troops were shuttled into the Marriott Marquis next to the Washington Convention Center in downtown D.C. this week.
The hotel, closed off to the public due to coronavirus, was packed on Wednesday afternoon with National Guard troops who waited in the lobby. Food delivery workers queued up in the hotel driveway carrying McDonald's and pizza orders, and Adventure Tours and Best Bus coaches waited outside. These buses were loaded with troops and unloaded throughout the day.
Early in the evening, Adventure Tours buses were seen dropping troops off near the White House. Adventure Tours declined DCist's request for comment.
Video from @WhyBlitz showing military forces near the protests happening downtown. They appear to be national guardsmen, and have been arriving in droves on tour buses. pic.twitter.com/OjttpUjSkZ

— Natalie Delgadillo (@ndelgadillo07) June 4, 2020
The National Guard says that the troops are being housed in hotels and government facilities around the D.C. region to provide "more flexible access to their assignments," according to spokesperson U.S. Army Master Sgt. W. Michael Houk.
"It's common practice for service members who are called upon to support a domestic operations response mission to be quartered in local accommodations at a government rate," Houk said in an email. "These Guard men and women will remain on mission in support of civilian authorities as long as they are needed."
The National Guard didn't immediately respond to questions about what the government rate is and why Marriott Marquis in particular was selected. (However, the hotel is a regular spot for U.S. Army events and has been the location for the Association of the United States Army annual meeting for years).
Nearly 3,000 National Guardsmen from states including South Carolina, Utah, New Jersey, and Maryland were deployed to the District between Monday and Tuesday. On Wednesday afternoon, the Associated Press reported that active-duty troops deployed by the Trump administration to the D.C. area were being recalled, according to "senior defense officials." But Army Secretary Ryan McCarthy later told the AP that Defense Secretary Mark Esper had reversed that decision after a White House meeting.
The Marriott Marquis is partially funded by D.C. taxpayers. The Guard says it is paying the government rate, which is reportedly around $250 per diem in the District. Marriott has not responded to a request for comment.
Bizarre seeing couple hundred troops camped out at Marriott Marquis in Downtown DC today. Shuttled in and out on tour buses. No answer from @Marriott or @NationalGuard yet on why they're here and not at nearby barracks. Will update if I find out. pic.twitter.com/sFvvVJdO4q

— Elliot C. Williams (@ecwilliams30) June 3, 2020
Mayor Muriel Bowser's office has not responded to a request for comment, though Bowser doesn't actually have much control over when and where National Guard troops are sent into the District.
After President Donald Trump said on Monday that he would increase the federal law enforcement presence in the District, D.C. Council Chairman Phil Mendelson said in a statement that Trump's "comments are disgusting. Unleashing the military on this city, protestors, and residents is unacceptable and unnecessary."
Ward 6 Councilmember Charles Allen expressed similar frustration, tweeting on Monday: "They're not keeping DC safe; they're putting DC lives at risk rather than de-escalating."
Questions or comments about the story?
WAMU 88.5 values your feedback.