For Black Emergency Doctors In Washington, The Pandemic Is Personal
For Black Emergency Doctors In Washington, The Pandemic Is Personal
Dr. Janice Blanchard worries about her commute this week, which takes her past the White House. Police and federal law enforcement are heavy on the roads she drives to the George Washington University Hospital, where she works as an emergency medicine physician.
"I am nervous I might be stopped," said Blanchard, who is black. "I realize I am low risk, but it is stressful."
Blanchard is among some 1,500 African American doctors in Washington on the front lines of treating the coronavirus. They see in their wards some of the African American patients who make up three quarters of the city's COVID-19 fatalities.
This lopsided death toll is part of a national pattern, but Washington is unique in the strength of its black medical community. In the latest data available from 2018, African Americans made up 16% of the District's doctors. That's more than three times the national average, according to Dr. Doris Browne, former president of the National Medical Association.
For three emergency doctors who spoke to WAMU, the pandemic inspires a sense of duty– and sometimes despair.
"I think as a black doctor, it's my responsibility to do everything in my power to make sure that a black patient is getting fair treatment," Blanchard said. In many cases, that was not enough to save her sickest patients. "You feel helpless, almost, that you're not able to help them."
A Historical Medical Center
Dr. William Strudwick, 57, embodies the history of Washington's black doctors.
He was born at what was the Freedmen's Hospital, founded in 1862, to treat formerly enslaved people. Today it's part of Howard University, a historically black university whose College of Medicine is among the top producers of African American doctors in the nation. It's where both of Strudwick's parents studied to become physicians. Growing up in Washington, he said it seemed natural to follow their path.
"The mayor was African American," Strudwick said. "All the doctors that I encountered were African American. Lawyers, politicians ... So you didn't see any obstacles in terms of what you could do."
Strudwick said his three decades of experience prepared him to battle the pandemic. He researches therapies long into the night. He fields phone calls from friends with questions about the disease and trains medical residents learning on the job.
"This is the moment where you can step up and serve the community like no one else really can," he said.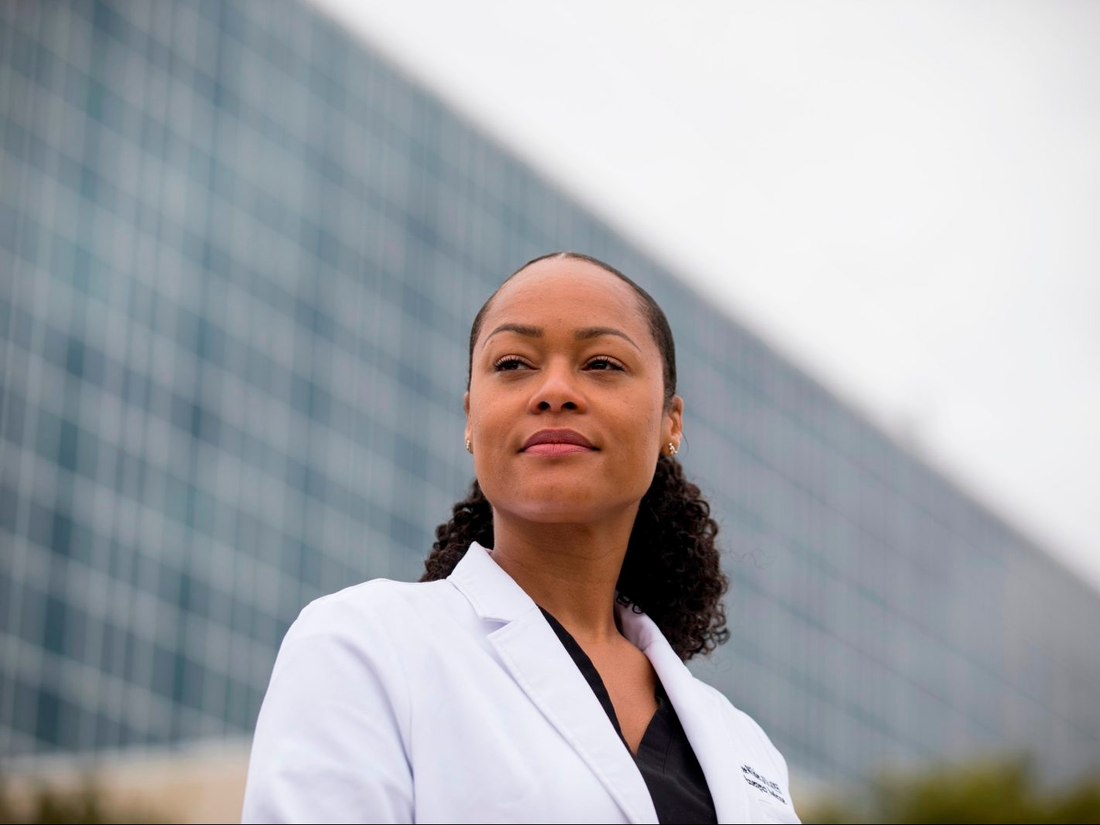 Dr. Marcee Wilder, 38, moved to Washington from New York for the first time to study medicine at Howard University, and again two years ago, to work as a research fellow and physician at George Washington University. Through the university, she staffs D.C.'s sole public hospital, United Medical Center, which serves the predominantly African American Wards 7 and 8.
Wilder said she felt at home working among physicians who looked like her.
"I came to my department and when I interviewed there, I was comforted by the fact that there were so many women of color on faculty," Wilder said. "It was a draw for me."
For Blanchard, D.C. lured her away from Chicago 25 years ago because of its national profile.
"I always was kind of a person that thought you can make big changes in the healthcare system and save the world," Blanchard said. "And so I was thinking that would happen in D.C. Of course, change is not that fast here."
'I Dream In PPE Now'
The first COVID-19 patient was identified in Washington on March 7. Dr. Wilder heard from friends in New York who were dealing with an onslaught of patients, and panic washed over her.
"All I would dream about is being in the emergency department and having a wall of COVID patients," she said. "Just 30, 40 patients an hour, just coming in and me having nowhere to put them, and watching them die in front of me. And it was terrifying."
The sense of doom grew as she learned her colleagues were becoming infected. She had trained in Elmhurst Hospital Center in Queens; a physician who supervised her there was hospitalized with COVID-19 for six days.
Quickly, the virus imposed new protocols in Washington's hospitals. Doctors would have to wear N95 masks at all times on their shifts, and even more protective equipment with patients confirmed to be infected.
"I dream in PPE now," said Strudwick of Howard University Hospital. "You're sleeping and you feel like you can't breathe and you want to get a break from your mask ... And then you wake up and you realize that you were probably just snoring."
At GWU, Blanchard said she has her temperature scanned daily before she centers the hospital. Her lips are chapped from keeping her mask on all day. She, too, suffers coronavirus nightmares. One night she dreamed she had to intubate a patient, which is one of the riskiest procedures for a doctor to perform as the patient spews virus from the throat.
"My gown was open and in some kind of way my neck was exposed," Blanchard said. "It was a little old lady, and she had been to Italy, so she was at high risk for COVID and she had a 'Reopen America' shirt on ... I guess it was just every single thing that I had been watching on TV."
An Uneven Burden
Washington's 473 fatalities from the coronavirus haven't risen to the cataclysmic scale of New York City's nearly 17,000 deaths. Still, the caseload has been intense and uneven across the city. The highest death toll is in Ward 8, which includes the United Medical Center where Wilder works.
Wilder remembers a man in his 70s who arrived gasping for air, so short of breath he could not give consent to be intubated. Wilder laid out the decision for his stunned daughter, who had seen him four days prior and feared she infected him. Wilder tried to soften her words with compassion, but she had to project her voice from behind two masks and a face shield.
"You have to speak so loudly and try to be crisp through the mask so that people can hear you and understand you," Wilder said. "And it takes away some of the comfort of your words."
Even after intubation, the man died. Wilder knew little about him besides that he had high blood pressure, a chronic condition that worsened his chances of survival. Across Ward 8, residents have higher blood pressure than people in the rest of the city, and lower incomes. Wilder said the two are tied and helped prime the area and other African American neighborhoods for disaster.
"When you are black, you have a higher likelihood of being food insecure and having housing instability and having barriers to education and access to care," Wilder said. "And so all of these factors contribute to our death rate. It was never going to play out any other way."
As they treated the pandemic, Wilder and Blanchard collaborated on a paper with eight other black doctors in D.C. about treating COVID-19 for the journal Academic Emergency Medicine. They said their patients of color were more likely to die because of chronic disease; but they were more likely to suffer those conditions because they lacked good food, space to exercise, secure housing and regular income.
"It is most ironic that members of these communities are also disproportionately represented in the service industries that have continued to extensively support our nation as white collar workers shelter in place," they wrote. "To decrease these inequities, we need more than just additional data, increased testing and expanded access to medical equipment."
A few weeks ago, Blanchard was promoted to be a full professor. It was a career milestone — but she said she did not feel like celebrating at such a bleak moment.
"As black and brown people, we're already starting off behind, right? And now you have something like COVID that's just devastating communities," she said. "I guess probably most pandemics have affected vulnerable people, but it just seems sad."
Puzzled By The Death Of A Friend
Strudwick of Howard University Hospital observed that the coronavirus did not affect all African Americans in Washington equally; he noticed an economic divide. Among Washington's black middle class – the milieu in which he was born and raised – solid incomes and good healthcare gave COVID little purchase. For that reason, he was puzzled by the death of a friend he had known since college. They were the same age and had children at the same time, leading near-parallel lives as African American men in Washington.
"He was somebody that I thought was a good person and I thought had plenty of life to live as I have plenty of life to live," Strudwick said. Lately, the two had been more distant, but Strudwick figured it was a matter of time before they could rekindle their friendship: "Once we got through our lives of raising our kids and all that stuff, then we could really hang out."
The loss was more painful because the friend died at home alone. His family believed it was due to COVID-19. Strudwick attended an online memorial in lieu of a funeral, but it didn't resolve his questions. Had his friend been struggling to keep his grip on the good life? Did he have access to healthcare?
"He should have had access. He could have called me," Strudwick said.
Then again, Strudwick thought, perhaps he should have kept a closer watch on his friend.
"Maybe if you interact with the people who you care about more often, you'll pick up on things you can do to support them more," he said.
From Pandemic To Protest
In recent weeks, the three doctors said they are still seeing COVID-19 cases, although now patients are also coming in with more familiar health issues, often compounded by delayed care. Wilder said she saw a patient with a kidney infection that developed from a festering urinary tract infection. Blanchard cared for diabetic patients with spiking blood sugar and patients with untreated heart attacks.
Mental relief is fleeting, however, however, as protests erupted in D.C. and elsewhere over the death of George Floyd, a black man who was filmed dying as a Minnesota police officer pressed his knee into his neck.
"It just seems like all these things are impacting black folks," Blanchard said. "Just one hit after another."
Blanchard said the protests over police brutality sparked discussion among her colleagues about how to address racism and implicit bias within medicine. She said the diverse demonstrations encouraged her, although she worried protesters will spread the coronavirus. She hoped they wore masks, but she said she couldn't think of advising them to stay home.
"I don't think you can tell that to someone," she said. "There is just too much pain."
Questions or comments about the story?
WAMU 88.5 values your feedback.