Protesters Try To Tear Down D.C. Andrew Jackson Statue Amid Clash With Law Enforcement
Police pushed protesters out of Lafayette Square after several people scaled a statue of Andrew Jackson inside the park and tried to tear it down Monday night.
Demonstrators put chains and ropes around the statue while the crowd chanted, "Hey hey, ho ho, Andrew Jackson's got to go." But a large group of police officers cleared protesters from the Square, and concrete barriers separated H Street from Black Lives Matter Plaza.
Police were seen firing pepper spray. Protesters reported that officers hit them with batons and rubber bullets.
Some demonstrators threw things like water bottles at police, while others told them to stop. A helicopter also flew low enough that it was possible to read the U.S. Park Police insignia.
James Washington, an English and history teacher in D.C., had a visible welt on his head from where he says police hit him with a baton.
He was in Lafayette Square when several people attempted to take the Jackson statue down. At this point, Washington said, other protestors peacefully formed a circle around them, but law enforcement attempted to break the circle.
Jackson, the seventh president of the United States, oversaw the removal of Native Americans from their land, including the Trail of Tears relocation, which killed thousands of people.
"I feel like, given the unrecognized genocide, having a picture of Andrew Jackson up in front of like the big house, the White House, in the midst of all this, adjacent to Black Lives Matter Plaza, right? Symbolic politics are important," he said.
Washington came out to the protests in response to a call to action from local activists.
After an incident earlier Monday afternoon — where Metropolitan Police used pepper spray as they cleared a cluster of tents erected along H Street — activists urged people to come down to Black Lives Matter Plaza.
"I'm really proud of everybody that stood ... out there today," Washington said, getting emotional, "And we're not leaving, we're not leaving tonight, and we're not leaving the next day."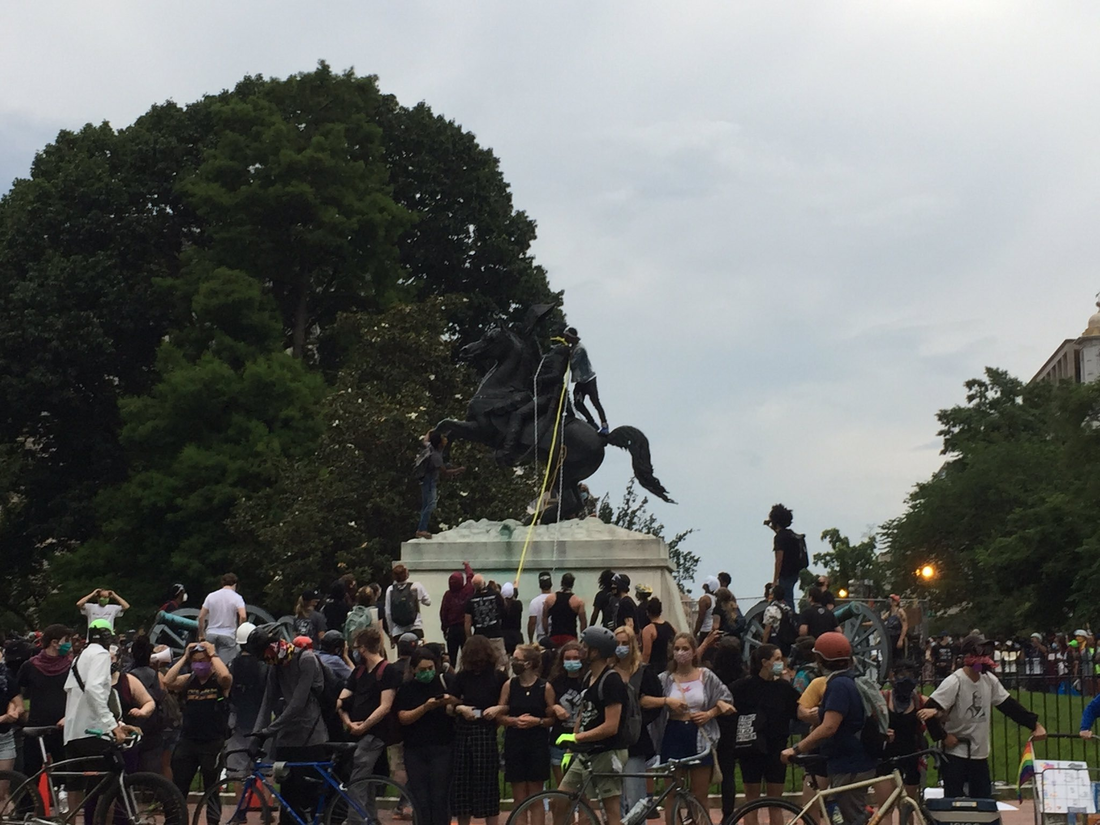 As evening set in, crowds grew to more between 100 and 200 people. The police presence also grew. At least 100 officers formed lines along H Street.
Having been moved out of Lafayette Square, demonstrators then gathered along Black Lives Matter Plaza. They chanted "No justice, no peace," and shouted, "quit your job" at the line of police.
A DCist reporter witnessed an arrest, but an MPD spokesperson said official information about arrests would not be available until the morning.
Someone also sprayed painted the letters "BHAZ," for Black House Autonomous Zone on the pillars of St. John's Church. The acronym references the Capitol Hill Autonomous Zone, an occupied protest zone in Seattle.
Lafayette Square has not witnessed such tense confrontations since earlier this month — exactly three weeks ago, on June 1, a mass of federal law enforcement officers cleared peaceful protesters from the square so the president could walk to St. John's Church.
Protests have been peaceful ever since, and the law enforcement presence in the city has been scaled down. But on Monday night, once again, protesters were seen trying to flush pepper spray from their eyes.
The president tweeted around 10:45 p.m. about the attempted statue toppling.
"Numerous people arrested in D.C. for the disgraceful vandalism, in Lafayette Park, of the magnificent Statue of Andrew Jackson, in addition to the exterior defacing of St. John's Church across the street. 10 years in prison under the Veteran's Memorial Preservation Act. Beware!"
It appears President Trump is referring to the Veteran's Memorial Preservation and Recognition of 2003, which says that anyone who "willfully injures or destroys" — or attempts to injure or destroy — a monument commemorating military service can be fined or imprisoned for up to 10 years.
U.S. Sen. Tom Cotton (R-AZ) tweeted around 8:20 p.m. that police must protect the statue, even urging the president to deploy federal troops.
"It's about time DC police showed up to stop the mob. If Muriel Bowser won't allow the police to do their job, @realDonaldTrump should deploy federal law enforcement to protect this 168-year-old statue and every other landmark in our nation's capital," he wrote.
Earlier Monday afternoon, police on bikes clashed with protesters while trying to clear a tent encampment. Police Chief Peter Newsham told the Washington Post the tents were "creating a potential safety hazard." The Post reported that some demonstrators resisted and two police officers were assaulted. An MPD spokesperson confirmed to DCist that officers made an arrest on the 1500 block of H Street around 3 p.m., but the department has not responded to a request for more information. Police confirmed the use of pepper spray to the Post.
After this confrontation, activists issued a call to action, urging people to come down to provide support.
As demonstrations over the police killing of George Floyd spread across the country, protesters have toppled or vandalized statues of Confederate leaders and other controversial figures. Last week, protesters toppled a statue of Confederate General Albert Pike near Judiciary Square after a day's worth of protests and celebrations on Juneteenth.
On Tuesday morning, one Twitter user reported that there were barriers around Lafayette Square and the Andrew Jackson statue.
Around 8:45 a.m. Tuesday, President Trump tweeted again, saying "There will never be an "Autonomous Zone" in Washington, D.C., as long as I'm your President. If they try they will be met with serious force!"
Questions or comments about the story?
WAMU 88.5 values your feedback.