Training For School Leaders 'Attempted To Control Black Bodies,' D.C. Principal Says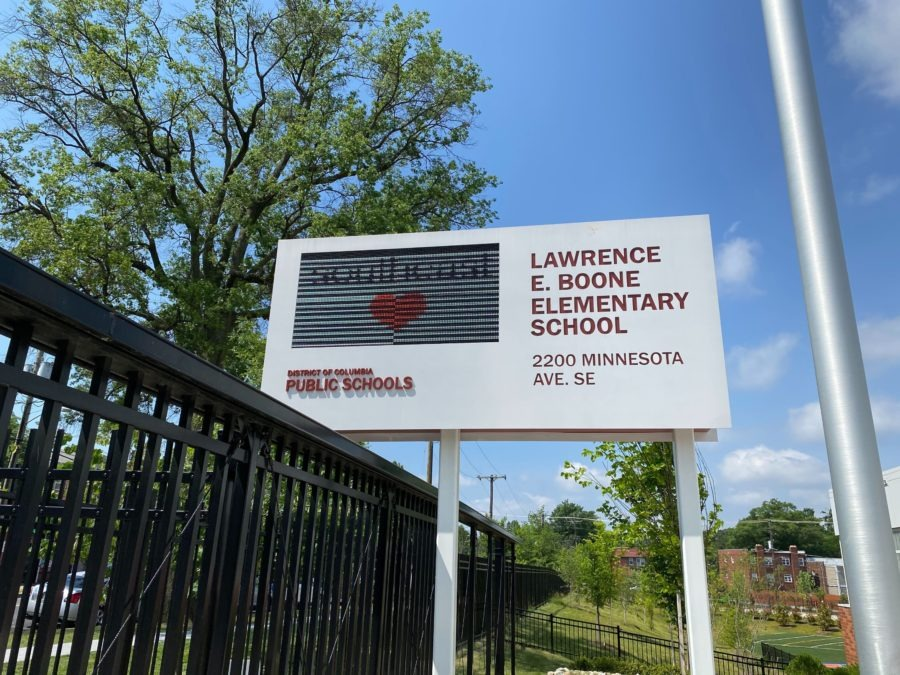 Ceaira Richardson recited the challenges that make life in her Southeast D.C. neighborhood difficult.
Grocery options are sparse, making it tough to find fresh produce. Crime rates are higher than in other parts of the city. Keeping children safe is not always easy.
But she feels at ease at Lawrence E. Boone Elementary School, a recently modernized, light-filled campus not far from Richardson's home. There, her three-year-old daughter is already reading. She senses teachers truly care about her child, so much so that she persuaded family members to send their children to the school.
"I told everybody, 'Enroll in Boone. Enroll in Boone,'" Richardson said.
In recent months, Richardson and other members of the Boone community have rallied around the school's principal, Carolyn Jackson-King, after they learned the veteran educator was fired and will not return to the position for the 2020-2021 academic year.
Teachers, parents and some D.C. lawmakers have demanded D.C. Public Schools reverse its decision. Jackson-King and her supporters say she was dismissed by the school system because she resisted teaching practices that educators at Boone felt were militaristic and racist.
"I just feel they attempted to control Black bodies," Jackson-King said.
Community members say her departure would only hurt a school that already suffers from educational inequities that will likely worsen because of COVID-19, the disease caused by the new coronavirus.
In response to questions about Jackson-King's firing, D.C. Public Schools Chancellor Lewis Ferebee said in a statement the school system does not comment on personnel matters.
"We use a robust leadership framework with annual goals to evaluate school leadership," Ferebee said. "We thank Principal Jackson-King for her service to our scholars and will be forever grateful for the commitment she has shown to the Boone community over the years."
Richardson re-enrolled her daughter at Boone for the upcoming school year to meet the enrollment deadline but is keeping her daughter on the waiting list of two other preschool programs.
She is not sure the Ward 8 school will be the same without Jackson-King, who is known around the community as Dr. J-K.
"The way she carried that school, you will not find that anywhere else," Richardson said.
A 'Complete Shift'
During her third year teaching at Boone in 2013, Diane Johnson carried a bleeding student to the nurse's office after he was punched in the face by another student. Fights were a daily occurrence, and children ran the hallways, she said.
"It was complete chaos," said Johnson, a third grade math teacher. "I was like, 'I don't know if I can even do this.'"
Two principals left in Johnson's first three years at the school, she said. After Jackson-King arrived in 2014, she said the school experienced a "complete shift."
Children stopped fighting so frequently, Johnson said. Staff morale improved. Over time, the school showed more academic progress.
When students learned that Benjamin Grayson Orr, a D.C. mayor in the 1800s and the school's former namesake, was a slave owner, Jackson-King worked with students and parents to rename the school after Lawrence Boone, the school's first Black principal.
For the 2019-2020 school year, Boone was rated 3 out of 5 stars by the school system — up from 2 stars the year before. Student performance on standardized exams still lags behind city averages, not unlike other schools in Southeast.
In a spring survey, teachers at Boone were more satisfied, on average, than teachers at other schools in the system, survey data shows.
Another teacher, Jamila Thompson, said Jackson-King pushed her to apply for fellowships and organize educational trips to South Africa and Tanzania for students and their families.
The principal brought home laundry from a student in Thompson's class, so the boy and his brother could have fresh clothes.
"A lot of what she's done is not out in the open. It's not out in the air. It's not well known because that's the kind of leader she is," Thompson said. "It's something rare and precious."
Teachers Reject Training
Students must pick up their pens within three seconds of starting a writing assignment.
Students must walk silently, in a straight line, hands behind their backs, when they are outside the classroom.
Teachers must stand still, speak in a "formal register" and square their shoulders toward students when they give directions.
Those were some examples of practices encouraged in training with the Relay Graduate School of Education, according to interviews with five D.C. educators who participated in training sessions.
Relay officials denied the techniques were encouraged in training. In a statement, Relay said it did not "prescribe any particular approach to school culture" in training with educators.
Relay was founded by three of the country's largest charter school networks, Uncommon Schools, KIPP and Achievement First. Its initial mission was to prepare teachers for those charter networks.
It has also worked with some traditional public school systems, including those in Denver, New York City and Shelby County, Tenn., according to Relay's website.
Kari Feinberg, national dean of leadership programs at Relay, said nearly all of the 120 school leaders in D.C. Public Schools who participated in Relay training last school year reported feeling that the training made them more effective leaders. Feinberg said students at schools that received training from Relay grew more in performance than the school system, as a whole.
"Each principal chooses the right tools, practices and learning models for their community," Feinberg said in a statement.
But educators at Boone said the school system mandated they use techniques from Relay.
During two weeks of training last summer, D.C. principals and other school leaders watched videos that modeled how students were expected to behave in school and simulated possible scenarios, Jackson-King said.
The principals were expected to design plans for their school based on the training and choose procedures they felt would work for their school. But Jackson-King said she was troubled by the practices, and created a plan that used very little from the training.
"In order to have a culture like the one we have at Boone, we have to build relationships and that's what we do best," Jackson-King said. "We didn't need something just to make the kids behave."
In D.C., more than 20 elementary schools, including Boone, were directed to attend training conducted by Relay, according to D.C. Public Schools. The schools belong to clusters 2 and 3, a grouping by the school system that mostly encompasses campuses in Wards 7 and 8 — parts of the city that educate mostly Black children from low-income families.
Jackson-King said she embraced a portion of the training about weekly data meetings, where teachers review students' work to target concepts they struggle with. But she resisted the part focused on managing students' behavior because she felt the approach was too controlling and contributed to the school-to-prison pipeline.
"Kids have to sit a certain way, they have to look a certain way. They cannot be who they are," Jackson-King said. "Those are all the ways they teach you in prison — you have to walk in a straight line, hands behind your back, eyes forward."
At Boone, she said, older students walk to classes on their own to encourage independence. Classrooms feature colorful chairs that allow students to swivel and move as they work. Teachers greet students at the front of the school each morning.
Jackson-King said she shared her concerns with Mary Ann Stinson, an instructional superintendent who oversees Boone, early in the 2019-2020 school year.
But the principal said school leaders at Boone were still expected to attend professional development sessions scheduled with Relay throughout the school year. Coaches from Relay visited classrooms to observe and provide feedback to teachers.
Stinson declined an interview request with WAMU.
Johnson, the third grade math teacher, participated in training with Relay because she is part of a program in the city school system developed to train teachers for leadership roles.
She said she was expected to bring the lessons back to Boone and instruct other teachers to use the techniques.
During a training session, Johnson said she watched a video that featured a teacher "quickly snapping her fingers in children's faces," to get their attention. She said she did not feel the training accounted for students who may learn differently.
"It just seems very punitive," Johnson said.
About a half-dozen principals approached the Council of School Officers, the union that represents school leaders in D.C., about Relay training, according to Richard Jackson, the union's president.
Jackson said some principals were open to trying the techniques. But he said principals also felt they could not question how the training would benefit their schools without facing retribution from school system officials.
D.C. Public Schools officials said some school leaders expressed interest in participating in Relay training. The school system is "aware of the belief" that Relay "endorses a particular school culture model," according to a statement from D.C. Schools.
To address those concerns, the school system said it helped principals create plans for how they want campuses to operate.
"School leaders have also received training on how to execute their school vision to ensure that it aligns with the hopes of their school communities," the statement said.
Shannon Brown, a fifth grade teacher at Boone, said she worked at another predominantly Black elementary school in the District during the 2018-2019 school year that used techniques taught in Relay training.
During training that she felt was "degrading," Brown said educators were instructed to rush to stand in line, as if they were students.
Relay officials did not respond to questions about the training exercise.
Brown said officials from Relay visited her classroom throughout the school year and provided feedback. She questioned why teachers at predominately white and wealthier campuses in the city were not required to use the techniques.
"Why should the Black and brown children be subjected to move a certain way or respond to certain commands?" she said. "They're not dogs. They're kids."
An Unexpected Decision
At the end of March, Jackson-King received a letter from Ferebee.
"I am writing to give you notice of my decision not to reappoint you to the position of principal," the letter said.
The letter said Jackson-King must return her keys, school files and passwords before June 26, when her current contract ends. Ferebee did not provide a reason for Jackson-King's dismissal in the letter.
Principals in the city school system sign one-year contracts that must be renewed annually. Ferebee said in an email that D.C. Public Schools considers several factors when it evaluates the performance of its principals, including the quality of their instruction, leadership and the school culture.
For the 2019-2020 school year, Jackson-King received an overall score of 2.75 out of 4 on the school system's evaluation system for teachers and school leaders — her lowest score, she said, since the school system started using the controversial system known as IMPACT more than a decade ago.
"I've been in education for 30 years," she said. "I've never gotten anything close to that."
For the 2018-2019 school year, Jackson-King received an overall score of 3.6, according to a copy of the evaluation.
Jackson-King wrote an email challenging the results of her 2019-2020 score to Stinson, the instructional superintendent who began overseeing Boone in 2019 and who conducted the evaluation. In February, Stinson told the principal her score meant she would not be re-appointed, according to Jackson-King.
In an April letter asking Ferebee to reconsider the decision, Jackson-King cited three interactions with school system officials that she felt led to her firing, including her objection to practices encouraged in training sessions with Relay.
She argued the decision to remove her as principal was "not grounded in objective criteria" such as improved student performance.
Ferebee sent a one-page response about three weeks later, saying he would not rescind the decision.
"After reviewing your performance as the leader of Boone ES, I was not confident that allowing you to continue in that role was in the best interest of [D.C. Public Schools]," he said in the letter.
Community Pushback
Supporters of Jackson-King launched a website that proclaims #ISTANDWITHJK. Parents threatened to stop enrolling their children at Boone until she was reinstated. At least two D.C. Council members have publicly challenged the firing and urged the school system to reconsider.
At-large Council member Robert White pressed Ferebee on the decision during a budget hearing earlier this month. White asked Ferebee if student performance improved or declined at Boone during Jackson-King's tenure.
Ferebee responded the school system had not, "seen significant improvement in student proficiency at Boone elementary over an extended period of time."
In an interview, White said he heard an outpouring from community members who wanted Jackson-King to stay. He said the school system should reconsider removing a beloved principal in Ward 8, which already has among the highest principal turnover rates in D.C. Public Schools.
"We have to be cautious about believing that we know more than parents about what's good for their children," White said.
Trayon White, who represents the part of the city where Boone is located, wrote a letter to Ferebee urging him to reinstate Jackson-King. In the letter, which was posted to Trayon White's Facebook page, the council member said Jackson-King transformed the school.
"She is not just a pillar at Boone, she is a pillar in the community with much respect from those who know her," White said. "She has a heart for the students."
School system officials say they will soon announce a new principal for Boone.
For her part, Jackson-King said she is considering returning to the position of a school dean, under a right that allows D.C. principals to return to previous positions.
Jackson-King said she would not consider working at a school outside Ward 7 or 8.
"Our Black children need to see Black leaders," she said. "Our kids can look up to someone every day and say, 'You look like me and you made it, therefore I will be able to.'"
During a recent, tear-filled staff meeting, Jackson-King told her teachers and administrators to stop protesting her firing.
There is too much uncertainty, Jackson-King said, about how COVID-19 will affect the start of the school year and she wants her teachers to start preparing. She wants the new principal to feel welcomed.
"I don't want this school up in arms when school starts. It's not good for our kids," Jackson-King said. "It cannot be about me or any other person."
Questions or comments about the story?
WAMU 88.5 values your feedback.