Mutual Aid Effort Supports Survivors Of Sexual Violence At Howard University
Disclaimer: This story shares the details of sexual assault and may be triggering for survivors of rape.
A number of Howard University students and alumni took to social media on June 3 to share stories about sexual violence they'd experienced during college. The stories are graphic and disturbing. Several say a male Howard student raped them and filmed the encounter without their knowledge.
This is far from the first time that Howard students have spoken up publicly about sexual assault and rape culture on campus, says Nylah Burton, who left the university in 2018 and is a survivor herself. This time, however, something about the context of the moment felt different.
This movement to bring awareness about sexual violence at Howard is taking shape in the middle of a pandemic that disproportionately affects Black lives and is happening amid protests against systemic racism in D.C. and across the country. It is another attempt to connect vulnerable communities facing devastating public health crises to emergency support.
"I think that people are a lot more cognizant of this concept of mutual aid right now," Burton said. "And so they're a lot more excited to get involved."
Burton saw the tweets — some of which, she was shocked to find, implicated friends of hers as abusers — and got to work reaching out to some of the survivors who had spoken up on social media. She asked if they would be comfortable — and interested — if she began collecting money publicly to offer survivors financial support.
"I was just looking at all of these people talking about their trauma, and it reminded me of my own trauma that I had gone through as a Howard University student," she said. "And I guess the first thing that I thought was just like, 'Let's give them money.'"
Creating The Black Survivors Healing Fund
With a group of other former and current students, Burton started the Black Survivors Healing Fund on GoFundMe.
"There is no amount of money that can take away the pain of sexual violence, the pain of having your power taken away and your societal marginalization(s) exploited," the description of the fundraiser reads. "However, we hope that by distributing these funds, we can aid survivors in taking crucial steps towards healing."
The idea is simple but, Burton hopes, powerful: provide current and former Howard students who have experienced sexual violence with $5,000 to help with their healing, whatever that might look like.
"We give survivors complete autonomy over what they spend the money on," she said. "I personally do not care if survivors are like, 'I need a new wardrobe.' Because that may be something that they need for healing."
The group does ask survivors to provide some sort of indication that they're current or former Howard students when they apply, but they do not ask survivors to disclose how they're spending the money. Anecdotally, most survivors have said they need help with rent, groceries, therapy and psychiatric care. Some are dealing with hardships related to the economic strain of the coronavirus like lost jobs and the university's decision to pause hiring students for resident assistant roles in university housing.
So far, the Black Survivors Healing Fund has raised $20,623 money of the $25,000 goal. As the money comes in, Burton is sending it out, mostly in $250 increments, to the 20 survivors the Fund is currently supporting. Most have received around $750 so far.
In a few cases, the group has sent larger sums, once to help a survivor in crisis move apartments away from an abuser and to help an international student pay tuition so that she can stay at Howard and in the United States.
At first, money poured in — much of it, Burton said, from other Howard women. She'd like to see more men, and Howard's fraternity organizations in particular, donate.
The numbers really jumped on Juneteenth, too, especially from white donors.
Since then, though, donations have slowed. The Fund is a little less than $5,000 short of their original goal.
Undaunted, the team behind the Fund hopes to continue raising money, even after they pass their initial goal — perhaps even expanding beyond the Howard community. But even within it, Burton said they have seven people on a waitlist.
"I actually try not to look at the waitlist because it makes me feel so bad that we can't get to it right now," she said. She worries they'll have to close the waitlist, too.
Burton said the group landed on the $5,000 figure after thinking a lot about how much money would be a meaningful amount for each survivor. Some survivors asked for as little as $50.
"One thing that struck me ... is that a lot of the survivors either said they had no idea what they needed and that they felt uncomfortable asking for anything at all," Burton said.
Burton discussed the question of payment amount with Bob Bland, one of the organizers of the Women's March and a friend of hers. They agreed: $5,000 per survivor was an ambitious goal, but seemed like enough that it would make a significant impact.
The group got some pushback about giving out that much money to survivors, no strings attached.
"'Why do they need all that money?' 'How are you going to prove that they're telling the truth?' 'You should insist upon receipts to make sure that they're spending the money on something useful,'" are some of the things Burton said the group heard from potential donors.
"These questions were so deeply rooted in rape culture," she said. "I think that was when it hit me that this was going to be a challenge, getting people to donate to the fund."
'Survivors Deserve To Heal'
Healing from sexual violence, and going to college while doing it, can be very costly. Survivors can have hospital bills, school fees and other expenses that could lead to losing a scholarship and subsequently dropping out of school.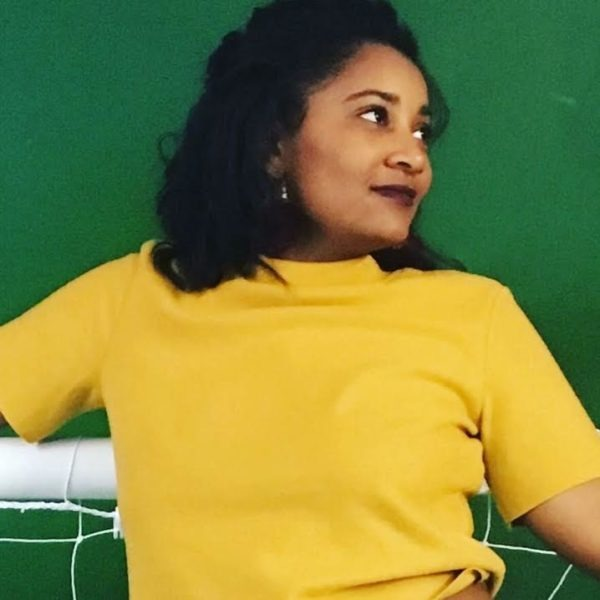 Burton is personally familiar with many of the challenges facing students recovering from sexual violence. While she was a student at Howard, she was assaulted twice, once by a Georgetown student, and once by a Howard student.
"I did all of the, you know, quote-unquote 'right things,'" Burton recalled of the second assault. "I told him to stop. I pushed him. And, you know, he did it anyway."
Afterwards, she said her rapist started doing push-ups and asked her why she was so quiet.
She said she was in a lot of pain. "He said, 'Well, you have all spring break to recover," she remembers.
After the first assault, she said, her mother became verbally and physically abusive toward her, and she became estranged from her parents. Her college experience became a struggle to balance a part-time job as a hostess, her studies and the trauma of rape. She remembers being deeply depressed, spending nights binging television shows and days sleeping, not going to class. With the help of friends and a university-affiliated therapist, she managed to graduate.
"I think that had I had someone be like, 'Hey, I'll give you money,' I think you would have made things easier," she said.
Stories of sexual violence are hardly unique to Howard, Burton said. Many other university communities struggle with the same pain, and the same challenges for survivors. Burton said it was difficult for her to speak up about her experiences, in part because the Howard community is very close-knit.
"Black women, Black people of other marginalized genders on Howard's campus do feel as though it's hard to speak out because of how close knit Howard is, because of the ways that we do idealize it, because it is a wonderful place for Black people," she said. "Sometimes it feels like you're tearing down the whole institution. Like, that's how people talk to you about it."
She remembers those feelings herself, when she reported her assault to the university's Title IX office. (Burton said the man who raped her was suspended months later, during the following semester.) Her act of courage was coupled with a feeling of guilt.
"It was very scary for me, the idea of being the reason that a Black man didn't get his education," she said.
Speaking with other survivors about the financial cost of their trauma has reminded Burton of her own. Her goal has always been to follow in her father's footsteps as a Howard-educated physician. Even though she has her diploma, she now needs to go back to school to take or re-take a number of pre-med college classes that she missed or failed because of her trauma.
She said one of the men who sexually assaulted her is already a doctor.
At Least A Decade Of Title IX Complaints
Burton described the problems of sexual violence and support for survivors as cyclical at Howard — coming to light again and again, without effective action by the university to fix them.
"Black women in particular on Howard's campus have been talking about sexual violence for a very, very, very long time and have been unheard for a very long time," she said.
In 2017, five women sued Howard for inadequately responding to Title IX complaints. The university also faced legal action in 2011 and 2013, over allegations that an employee had assaulted students and allegations that the university had prevented a student from receiving a medical exam after being raped, respectively.
In an emailed statement, university provost Anthony Wutoh told WAMU/DCist that the university is aware of the latest social media messages and encourages students to report their experiences to the university's Title IX office.
"Howard University prohibits all forms of sexual misconduct and we are deeply concerned about the physical, mental, and emotional well-being of all students, especially during this challenging and turbulent period," Wutoh said in a statement. "The Title IX Office remains available during the COVID-19 pandemic to help students understand the process and decide how best to move forward after experiencing any form of sexual misconduct."
"This is our personal commitment to rid our community of such traumatic acts that have a devastating impact on college students across the nation," the statement reads.
Burton and her team have been only briefly in touch with the Howard University administration. When the GoFundMe page initially launched, someone from the university reached out to request that the group stop using a photo of the university on the website, a fact that Provost Anthony Wutoh confirmed in an emailed statement.
"The University is aware of the existing GoFundMe effort by the Black Survivors Healing Fund," Wutoh said. "Since the GoFundMe effort is not affiliated with the University, we requested they remove our campus images so donors would not be confused."
Burton was "a little annoyed" by that response.
"I was like, 'One, it's a GoFundMe, and two, it's a go fund me specifically for people who have been failed by Howard in some way,'" she said.
A Change.org petition, also spurred by the social media posts, calls on Howard to make a sexual assault prevention class mandatory for all incoming students. It has 26,580 signatures.
"This class should aim to educate students on topics such as sexual consent, proper protocol to report sexual violence, medical attention resources such as counseling and rape kits, and target sociological factors and stigmas that are associated with reporting sexual violence," the petition reads.
While Burton wishes the university would give survivors direct financial assistance on its own, she and the team behind the Black Survivors Healing Fund aren't waiting for solutions from within the university.
"Survivors deserve to heal, and they deserve the resources to heal," Burton said. "In the absence of living in a society that provides them with those resources, I think that we as a community and especially people in more privileged positions can provide that."
Questions or comments about the story?
WAMU 88.5 values your feedback.