Peek Inside D.C.'s Newly Renovated MLK Library
Peek Inside D.C.'s Newly Renovated MLK Library
The imposing black cube that is D.C.'s central public library is scheduled to reopen to the public on Sept. 24, after a three-and-a-half-year, $211 million renovation.
Designed in the 1960s by pioneering modernist architect Ludwig Mies van der Rohe (best known as just Mies), the 48-year-old Martin Luther King Jr. Memorial Library sits in a prime downtown location near the Capitol One Area.
Before it closed for renovations, many Washingtonians knew it more as a place where people experiencing homelessness would congregate to escape the elements, rather than as an architectural or educational treasure.
Despite its commanding exterior, the building's inner layout left something to be desired for librarians and many visitors. Richard Reyes-Gavilan, the executive director of D.C. Public Library, describes the experience of entering the old library as "sort of a punishing experience."
"You'd just meet yellow brick everywhere you looked," he said while giving a private tour of the building's new features. The library's exterior and ground floor remain almost entirely the same as before — both are protected by historic landmark status — but the similarities to the old space largely end there.
Today's MLK Library boasts modern amenities like recording and dance studios, a 290-seat auditorium, a tool library and a fabrication lab. On the newly built fifth floor, a rooftop garden offers sweeping views of the Gallery Place neighborhood. (The rooftop is also available for private event rentals.)
Reyes-Gavilan says the opportunity to work with a Mies building fed into his decision to step down as chief librarian of Brooklyn Public Library in 2013 and take the job in D.C. While he admires the architect, he knew it would be part of his job to adapt the original design to today's demands.
His team hired the Dutch architecture firm Mecanoo to balance Mies's dark glass and right angles with sunlight and swooping curves.
The best example of Mecanoo's approach is the library's two new staircases, which are reminiscent of the Guggenheim Museum in New York, or an MC Escher print. Sunshine now streams into the once uninviting stairway shafts from circular skylights.
From the lobby, the staircases lead down to large banks of restrooms, which Reyes-Gavilan expects will be frequented again by people experiencing homelessness. On another floor, there's office space for nonprofits and government offices that support the homeless population.
The building is also filled with art, beginning at its front doors.
The glass walls of the entrance vestibule will be adorned with two works by D.C. artist Nekisha Durrett — an image of King giving a speech at Cardozo High School in 1967 and another of modern day Cardozo student activists. Each piece is made up of little dots. If you look closely, you'll see the dots feature designs from old protest buttons.
"It's kind of a 'now you see it, now you don't,'" Durrett says of her work. "After a longer, deeper looking, or changing your perspective — moving closer, moving farther away — something else is revealed."
A new installation by Xenobia Bailey (below) hangs from the main reading room's new two-story ceiling.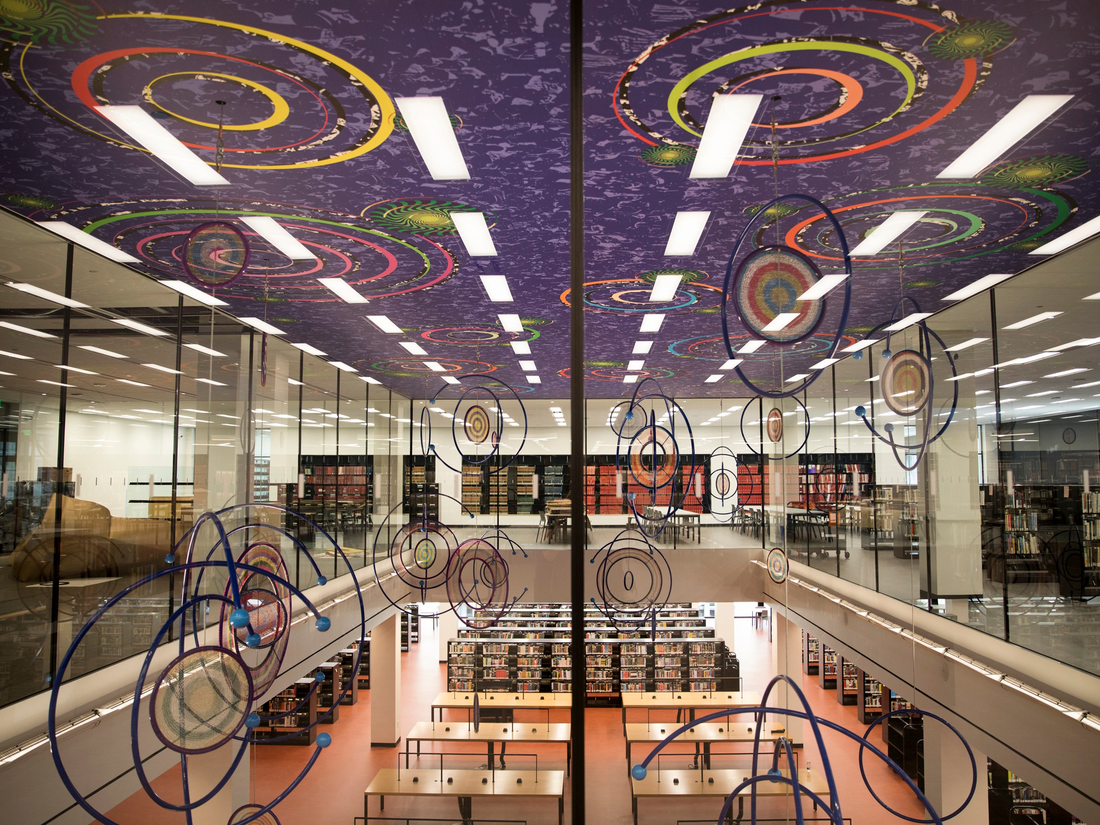 A 1986 Don Miller mural on the ground floor that portrays King's accomplishments was taken down and refurbished (Reyes-Gavilan says the green paint now pops like never before). And the library's teen space will be named for Alma Thomas, a D.C.-based expressionist painter and art teacher, and will showcase prints of her work.
For kids, the pièce de résistance is a slide that runs from the children's reading room down to a landing connected to one of the staircases.
"We wanted the library to evoke joy and delight, and the original building never really had that," Reyes-Gavilan said. "It was a transactional space."
Reporter Mikaela Lefrak tries out the kids slide at the library.

The slide will be for kids only, but there are still many other moments of joy throughout the building for smile-seeking adults. There's a 10-foot-wide wooden table in a 4th-floor reading room carved in the shape of the District. Patrons can find their neighborhood before exploring the library's Washingtoniana collection nearby.
The new auditorium will host screenings and book talks. During the tour, employees were working on figuring out how many people could fit into the space while maintaining social distance (final count: 50).
"The seats are incredibly comfortable too, for whatever that's worth," Reyes-Gavilan points out.
Even though a lot has changed at the library, Reyes-Gavilan believes his team did a good job of preserving the most Miesian parts of the building.
"This is still a quintessential Mies building," he said. "I think he'd love it. And he would not take offense to the adaptive reuse for the next generation of library users. He'd be ok with it."
Before the pandemic hit, D.C. Public Library's leadership had estimated the MLK Library would host around one million visitors per year. It's impossible to know what that number will be now. Under the city's phase two guidelines, some public libraries have reopened to limited numbers of patrons, while others are only open for pick-up and printing services.
But when things are safe again, Reyes-Gavilan says, the library will be there with open doors.
Questions or comments about the story?
WAMU 88.5 values your feedback.