D.C. Returning Citizens Launch Free Exercise Program To Fight Health Disparities
Ward 8 native Mallory "Rocky" Simpson works at a fitness and health club in Maryland, and he's heard from a lot of people who tell him they can't currently afford a gym membership.
That's part of why he co-founded WEFITDC, an organization that provides free weekly workouts among its wellness offerings. The events are held mainly in wards 7 and 8, but all residents from the D.C. region are welcome. Each event includes a pop-up style workout session, plus health and wellness booths where local, minority-owned businesses distribute their goods, including free gourmet meals, natural pressed juices, and merchandise.
The organization began hosting workouts in June to meet a number of concerns in the community: Joe Houston, WEFITDC CEO and Ward 8 resident, says many residents east of the river have serious health concerns such as diabetes and high blood pressure, which causes an increased risk of contracting coronavirus. Ward 8 has the highest number of coronavirus deaths in the District.
He says residents' health would improve if there were more options for grocery stores and gyms in the community. The pandemic makes gyms in D.C. even less accessible. When COVID-19 first hit D.C. in March, gyms and recreation centers were ordered to close. In June, when the city entered Phase Two of its reopening plan, spaces for exercise could reopen with limited access, according to health guidance from the mayor's office.
These weekly sessions also empower the fitness instructors who lead them, says Houston, who notes that about 75 percent of the group's trainers have been incarcerated, including him. From 2009 to 2014, Houston served five years in prison for a gun charge.
"I've served my time and now look to make an impact on my community," he says.
Simpson served 10 years in prison for a gun charge. Simpson and Houston lived on the same block when they were younger but didn't know each other until they were in the same prison, where they worked out to keep their spirits lifted, says Simpson.
Simpson has been a fitness instructor ever since he returned home last year. He was inspired to go down that path because, while incarcerated, people would comment on his dedication to working out, he says. The felony charge also limited his employment opportunities.
Simpson says it feels good to serve during a time of crisis. He currently lives in Ward 3, where there are a large number of gyms to choose from. That motivates him to organize workouts in the community where he was raised, which he believes has always needed fitness and wellness services, especially so during the pandemic. Ward 8 has seen more COVID-19 deaths than any other ward in the city.
Other community leaders have helped amplify the message of healthy living. Ward 8 Councilmember Trayon White and Ward 7 Advisory Neighborhood Commissioner Veda Rasheed both post WEFITDC marketing on their social media and attend workouts.
On a bright Sunday morning last week, WEFITDC held a 10 a.m. workout at Ward 7 Randle Highlands Elementary School's outdoor basketball court. Thirty people showed up for an intense one-hour-long strength and resistance workout, and 15 WEFITDC certified trainers switched off to lead the workout and provide individual support to attendees.
Stephanie Burke, 38, says she drove one hour round-trip from Maryland to southeast D.C. for Sunday's workout. She heard about the workout through a friend, who's a WEFITDC trainer.
While there are gym options in Maryland, they're too expensive these days, she says. Burke runs an after-school art program, and since the pandemic, it has been operating online and has less student engagement. She says she hasn't been paid since March, and provides free online art services to students now. She also doesn't qualify for unemployment or SNAP benefits as a small business owner, she says.
Burke has attended the workouts since June and brings friends from Maryland with her. She says WEFITDC is needed in Black communities because the classes and booths at the event educate residents about health issues. Health outcomes in the District vary based on race. Black D.C. residents, for instance, have a 15-year life expectancy gap compared to white residents, according to a 2016 Georgetown University report.
The booths at WEFITDC change, sometimes weekly, to feature different businesses that focus on healthy eating, mental health, and more. One booth at the event was handing out healthy meals. Meals of Dopeness founder Christina Ruiz brought 45 to-go containers with baked chicken, yellow rice, and roasted veggies. Ruiz has been able to provide over 300 meals during eight WEFITDC sessions since June. The organization has sponsors to help with meal expenses, as well as other giveaways, per Ruiz
"At the end of the day, Black and Brown communities go without in a lot of cases, so we have to work together," says Ruiz.
Some attendees come to WEFITDC workout sessions because it's an outlet for dealing with mental stress. Like Burke, Britney Cowan, 34, says she drove an hour round-trip from Maryland to Ward 7 to start the morning with positive energy. Cowan had her first child one year ago, and she says the energy at WEFITDC is what she needs as a new mom.
She has experienced postpartum challenges such as low energy, not feeling like herself, and having more responsibility. She says the workouts are contributing to her "snapping back" by losing the physical weight after pregnancy and letting go of the mental weight.
Cowan brings her one-year-old to the workouts in a stroller, and the baby kicks and grins during the workout. Cowan meets up with friend Kiera Washington, 28, a Ward 8 resident whose children attend the workouts as well.
Washington and Cowan knew each other prior to WEFITDC's founding, but the weekly programming has helped them spend time together — they say they haven't missed a workout since the organization started hosting them in June.
Houston says the impact of WEFITDC is powerful for everyone involved. He is especially proud of the impact on his team of trainers. "We are changing the narrative about returning citizens because now we are the superheroes in the community," says Houston.
The team's trainers have a plan for getting ahead of health disparities in the D.C. region, per Houston. WEFITDC plans to train attendees to become certified trainers, expanding the health initiative across minority communities in the area.
"We've got a long battle with all the health challenges, you know?" says Houston. "It's going to be a journey. It's not a destination."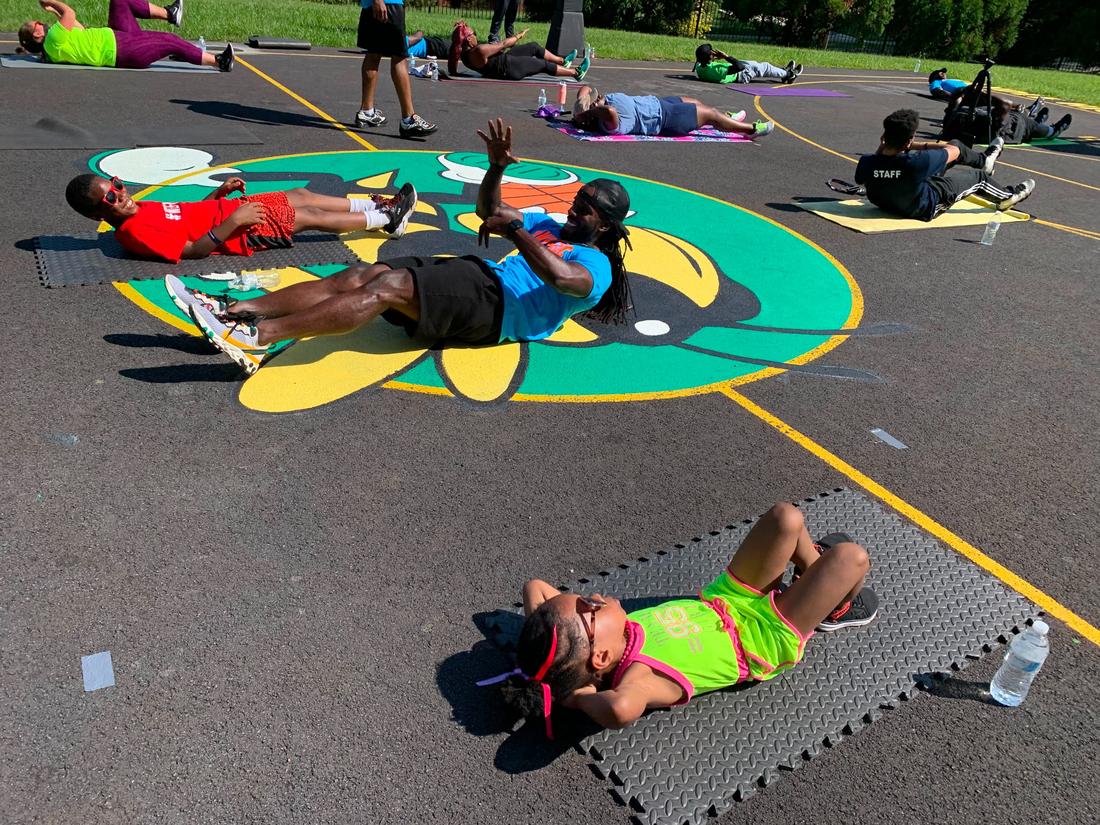 Editor's note: This story has been updated with additional quotes and information.
Questions or comments about the story?
WAMU 88.5 values your feedback.