Hundreds In D.C. Protest Grand Jury Ruling In Breonna Taylor Killing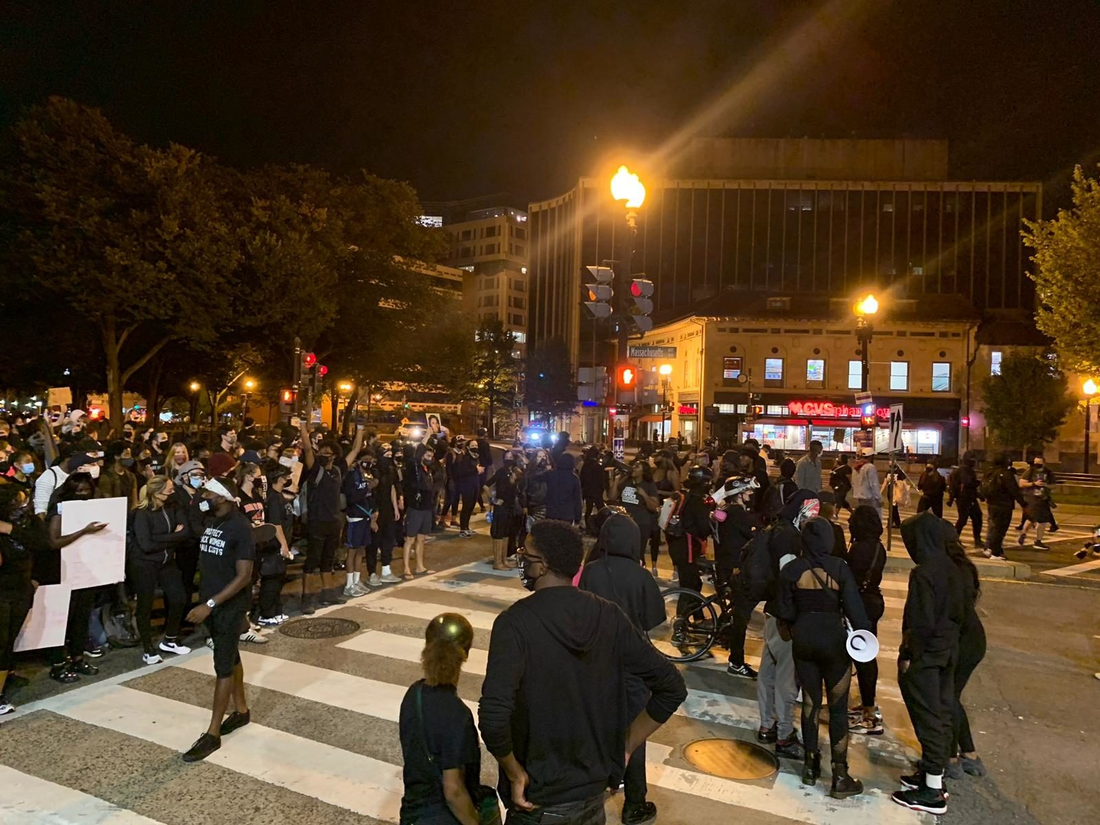 Hundreds of people marched across the District Wednesday evening to protest a Kentucky grand jury's decision not to charge a police officer in the shooting of Breonna Taylor. One of the three Louisville officers at the scene, Brett Hankinson, was charged with three counts of "wanton endangerment," referring to reckless firing that endangered neighbors. The grand jury did not announce charges against the other two officers involved.
Outside the Department of Justice building, where demonstrators gathered before their march, a protester speaking into a megaphone said, "We are mobilizing in over 18 locations nationwide. Right now, you are part of a movement. You are part of an entity."
Multiple groups of protesters marched in the direction of the White House and Black Lives Matter Plaza, growing in number along the way, and holding signs bearing Taylor's name and chanting "Say her name. Breonna Taylor," and "You can't stop the revolution."
By 8:30 p.m., protesters numbering in the hundreds arrived at Black Lives Matter Plaza. Later in the evening, hundreds marched north, towards Dupont Circle.
MPD confirmed two arrests related to the protests: one for assault on a police officer, and one for destruction of property less than $1,000.
Protests in D.C. and other cities across the country, including Louisville and Chicago, grew out of a reaction to the court's decision, which many felt did not deliver the charges they wanted to see.
Taylor was shot by Louisville police officers at least five times in the hallway of her apartment six months ago. The officers were executing a "no-knock" warrant when they shot her, but were required to knock as the orders were changed before the raid. Since then, protests have ensued across the country, and Taylor has become one among many Black people killed by police, who have been at the forefront of this summer's protests.
Speaking to the crowd, protesters highlighted the injustice faced by Black women in particular.
"Everyone around us, I need you to be loud for Black women," said one speaker.
"I want to center every single Black woman in this circle. I need every Black woman to come to the front," another added.
"I love y'all queens!" a man called out.
"Protect Black women! Respect Black women!" the crowd chanted.
Some speakers said they had traveled down to Louisville to support local protesters demanding justice for Taylor's killing.
Protesters also called for justice for Deon Kay, the D.C. teen killed by Metropolitan Police Department officers a few weeks ago.
"I am tired of burying children". A demonstrator spoke against the killing of Deon Kay by a D.C. police officer in SE Washington In early September. pic.twitter.com/i2Msr3xVVq

— Clarence Williams (@nu1wcf) September 24, 2020
The group was well organized. As they mobilized to march out of Black Lives Matter Plaza, organizers called for non-Black allies to surround Black protesters.
Protesters also conducted a "press check." Reporter Ford Fischer was live streaming when organizers asked people to stop, he said they were "placing bans on people who are live streaming." He then proceeded to cut his feed.
At around 9 p.m., marchers began setting off fireworks near Black Lives Matter Plaza. They called on people in high-rise apartment buildings to come join the action, chanting "Out of your homes and into the streets!"
By 10 p.m., confrontations with police grew tense. For the first time in the night, police began pushing back on protesters and seized on at least one demonstrator. Officers wore riot gear and blocked streets.
Protesters were seen marching through the Adams Morgan streatery banging on tables and flipping them, as captured by WTOP reporter Alejandro Alvarez.
The outlet also reported broken windows in Dupont Circle on Connecticut Avenue including Starbucks, PNC Bank and a Metrobus enclosure.
The large crowd grew more calm as they looped back toward downtown, followed by a convoy of police in vehicles and on bicycles, according to WTOP.
Victoria Chamberlin contributed to this reporting.
Questions or comments about the story?
WAMU 88.5 values your feedback.