Inside Virginia's Fifth District Congressional Race, The 'Most Competitive In Nation'
At the headquarters of the Fauquier County Republican Committee in Warrenton, Virginia, a cardboard cutout of John Wayne gripping a rifle leans against a wall. Chair Gregory Schumacher says Wayne was "the great American Western hero," and he says Republicans who held the Fifth District in Congress for all but two of the last 20 years will keep it in their hands this November.
Although the populous counties of Northern Virginia have powered the state's drift into Democratic control, Schumacher says he sits on the political boundary. "When you come out from the Beltway, Fauquier County's the first one that goes red," Schumacher said.
But there are signs that this year could be different as Republican contender Bob Good faces Democratic challenger Cameron Webb in what political prediction site FiveThirtyEight calls the most competitive House race in the country. Webb has outraised Good fourfold and held a slight lead in the last three polls. Larry Sabato's Crystal Ball at the University of Virginia and The Cook Political Report call the congressional race a toss-up. If Democrats can win this seat, they will continue a blue wave that flipped three House seats in 2018.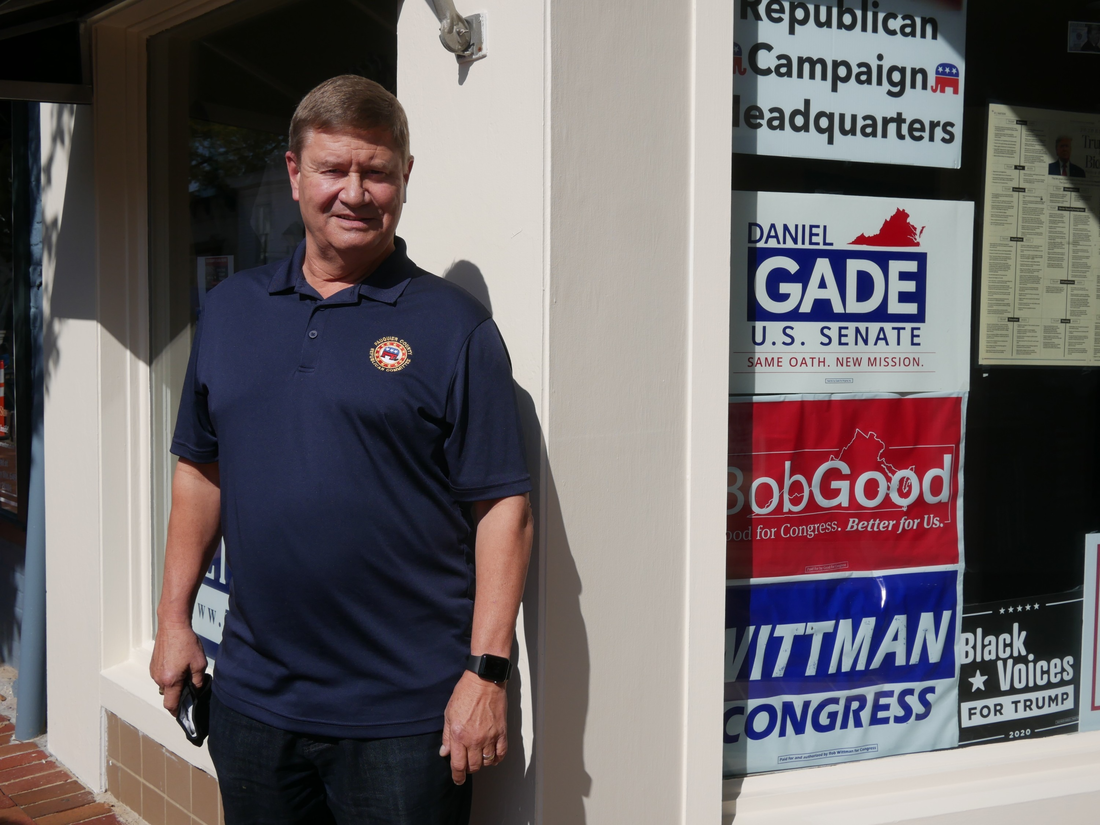 "Demographic shifts, a quality challenger in Webb, and a highly polarizing president may just produce a Democratic win in this race," said Rebecca Bromley-Trujillo, research director at the Wason Center for Public Policy at Christopher Newport University.
Webb, an African American internal medicine doctor and lawyer working hospital shifts through the pandemic, is running on a platform of affordable healthcare, criminal justice reform, and staving off climate change. In an echo of the bipartisan approach of former Vice President Joe Biden, Webb touts his record serving as a fellow in both the Trump and Obama administrations.
"Very few folks who are entering politics for any party have served at the highest levels of government for two very different administrations, and I think it gives me a vantage point that allows me to engage with every voter," Webb told WAMU/DCist.
Good, who did not respond to requests for an interview, worked as a fundraiser for the athletic department at the evangelical Liberty University, his alma mater, for 14 years before resigning to focus on his campaign. As a former member of the Board of Supervisors in Campbell County, Good cites his record declaring it a "Second Amendment sanctuary." He has elevated claims from evangelicals that "Planned Parenthood sells aborted baby parts on the black market" on his campaign website. He also promises to oppose any tax increases.
At a rally in a Lynchburg church this month, Good smeared Democrats as Marxists and appealed to ideology to rally his supporters.
"If we win — and we will win — that will [be encouragement] that you can stand on truth, you can stand on principle, you can stand on conviction, you can stand unashamed, unapologetic for what we believe as conservatives," he said.
The two candidates are vying to represent 10,000 square miles that begin in Fauquier County in the outer D.C. suburbs and end on the southern border with North Carolina, encompassing both rural areas and Democratic strongholds such as Charlottesville.
The seat is currently held by Rep. Denver Riggleman, a libertarian Republican who in July 2019 officiated the gay wedding of two of his supporters. Good claimed Riggleman was out of step with Republican values and ousted him in a drive-through primary convention this past June.
Anthony "Rek" LeCounte, 31, one of the two grooms, laughed at the suggestion that he'd vote for Good.
"I think Bob and his team have said repeatedly that they didn't need the support of conservatives who backed Denver and so my reply to them is, 'Good luck,'" LeCounte told WAMU/DCist.
Since he lost the primary Riggleman has criticized its party for its tolerance of debunked propaganda. The House this month passed his resolution to condemn the conspiracy group QAnon, but President Trump has refused to disavow it. Speaking on NBC's "Meet the Press" on Sunday, Riggleman suggested the party had lost its way.
"I agree with most of the policies for limited government and growth, and a lot of what President Trump has done in this district has been wonderful," he said. "But when we start to actually represent as a party that's part of this anti-Semitic conspiracy theory that believes there's some kind of pedophilia cabal on the Democratic side of the House, I think we're in for a rough ride."
In early October, Good filed an amended financial disclosure that revealed he held dozens of stocks, including some in companies that had contracts with Campbell County when Good was on the board. Previously, Good had reported no assets, which news outlets challenged because he worked for CitiFinancial for 17 years. Good's campaign has said he does not manage his own investments and was not aware of the possible conflict of interest.
Republicans, including Fauquier GOP chair Schumacher, insist Webb's platform includes defunding law enforcement. Webb told WSLS he does not support defunding police, and he points to his father's career working for the Drug Enforcement Administration to underscore his point.
Larry Jackson, co-chair of the Fauquier County Democratic Committee, cautioned that Webb's battle would not be easy. He said Fauquier County hasn't experienced the same dramatic demographic change or population growth as Northern Virginia suburbs closer to D.C. In fact, he noticed at his local gym that many neighbors were ex-military and staunch Republican voters.
Still, Jackson said he saw an opening, one which his committee tried to widen by attending a weekly racial justice vigil in Warrenton.
"We think the dynamics have changed," Jackson said. "We know there are maybe some fractions within the Republican party with respect to the candidate they put forward, and all those things, along with the mood of the country, we think bodes well — although we know that it's not ever easy in CD-5."
Jackson spoke to WAMU/DCist outside a polling place in Vint Hill, a new residential development built on a decommissioned military base. Five voters who agreed to share their thoughts were all Republican.
"Bob Good is going to continue with striding forward with what the Republican platform holds true to," said Sharon Hip, 46, who runs a recovery lounge in Warrenton. She said she voted for a straight Republican ticket to keep her taxes low and for "protecting those that are innocent in the womb."
Leslie Cox, 57, a financial analyst, brought her son Spencer, 21, and said she appreciated that Webb "doesn't have those commercials that are poking in your eye."
Still, both said they'd vote for all Republican candidates.
In the final days of the campaign, Schumacher of the Fauquier County GOP is organizing a "Trump Train" car convoy from Warrenton to Arlington that underscores Good's strategy of appealing to passionate voters who form the base of the party. The rally is advertised as being a drive "into the BELLY OF THE BEAST to give strength to the Silent Majority surrounded by blue."
Webb has planned a "meet and greet" with Sen. Mark Warner (D), leaning on the strength of the Democratic Party in Virginia to build momentum. He also conducts a weekly COVID update on Mondays.
Riggleman, who voted in line with Trump's positions about 94% of the time, cautioned his successor to take a broader view than just his base.
"We now have a true swing district in a blue state and it looks like right now we better start talking to everybody rather than just a narrow portion of the public," he said.
Questions or comments about the story?
WAMU 88.5 values your feedback.