Trump Insurrectionists Lodge At D.C. Airbnbs — Much To Washingtonians' Distress
On Wednesday morning, as Congress gathered on Capitol Hill to certify the country's Electoral College votes for President-elect Joe Biden, Andrew Kravetz was at his H Street row home, drinking coffee and scrolling through Twitter in his pajamas.
For months, outgoing President Donald Trump called on his supporters to "stop the steal" of the 2020 presidential election despite no evidence of fraud. As his legal challenges failed in state and federal courts, Trump invited supporters to protest the results in D.C. on the day his loss would be formalized.
Kravetz had just scrolled past a screenshot of a "rallying cry" for armed Trump supporters and Proud Boys to meet blocks from his house at Lincoln Park when he heard a noise. It was a white SUV idling outside his door, with a group of men dressed in black wearing "patriotic-looking face paint" and backpacks.
"[I was] scared for my family," he said. He flicked his window blinds shut and went upstairs to tell his wife Keya Chatterjee, a newly elected Advisory Neighborhood Commissioner. Instead of being fearful, she was angry.
"I knew there was a plan to stage a coup attempt," she said. "It was all over the internet...It felt like something that should have been prevented."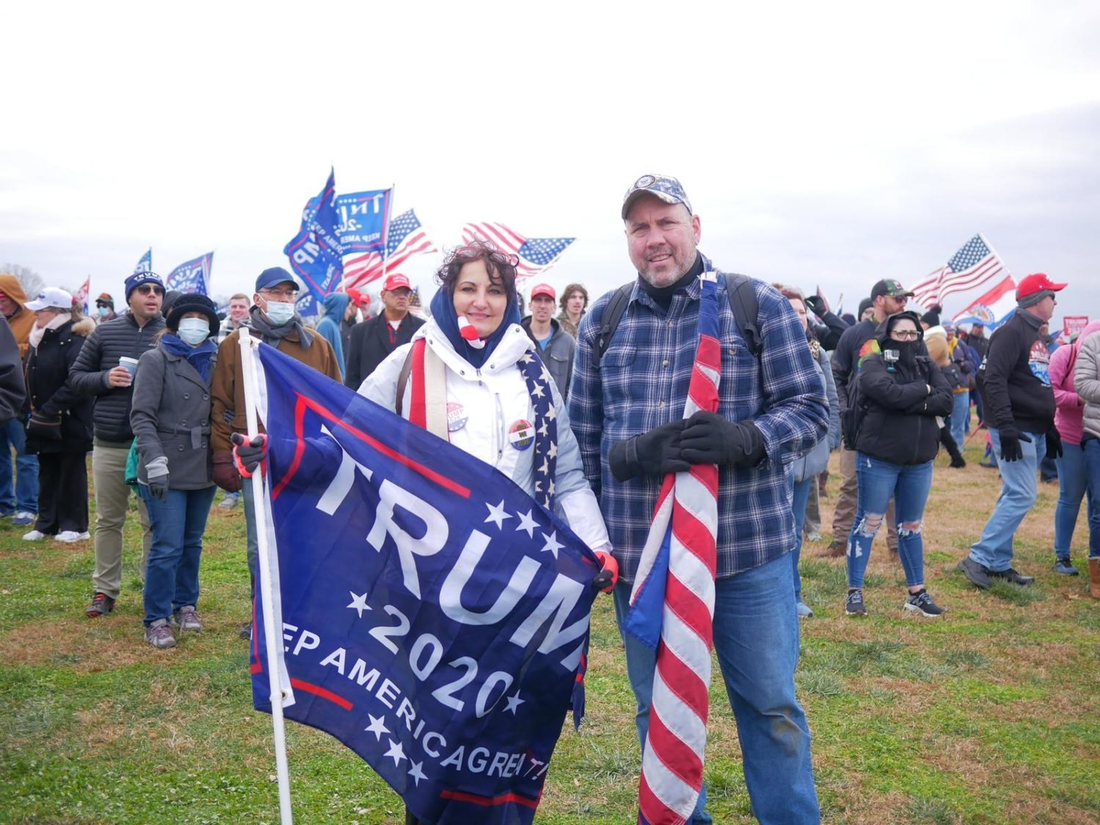 Although Wednesday's rally had been publicized for weeks, the scale of the events seemed to balloon in the days prior. Two days before, the National Park Service adjusted the permit for one of the demonstrations from 5,000 to 30,000.
D.C. officials urged residents to avoid counter-protests and Metropolitan Police Department blocked off downtown streets to prevent interaction between far right insurrectionists and liberal D.C.'s residents. But their focus was on downtown protest sites, not local neighborhoods, where insurrectionists have already been staying and are suddenly more visible because of their red, white and blue garb and Trump paraphernalia.
Before the rally, downtown hotels and bars — some known to be popular meet-up points for the Proud Boys and Trump supporters — announced they would close for several days in response to the rally. But insurrectionists still came in droves, booking up other hotels that were previously vacant during the pandemic and checking into Airbnbs, even though the company banned a user who planned to attend similar events in November.
After talking to neighbors, Kravetz and Chatterjee concluded the men outside their home were staying at an Airbnb property on their block. The couple says that given how publicized Wednesday's rally was, hosts should never have had the option to rent their property. They say Airbnb could have shut down all reservations in metropolitan Washington for the week.
It wouldn't have been unprecedented. In August, Airbnb announced they would institute a "global party ban." And in early December, in response to the latest coronavirus surge, the company added additional restrictions to discourage New Year's Eve parties.
But on Wednesday morning, in neighborhoods like H Street, Mt. Pleasant, Park View, Capitol Hill and Anacostia, D.C. residents (92.1% of whom voted for Biden) learned they were sharing homes and parking spaces with armed Trump supporters and Proud Boys.
"There are some hotels who said, 'No, we're not going to let them stay here.' But there wasn't any effort to make sure they weren't coming into neighborhoods," said Chatterjee. She said her concern was largely for her 10-year-old son, who "runs outside the neighborhood with his friends."
"I don't even wanna expose him to people who aren't wearing masks, much less people who are very likely carrying weapons," she said. Her concern was rooted in posts she had seen online. And the night of the insurrection, law enforcement officers recovered weapons including two pipe bombs in downtown D.C. near the Republican National Committee and Democratic National Committee headquarters, in addition to a cooler with Molotov cocktails discovered in a vehicle on the Capitol grounds.
In Mt. Pleasant, Jeff Landale learned Trump supporters were staying at a nearby Airbnb when, shortly before D.C.'s curfew went into effect at 6 p.m., he saw a Ford Escape with Infowars and MAGA stickers in the alley behind his house.
Landale had attended counterprotests in November and had frequently told concerned friends and family that these kinds of events were limited to a specific part of D.C.
"I keep telling them this happens downtown...These folks are never going to come up to my neighborhood."
While he and a neighbor were discussing the car, an unmasked Trump supporter approached them. Landale told him he wasn't welcome and they got in a minutes-long shouting match, drawing attention from other neighbors and their children.
Upset, Landale said he returned home and warned his neighbors of the Airbnb renters on the website Nextdoor. While he was angry that a neighbor of his would host Trump supporters this week, he dialed back his comments online, apologizing for his own behavior and removing identifying information of the house to protect the owner's privacy.
"Neighbors have a responsibility to take care of and protect each other," he said. "When we mess up and make mistakes, whether it's renting to white supremacists or not [deescalating a confrontation] with children around, it's important to just be open about acknowledging that we messed up."
His first priority, Landale said, was for safety. But he added that this week's events will require "difficult conversations" to make sure his neighbors are on the same page about visitors who may arrive with ill intent.
Some local Airbnb hosts only realized they were hosting Trump insurgents on Wednesday morning and had to weigh their options after guests were already on their property.
After Landale posted about his experience in Mt. Pleasant on Nextdoor, the property owner hosting the Trump supporters on Airbnb wrote back to explain his situation.
The Airbnb host and his husband said they are "ardent Democrats" who attended Black Lives Matter protests last summer and had spent this week calling Georgia voters to get out the vote for the Senate runoff elections. He wrote that his Airbnb guests had represented themselves as "a family looking to visit the city as a tourist."
Responding to Landale on Nextdoor, he wrote, "It was not until after they had arrived that we realized who they were and their true intent for being in DC."
He shared that he and his husband were "sick to our stomachs" and that neither of them slept the last two nights. The host said he contacted Airbnb when he realized who his guests were, but wrote that there were "no good options available."
"As much as we despise what they stand for and despite peoples belief on here that we should evict them...that is not how Airbnb works...We spoke with Airbnb and without them breaking any rules, we have no grounds for removing them."
Although Airbnb declined an interview with DCist, the company provided a statement about actions they took against confirmed Proud Boys before the rally: "Our community policies ban domestic terrorist and violent hate group members. In the days leading up to the terrible incident in Washington, we learned of reservations made by certain members of these groups and cancelled those reservations and removed them from our community, and we will continue to take appropriate action."
The Proud Boys, a group with a history of violence, has been classified by the Southern Poverty Law Center as a hate group and classified by the FBI as having white nationalist ties. Locally, Proud Boys leader Enrique Tarrio was arrested on Tuesday in part for burning a local Black church's Black Lives Matter banner – which police are investigating as a hate crime.
In an FAQ listed on their website, Airbnb says that hosts can decline or cancel a reservation without any penalties if they feel their safety is at risk. However, penalty-free cancellations after a guest has already checked in are a little stricter and Airbnb only applies its Extenuating Circumstances Policy to a specific list of events, including the death or unexpected injury of a host, or government-mandated obligations.
Complicating matters still are features that Airbnb promoted to address the role of unconscious bias among its hosts, In 2016, Airbnb suggested hosts use Instant Book, a feature that "allows certain listenings to be booked immediately – without prior host approval of a specific guest." Instant Book caught on with users and last year, 70% of Airbnb's 6 million listings used this feature. While the tool was promoted as one way to minimize discrimination against guests, it also minimizes contact with hosts, making it harder for hosts to filter anyone who violates Airbnb's community guidelines.
The company may place more stock in its own ability to vet violators than individual hosts'. In November, shortly after the 2020 election, Airbnb tweeted it had banned a user affiliated with the Proud Boys after cancelling his D.C. reservation to attend the Million MAGA March. A year previous, it banned users attending the white supremacist American Renaissance Conference near Nashville and 60 users of the white supremacist web forum Iron March after its database was leaked. Airbnb also barred users who the company believed were searching for lodging to attend the 2017 Unite the Right rally in Charlottesville, Va., saying in a statement: "When we identify and determine that there are those who would be pursuing behavior on the Airbnb platform that would be antithetical to the Airbnb Community Commitment, we seek to take appropriate action, which may include removing them from the platform."
Although Airbnb has rooted out members of hate groups in the past, sometimes based on information its users provide, it's still unclear how the company defines hate groups and verifies affiliation. And, it's uncertain what action hosts can take after a guest checks in.
Online, other D.C. residents learning about Proud Boys and insurrectionists in their neighborhood took to Twitter to voice their concern.
Now these rioters are heading back to DC neighborhoods. Just got a neighborhood alert about rioters arguing with local residents. They rented @Airbnb. @DCPoliceDept you should have arrested these people!

— Cicely Simpson (@CicelyDSimpson) January 6, 2021
Disappointed in DC @Airbnb hosts who put their neighbors in danger by making their place available to shelter protesters affiliated with hate groups.

We're advised to stay out of downtown but hey ... hate groups are roaming our neighborhoods—unmasked, looking for trouble.

— Karolle Rabarison 🍃🍂 (@karolle) January 6, 2021
My friend just told me some Proud Boys are staying in an Airbnb across from her house and honestly that is so incredibly distressing.

— supersonic pussycat (@carlettaisgreat) January 5, 2021
While Airbnb responded to several Twitter users by Thursday morning, the company hasn't confirmed what action was taken.
In Mt. Pleasant, the Airbnb host on Nextdoor has said he will donate the $198 his guests paid for their stay to charity, though he is still taking heat for his decision to host them in the first place.
His neighbor, Landale, says although criticism is warranted, the goal is not to "drag somebody who made the wrong decision or didn't do due diligence," but instead to encourage communities to think about how to better take care of each other.
After learning about the insurgents outside their H Street home, Kravetz and Chatterjee had limited options for what to do with their fear and anger. Although they know which homes on their block are listed on Airbnb, the one nearest them is operated by a large corporation not based locally.
But Chatterjee wasn't content to stay at home. So, she picked up sidewalk chalk and headed outside, writing "Black Lives Matter" in colorful cursive outside the rented homes and on empty parking spaces.
"I figure they're going to drive back and park at some point," she said. "I just wanted to put messages out there that show that this is a community that cares deeply about justice and this is not a community where they want to hang out if they don't share those values."
The bright messages caught the attention of her neighbors, but Chatterjee says she could have done more had the District and local law enforcement asked for her help.
"...At the super local level, we're the ones that know where these Airbnb buildings are...If the ANC had been asked, 'Where do you see a risk coming up and how can we deal with this as D.C. government?', then we would have maybe had a better sense of the scale of what was going to happen before."
This story is from DCist.com, the local news website of WAMU.
Questions or comments about the story?
WAMU 88.5 values your feedback.