How The Insurrection At The Capitol Affected D.C. Essential Workers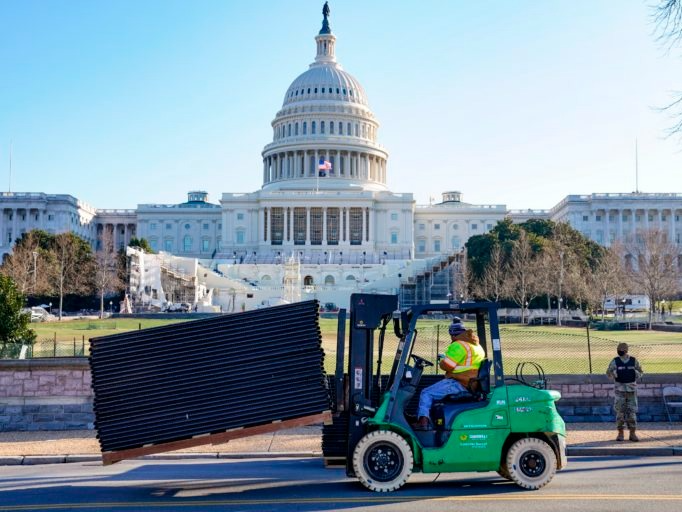 After pro-Trump insurrectionists fought their way into Congress and essentially shut the city down Wednesday, stories began emerging of restaurant workers, hotel, and hospital staff getting caught in the fracas. D.C.'s essential workers, it would seem, were once more put in danger.
For the third time since the election, cohorts of Trump supporters, alt-right groups, and Proud Boys instigated violence in D.C., disrupting the lives of residents, before leaving the Capitol and surrounding area in disarray.
For Tamara Keitt-Barnes, the chaos of the day started hours before the storming of the Capitol. A nanny for Capitol Hill families, Prince George's County resident Keitt-Barnes said she had to call four separate Ubers until finally securing a ride to the house where she looks after young children. After getting dropped at the Capitol Heights station, she rode the Metro to Stadium Armory, before walking to the house, which is about an 18-minute walk from the Capitol.
"Most of the [Metro] cars were full of protesters draped in Trump flags, American flags, camouflage and cowboy hats," Keitt-Barnes says. "All looks aside, what I recognized was the energy. It was heavy and it felt uncomfortable. It was the longest two stops."
As the violence unfolded in the afternoon, Keitt-Barnes says while the children she cares for were too young to understand, she had to dispel the anxieties of her teenage son at home, assuring him she'd be home as soon as possible.
"I was worried. I was hot. It felt like I was in an oven. I'm certain it was from my internal panic," Keitt-Barnes says. "I could hear the sirens for what seemed like hours. I wanted to get back to PG County."
Others felt the chaos surround them while working their shifts — all this, in the middle of a pandemic.
Sally, who lives in Rosslyn, Va., says she was working her normal Wednesday shift at the ICU of the Washington Hospital Center when staff were notified of a breach at the Capitol. Sally, who preferred not to give her last name for privacy reasons, says she typically sees two COVID-19 patients a shift. From one patient's room, she looked out on the trauma ambulance bay.
"My coworker looked at me and goes, 'I've never seen more than three ambulances in this bay.' And I think there were about seven or 10 in there," Sally says.
Two hours past her normal shift's end, Sally drove home through alternate routes to avoid the road closures, adding 30 minutes to her commute. Once home, her Australian Shepherd was ready for a walk.
"I walked out of my courtyard and saw all of these pickup trucks, flags, stickers, all with the president's name on it. It's the first time I've ever not felt safe in my neighborhood," Sally says. "Because the second all the consultants leave it's almost completely quiet, and it's been quiet since March."
Like Rosslyn, other neighborhoods in and around Washington were flooded with Trump supporters this week, many staying in Airbnbs.
"This is probably the most active it's been since June when the Black Lives Matter protests were happening," Sally continued. "But I felt safe during the Black Lives Matter protests. I did not feel safe on Wednesday."
Jaime Contreras, vice president of 32BJ SEIU, a frontline property service workers union that represents mostly Black and Brown workers, held Republicans responsible and is calling for President Trump's removal.
"[Wednesday's] horrific events were traumatizing for so many of these essential workers who saw an angry violent mob met with passive policing and deference from those charged with the safety of our nation's capital," Contreras said in a statement. "The treatment of these domestic terrorists is a smack in the face for all of us who watched and joined peaceful Black Lives Matter marches just this summer in D.C., only to be confronted by police in riot gear with tanks, tear gas, and rubber bullets. Yesterday highlighted for many of us the stark difference of how we are treated based on nothing more than the color of our skin."
Many of these workers continued their jobs while their own lives were at risk.
One Washington Post reporter shared a firsthand account of Capitol food staff handing out boxed lunches of chicken and beef in the middle of the insurrection, while Congress members sheltered within the depths of the building.
Workers unions called for downtown hospitality workers to be evacuated, as at least one nearby bar was "overrun" with maskless Trump supporters. A downtown hotel also filled with masses of Trump supporters, eating, drinking, and charging their phones after the day of violence. Local rideshare drivers offered free rides to Washingtonians who found themselves stuck in the chaos, and José Andrés' World Central Kitchen delivered pizzas to first responders past the 6 p.m. citywide curfew.
Meanwhile, essential staff on and near the Capitol grounds, many of them Black and Brown workers, were left to clean-up from the violence. After the chaos settled, a video of masked Capitol custodial staff cleaning up the wreckage inside the building circulated on social media — prompting outrage as people attempted to coordinate donation efforts for the employees, and called for hazard pay. (New Jersey Rep. Andy Kim was seen quietly assisting in the debris cleanup and, at first, wasn't recognized by a colleague.)
By early Thursday morning, crews of National Park Service and Capitol employees were out collecting the discarded MAGA gear, beer cans, and other trash littered across the grounds of the National Mall. Crews erected a 7-foot fence around the Capitol grounds, with Army Secretary Ryan McCarthy announcing it wouldn't come down for at least a month.
For Keitt-Barnes, the nanny from Prince George's County, it was a long day — even though the family she was working for sent her home about an hour early, around 4:15. When she checked the fares on her rideshare apps, the normally $20 ride out to Maryland was almost $50. The family attempted to call a car, but ran into the same problem she experienced earlier that morning.
On the way out, she says, nothing felt normal: "The only thing that I saw that was usual was the bus that comes by every 20 minutes or so."
This story is from DCist.com, the local news website of WAMU.
Questions or comments about the story?
WAMU 88.5 values your feedback.