Your Questions About How The National Guard Works In D.C., Answered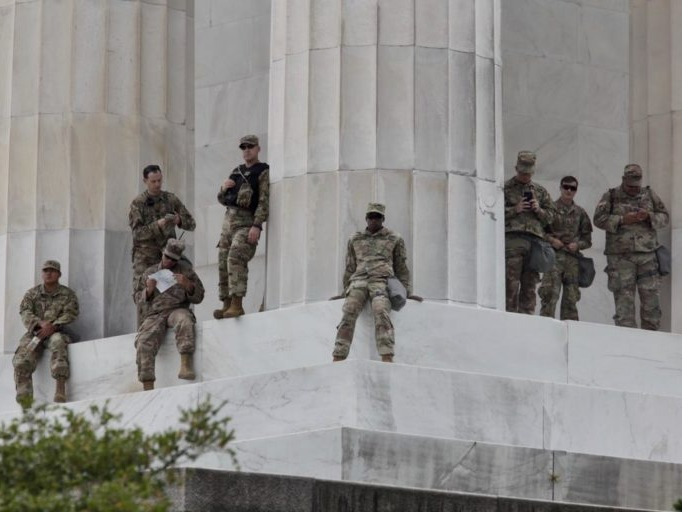 Capitol Police were underprepared and overwhelmed when violent Trump supporters began breaching the U.S. Capitol last week.
The D.C. National Guard wasn't far away — troops had already been approved to assist with traffic and crowd control for the day's rallies. But at that point, they lacked the authority to be on Capitol grounds. Ultimately, members of the guard did arrive, but only after hours of chaos at the building.
What caused the delay? And how does the deployment of the National Guard work more broadly? Here's what we know.
What exactly is the National Guard?
The National Guard is the U.S. military's domestic force. Each state, the District, and Puerto Rico have their own National Guard units. Troops have occasionally been called upon to serve overseas, as they were in Iraq and Afghanistan after the Sept. 11 attacks. But their main mission is at home. The largest such effort was to help the Gulf states after Hurricane Katrina in 2005.
Members traditionally serve one weekend a month — unless called upon by their state, local, or federal government for emergency assistance. More than 2,700 soldiers and airmen make up the District of Columbia's National Guard.
Who's responsible for deploying them locally?
Typically, the governor has the authority to activate guard troops within a state's borders. He or she informs the adjunct general to mobilize troops. The adjunct general sends the message down the chain of command.
It's more complicated in D.C., as are most things around here.
Mayor Muriel Bowser does not have the same authority over the D.C. National Guard that governors have over their states. She can only request guard troops from the Secretary of the Army. That request then gets sent up the chain of command to the Secretary of Defense for approval.
Even then, Bowser's jurisdiction is limited. Because of the District's finicky federal status of not being a state, she can only request guard troops to land that belongs to the city. That excludes federal territory, like the Capitol and its environs. The Secretary of Defense needs to approve the deployment of National Guard troops from any jurisdiction at federal land like the Capitol complex.
What's the process for sending guard troops here from elsewhere?
When the District needs additional troops from other states, those states' governors must receive an invitation from high-level officials at the Pentagon. In cases like natural disasters, states have emergency agreements between them to send guard troops as quickly as possible.
Once a state's guard unit is mobilized to go into another jurisdiction, there's a lag time. It can take anywhere from 8 to 10 hours for the unit to arrive.
Would statehood make this less complicated?
D.C. Delegate Eleanor Holmes Norton, a Democrat, reintroduced legislation in Congress that would make the District a state. That would mean that D.C. would have a governor with the same power over the guardsmen as other states.
That's not the only bill from Norton intent on switching authority over D.C.'s national guard to the local government. The District of Columbia National Guard Home Rule Act would also hand control of D.C.'s National Guard over to the mayor.
The insurrection at the Capitol "highlighted more starkly than ever the risk to local D.C. public safety from the president's control over the D.C. National Guard," Norton wrote in a statement. "The mayor should not be reliant on the president to deploy the National Guard to protect public safety in D.C. and D.C. should never have to worry that a president will take over its police force and use it how he or she sees fit."
How has the guard been used in D.C. in the past?
Guard troops have been called upon many times. They've been deployed to help defend the airspace above the Capitol and other federal buildings following the Sept. 11 terrorists attacks.
During presidential inaugurations, guard troops march before the president in what is known as the "pass in review" — a tradition that dates back to George Washington's inauguration in 1789. They also helped provide security during protests in the Civil Rights era. And after the assassination of Martin Luther King Jr. in 1968, more than 13,000 guard troops — the most to occupy a city since the Civil War — were called into the District to try to prevent looting and rioting.
How about over the last year?
Troops were deployed during last summer's protests for police reform after the killing of George Floyd. More than 5,000 troops came to the city from a dozen different states (most of those states had Republican governors). It's important to note that Bowser did not ask for or approve of deploying these out-of-state troops; she doesn't have the authority to keep them out. The D.C. National Guard also assisted local and federal law enforcement. In all, it was an overwhelming show of force for a city otherwise accustomed to peaceful protests.
D.C. National Guard troops have also been helping with the logistics and operations of COVID-19 testing sites, including helping with the process of providing vaccines.
Why was there so much confusion about whether and how they should be deployed at the Capitol this week?
There are different accounts from local and state officials as well as from the Pentagon about what the confusion was during Wednesday's attack, which led to a delay in deployment.
On Monday and Tuesday of last week, Bowser requested 340 D.C. guard troops to help D.C. police prepare for Wednesday's protests. The request prohibited guardsmen from receiving ammunition or riot gear (unless necessary for self-defense), sharing equipment with local law enforcement, or using surveillance or air assets with explicit sign-off from the defense secretary, according to The Washington Post. There were also 40 personnel stationed at Joint Base Andrews if additional support was needed. That request was approved by the Pentagon and 255 D.C. guardsmen arrived in D.C. and began traffic management.
When an angry mob breached the Capitol Wednesday afternoon, Bowser and Capitol Police needed to file an additional request to the Army secretary in order to send in additional troops and to expand their responsibilities, because it was on federal property.
Then what happened?
A full timeline released by the Department of Defense shows series of phone calls between the Defense and Army Secretaries, Bowser, then-Capitol Police Chief Steven Sund, and Commanding General of the D.C. National Guard William Walker.
The first call was at 1:34 p.m., in which Bowser requested additional forces from Army Secretary Ryan McCarthy. Then at 1:49 p.m., Sund called Walker asking for immediate assistance.
Sund told the Washington Post that early last week House and Senate security officials turned down his request for members of the National Guard to be placed on standby. While the Capitol was under attack on Wednesday, Sund said he pleaded for help five more times and was also rejected or delayed.
Lt. Gen. Walter Piatt, director of the Army Staff, told McCarthy he could not recommend sending in additional troops because of the "optics of soldiers inside the Capitol building was not something they wanted," according to The Post.
A third phone call at 2:22 p.m. between McCarthy, Bowser, and Metropolitan Police Department leadership to discuss the need for additional guard troops.
McCarthy's office says it received the request around 2 p.m., according to Military Times. "We quickly worked to move our resources forward in support of Metro PD and the Capitol Police," McCarthy said at a press conference the following day.
A fourth phone call happened at 2:30 p.m. between McCarthy, Acting Defense Secretary Christopher Miller, and Chairman of the Joint Chiefs of Staff Mark Milley to discuss Bowser and Sund's request.
At 3 p.m., McCarthy and Miller determined that all available D.C. guard troops would be required to reestablish security at the Capitol. A little while later, McCarthy directed the full activation of the D.C. National Guard's 1,100 personnel available that day.
McCarthy reassured Bowser and MPD leadership that the request had not been denied at 3:26 p.m., though troops were still not at the Capitol.
But theMilitary Times reported the request was sent up the chain of command to Miller. President Trump then gave the directive to Miller to send additional troops. But other published reports assert that Miller spoke with Vice President Pence about the decision as a courtesy, but not a request for permission.
Reporter Maggie Haberman of the New York Times tweeted Wednesday that "Trump initially rebuffed and resisted requests to mobilize the National Guard" and that "it required intervention from White House officials to get it done."
D.C. guard troops were finally mobilized around 3:52 p.m and arrived at the Capitol around 5:40 p.m.
Lawmakers have called for investigations into the delay in deployment.
What about the National Guard troops from nearby Maryland?
Gov. Larry Hogan placed a request to send Maryland National Guard troops to deploy to D.C. to help law enforcement. He was following a pre-existing emergency management agreement among the local jurisdictions. Still, his request needed to be approved by the Defense Secretary in order to take effect.
"We were repeatedly denied approval to do so," Hogan told reporters Thursday. "Then I get a call an hour and a half later out of the blue, not from the Secretary of Defense, not through what would be normal channels ... but from Secretary of the Army Ryan McCarthy."
McCarthy accepted the state's offer to send in additional guard troops in a phone call with Hogan around 4:40 p.m. "I was like 'yeah we've been waiting, we're ready,' " Hogan said while recalling his phone call.
But the 90-minute delay recounted by the governnor has been somewhat disputed by defense officials. Army Public Affairs told DCist that Gen. Daniel Hokanson, chief of the National Guard Bureau, first spoke with Maryland's adjunct general at 3:55 p.m. to confirm that guard troops had been activated and to determine the fastest timeline they could be in the National Capitol Region.
On Friday, President-elect Joe Biden called for a "full-blown investigation" into the delay of Maryland's National Guard.
Guard troops from Maryland were the first units from outside of the District to reach D.C., followed by those from Virginia on Thursday.
How many guardsmen are currently deployed in D.C.?
In addition to D.C., Maryland, and Virginia, guard troops from New York, Delaware, New Jersey, and Pennsylvania have also been deployed to the District through the inauguration.
McCarthy said late last week that by the weekend there would be 6,200 troops in the National Capitol Region. He told the Associated Press that National Guard troops may be allowed to carry batons or guns as they brace for more protests and possible violence before or on the Jan. 20 inauguration.
The following Monday, the National Guard said it plans to increase troops in D.C. to at least 10,000 by January 16, allowing for the possibility of an additional increase that could lead to a total of 15,000.
This story is from DCist.com, the local news website of WAMU.
Questions or comments about the story?
WAMU 88.5 values your feedback.