Optimus Prime Faces A New And Unexpected Foe: Georgetown's Historic District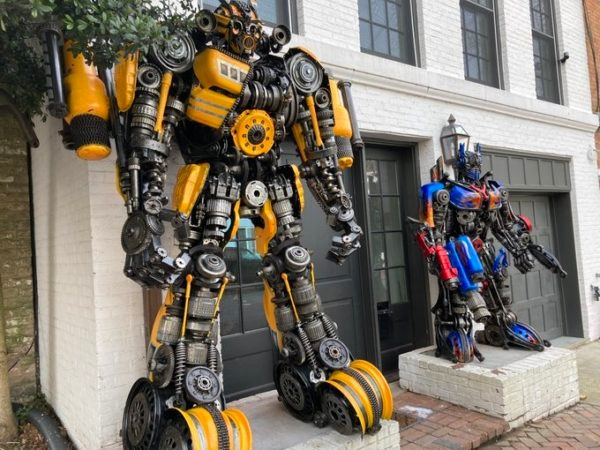 The fate of humanity may not exactly have been at stake, but still the battle was on.
On one side, Optimus Prime and Bumblebee. On the other, a Georgetown Advisory Neighborhood Commission. (Cue dramatic music.) Once the dust settled, the victorious residents emerged from the smoky ruins of the neighborhood's brick sidewalks and historic homes — the Transformers had been vanquished.
It's not exactly the Michael Bay-inspired followup you'd expect from the popular franchise, which even filmed some scenes in D.C. in 2010. But on Monday night, a battle of sorts was waged over public space, art, Georgetown history, and bureaucracy. And Optimus Prime and Bumblebee were out in front of it.
The neighborhood commission — ANC 2E, which covers Georgetown, Burleith and Hillandale —unanimously rejected Newton Howard's request for a permit to keep two large sculptures of the iconic Transformers in front of his $4 million home on Prospect Street NW. They stand just a few blocks from Georgetown University, where he works as a research professor in computational neurology and functional neurosurgery. (That's brain science for the rest of us.)
The reason given for the denial had less to do with the Transformers themselves than it did with process; the commissioners ruled that Howard first had to get the approval of the Old Georgetown Board, the federal body that weighs in on pretty much anything that happens to properties or public space in the neighborhood's historic district.
Howard tells DCist/WAMU that he put up the two-ton sculptures, which were created by a friend, in front of his house in January. He has another pair inside, a reflection of his passion not just for the movies, but the concepts they express.
"The Transformers convey the message of humans coexisting with machines," he says.
Howard assumed putting the sculptures — one standing taller than 10 feet, the other roughly six feet — outside wouldn't be a problem; they occupy space on either side of his front door that had been taken up by two brick planter boxes before.
The reaction was immediate. "Children absolutely love them," he says. And so do others: "I'm in awe of your Transformers statues," wrote a Georgetown student in a note he left outside Howard's house.
An inspector with the city was less enthused, informing Howard that he needed a public space permit to keep Optimus Prime and Bumblebee standing sentry. The inspector said the planter boxes are actually in public space; the property line, he said, ends at the facade of Howard's home, which is right along the sidewalk. (Property lines in historic neighborhoods can be confusing; see Capitol Hill.)
Howard contests that. He says the boxes, which are attached to the house and jut out a little over three feet from either side of his front door, were there long before he bought the property in 2016. He adds that he is "bewildered" by the whole debate, but filed for a public space permit regardless.
Whether those otherwise innocuous planter boxes are on private land or public space is critical. If Optimus Prime and Bumblebee are, in fact, standing in public space, Howard will need a city permit to keep them there. And that permit application would likely trigger a review by the Old Georgetown Board, the arbiter of the neighborhood's historic aesthetic. That was the point the ANC made on Monday night, carefully dodging the issue of the nature of the sculptures and instead focusing on the process that had to be followed to keep them there.
"It's one of those funny things that people think it's their own property but it's actually public space. It can be a challenging process to decipher," Lisa Palmer tells DCist/WAMU. She's a 10-year Georgetown resident and the commissioner that represents that portion of Prospect Street. "It needs to be reviewed by the Old Georgetown Board. Procedurally this did not happen in the right order."
But process was only a part of the concern, at least for some of Howard's neighbors in a part of town known for its expensive homes — and many denizens who are sticklers for the rules. (Remember the fight over the bagel shop?)
Luke Russert, a well-known journalist who lives next door, said at the hearing that the sculptures are a safety hazard, prompting cars to double-park to get a picture. Russert also worried about a precedent that could be set if Howard's Transformers are allowed to remain without going through a historic review process.
"What's to stop someone from putting up a statue of Joseph Stalin and saying well this is provocative, it's art, it speaks to me," he said. "They are a nuisance, they are an eyesore and they detract from the spirit of the neighborhood. I think a lot of us were perplexed how quickly they went up." He added that they should come down "lest anyone get any other ideas."
Catherine Emmerson, who lives two houses down from Howard and is the co-founder of the Prospect Street Citizens Association, called his decision to put the sculptures up a "selfish and unilateral act." She told the ANC that she was concerned they would diminish home values and continue to attract "random groups of people who are not practicing social distancing."
The commissioners largely dodged those arguments, though, limiting themselves to the procedure of it all.
"We should support creativity and expression as long as we go through the proper channels," said Commissioner Kishan Putta.
As for Howard, he says he's not done fighting for Optimus Prime and Bumblebee, who are likely to stay put for the time being. He says the issue boils down to free expression; if the city and his neighbors never raised a fuss over planter boxes, why is a pair of sculptures any different?
"They bring joy to children and other people in this rough time of people being cooped in their house," he says. "I'm going to fight for them because it really fundamentally hits me at the freedom of expression nexus."
And if the Old Georgetown Board doesn't get on board with the Transformers?
"I will take it to the next level and fight it in court," he says. "I believe they are not doing any harm. They are bringing joy."
This story is from DCist.com, the local news website of WAMU.
Questions or comments about the story?
WAMU 88.5 values your feedback.