Conditions Were Bad At This Langley Park Apartment. COVID Made Them Intolerable
When the ceiling collapsed in his family's home on Valentine's Day, Inmar Pineda Hernández thought it was the end of a series of problems plaguing his family's shared apartment in Langley Park, Maryland. Finally, he thought, the landlord would move them to another unit.
Hernández called the fire department. When they showed up, firefighters quickly declared the apartment uninhabitable, says a spokesperson for Prince George's County Fire/EMS, and his family had to leave. Hernández says building management offered to put them up in a hotel for two nights, so they headed to a local inn. Two days later, he says, he returned to the apartment and couldn't get inside.
"They'd changed the locks," Hernández says in Spanish, through an interpreter.
He says the landlord informed him that Hernández's roommate, whose name was on the lease, had signed away their rights to the apartment after the collapse. But his roommate can't read, Hernández says. How could he have known what he was signing?
Hernández and his family quickly found themselves among the tens of thousands of Maryland residents facing housing insecurity during the waning days of the pandemic, and one of dozens of vulnerable families within a single, troubled apartment complex in Prince George's County.
That complex, which encompasses nearly 600 units across two buildings called Bedford Station and Victoria Station, has become a microcosm of the housing crisis gripping low-income and immigrant households more than a year after the health emergency began. Langley Park is 84% Latino or Hispanic, according to American Community Survey estimates, and it has one of the largest concentrations of undocumented Latino immigrants in Prince George's County, according to a 2019 report commissioned by CASA, an immigrant advocacy organization. When COVID-19 struck, many residents lost their jobs and couldn't make rent. At least 14 households have received eviction notices. Many of them are due in court next month.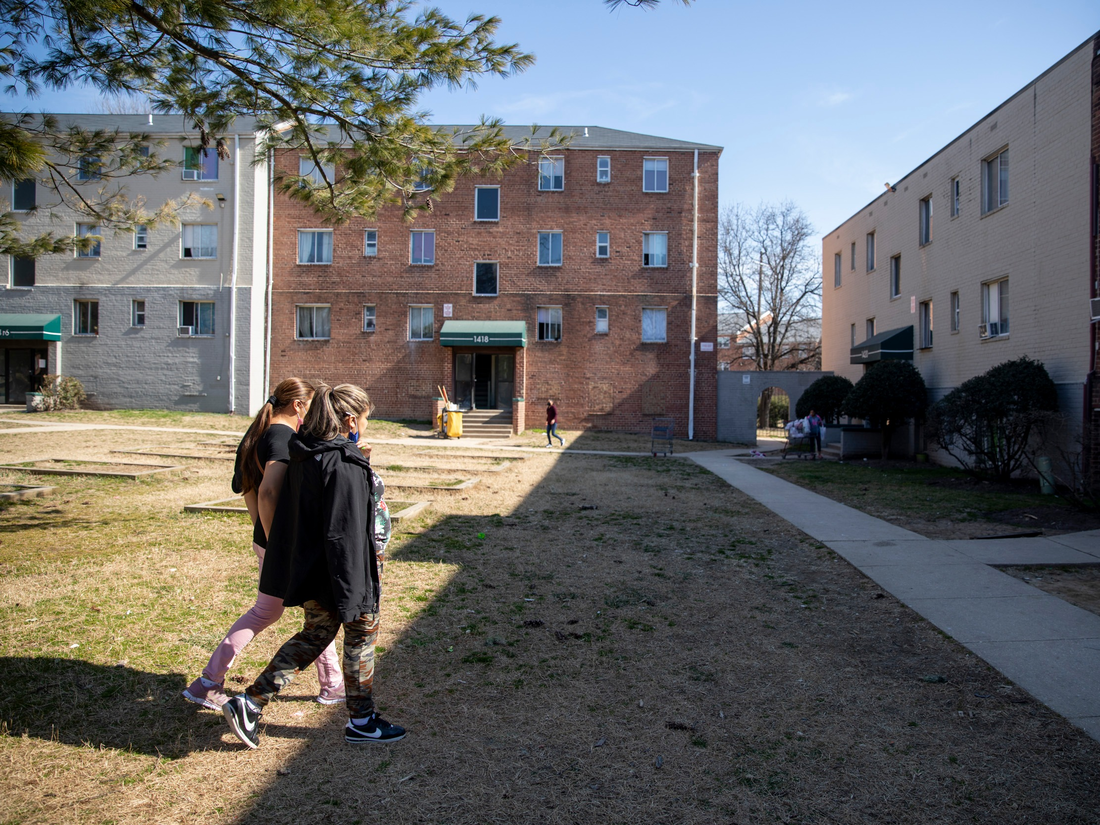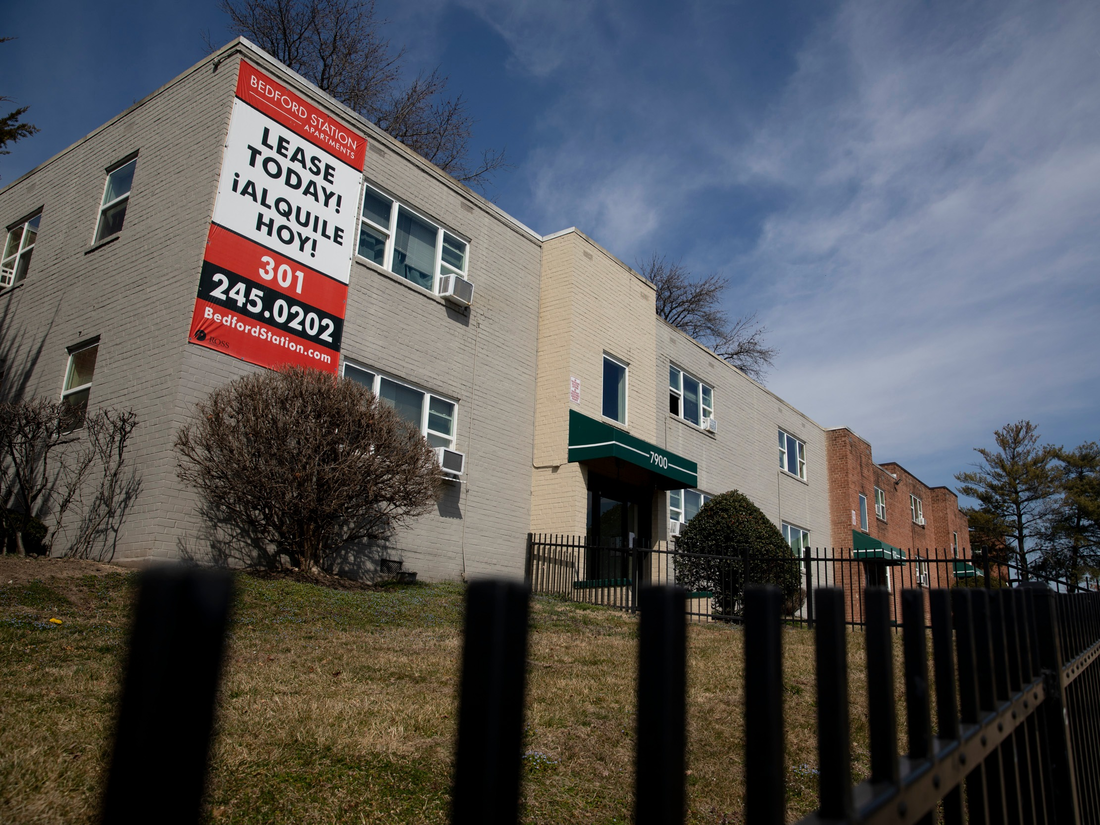 Others, like Hernández, say their landlord has stopped making repairs during the pandemic, but they fear losing their homes if they complain or if the building is condemned.
The firm that manages Bedford Station and Victoria Station, the Bethesda-based Ross Companies, did not respond to a request for comment.
The buildings are owned by Bedford United LLC, land records show — a company linked to Arbor Management Acquisition Company, a Manhattan-based real estate investment firm that owns 8,000 housing units and has purchased more than $1.75 billion in multifamily properties across the country, according to a biography of the company's cofounder, Ivan Kaufman. Arbor Management Acquisition Company did not return a request for comment.
Advocates for low-income renters hope that millions in federal COVID-19 relief funds will help the buildings' many Central American-born residents, who have dealt with poor living conditions at the complex for years.
"Ever since 2010, we've been having major problems with the conditions at these buildings, and not really having any kind of dialogue with the ownership or management," says Trent Leon-Lierman, lead organizer at CASA de Maryland. "Things have been bad for a very long time."
More than 100 households at Victoria Station and Bedford Station went on a rent strike last fall, demanding the landlord improve conditions and forgive back rent owed by tenants who lost their jobs during the crisis. A group of around 40 tenants rallied outside the buildings on Sunday to galvanize support for tenants facing eviction, chanting, "Sí, se puede."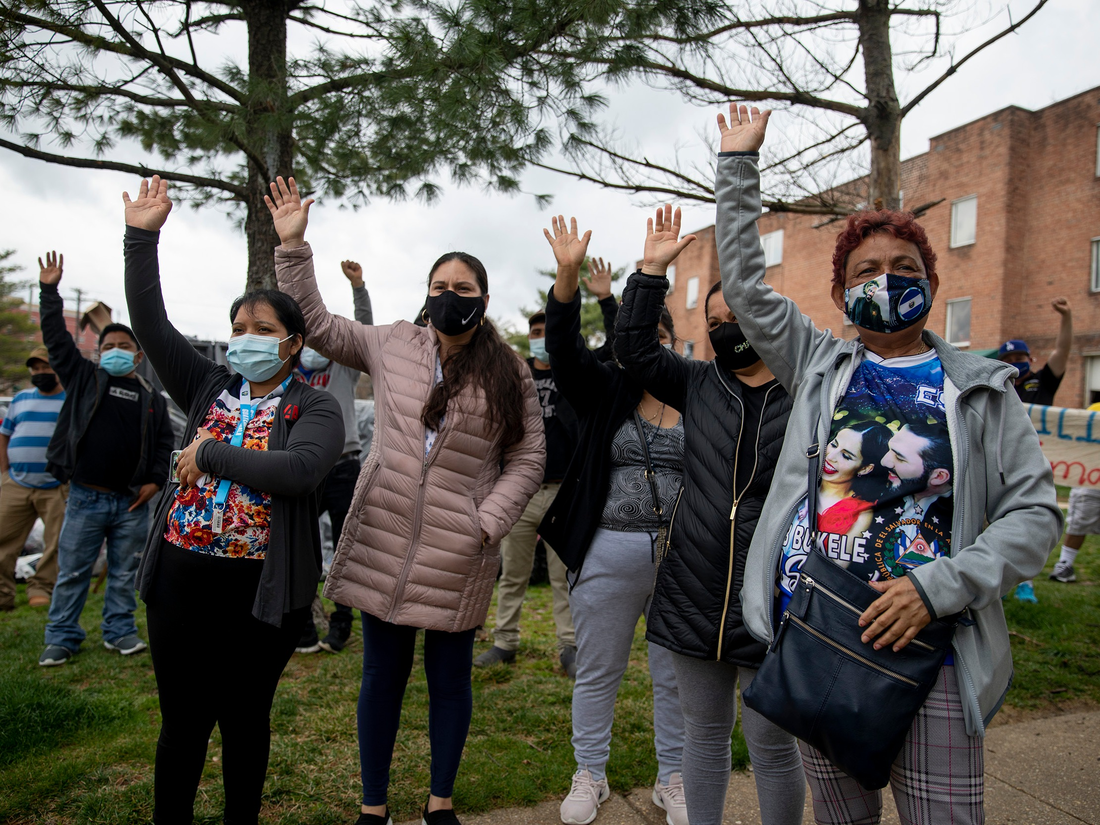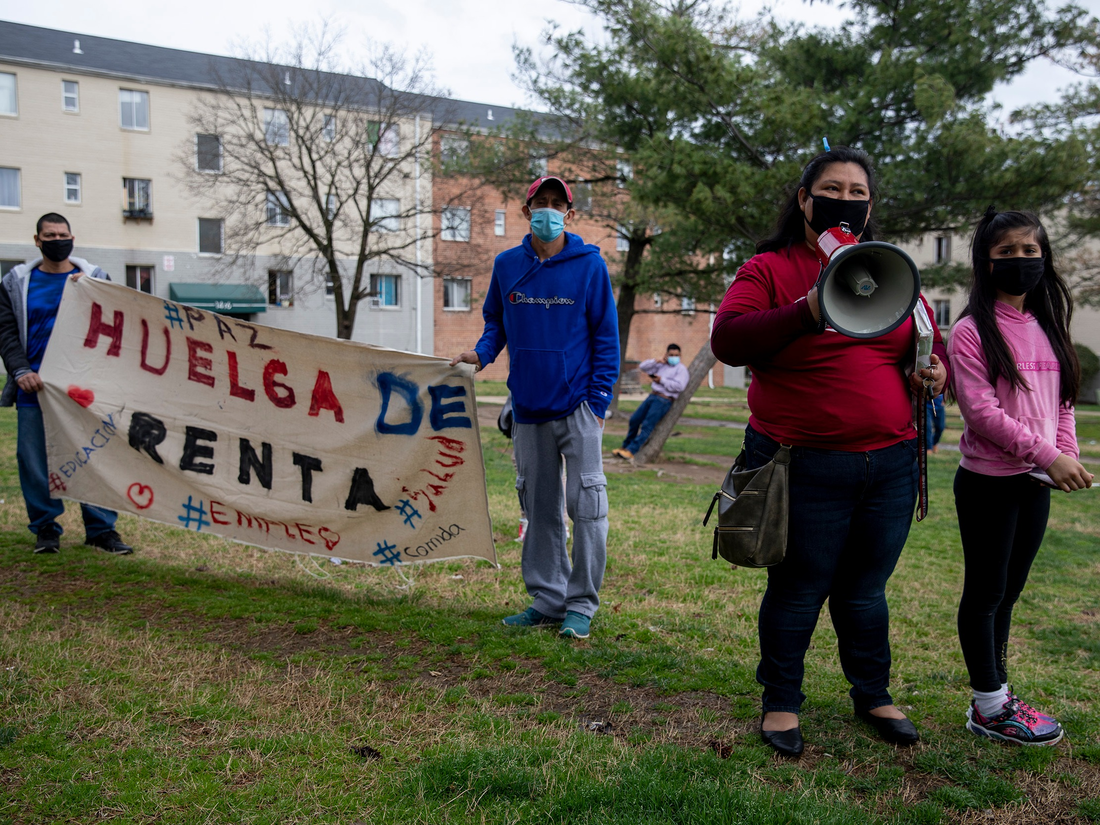 Inmar Hernández was not among the strikers. He never received an eviction notice; he says his family was up-to-date on their rent when the ceiling fell in. But six weeks after the lockout, his family still has not been granted re-entry into their unit or offered another apartment. And Ross Management never reimbursed him for the hotel room, Hernández says.
His neighbor, Cristina Carranza, says conditions at Victoria Station are unbearable. Rodents scurry across the floors and her kitchen faucet leaks constantly. But she doesn't know where her family will go if they're forced to leave.
Carranza, who has lived at Victoria Station for seven years, says she experienced multiple crises in 2020. First, the pandemic closed the restaurant where she works, and she didn't work a single day in four months, she says. Then in August, her husband was severely injured in a triple shooting outside Victoria Station, rendering him unable to work.
"The bones in his arm were shattered," Carranza says through an interpreter.
A county police spokesperson says the crime is still under investigation and declined to confirm the names of injured parties.
The week after the shooting, Carranza's landlord filed an eviction complaint against her and her husband, seeking $3,890 in unpaid rent. At the time, the courts were closed due to pandemic safety measures, but they reopened in March. Her hearing is scheduled for April 12 at the Prince George's County District Court in Hyattsville.
"Where would we go if we're evicted?" Carranza says. "Where can we start anew? We don't have anything to start with."
Victoria Station resident Karen Barahona is also due in court April 12, after Ross Management filed a complaint against her last fall seeking nearly $4,000 in back rent. She and her husband have struggled to make payments since the pandemic began. Her entire household, including her 5-year-old son, became sick with COVID-19 last year, Barahona says. (According to county statistics, Latinos make up almost 20% of the county's population but 24% of COVID-19 cases.) She had earned a steady income as a house cleaner, but work dried up as the virus spread. When their rent payments became inconsistent, she says, the landlord stopped making repairs to her unit. She says conditions inside their apartment declined rapidly.
"Honestly, I had a better quality of life in my country," says Barahona, who emigrated to the U.S. from Guatemala less than three years ago.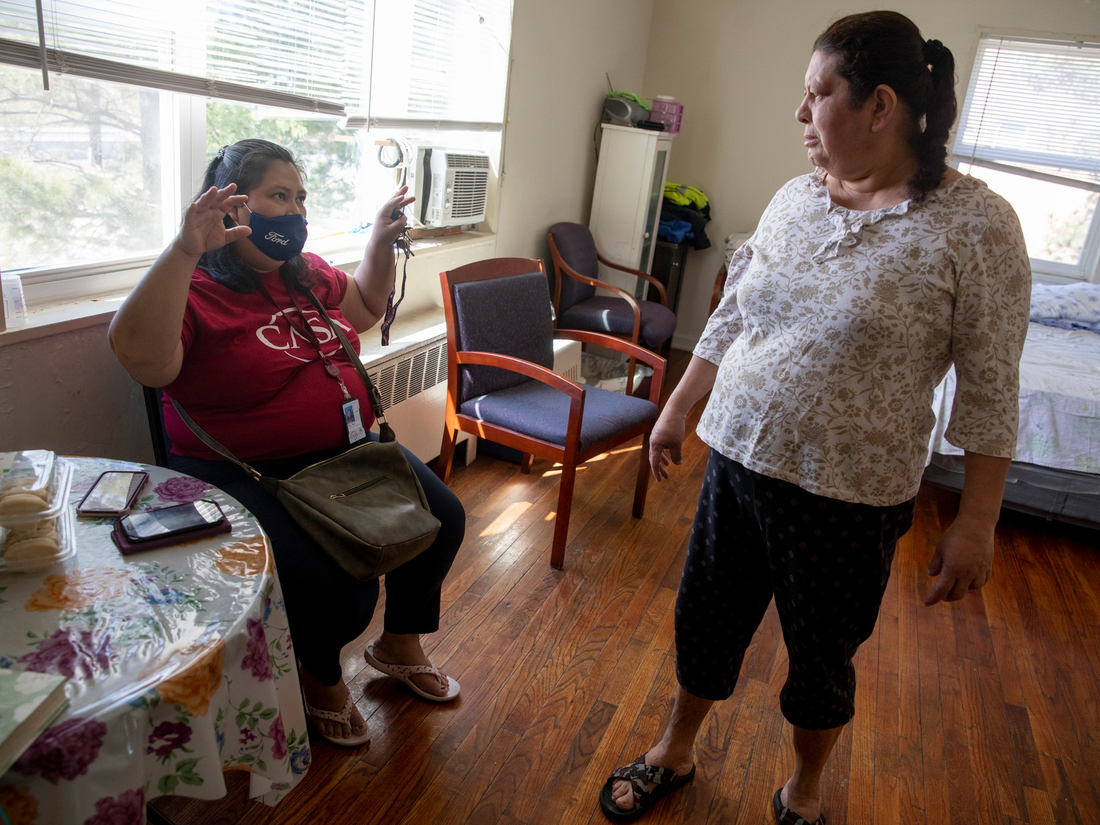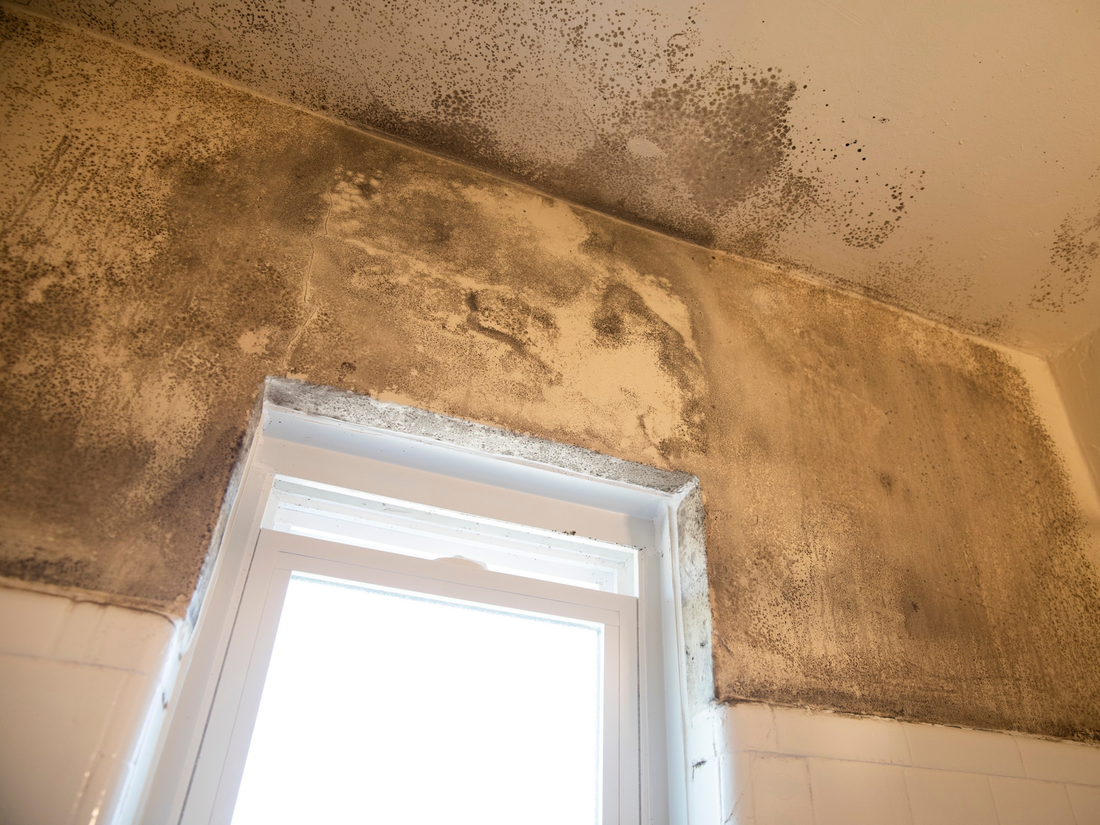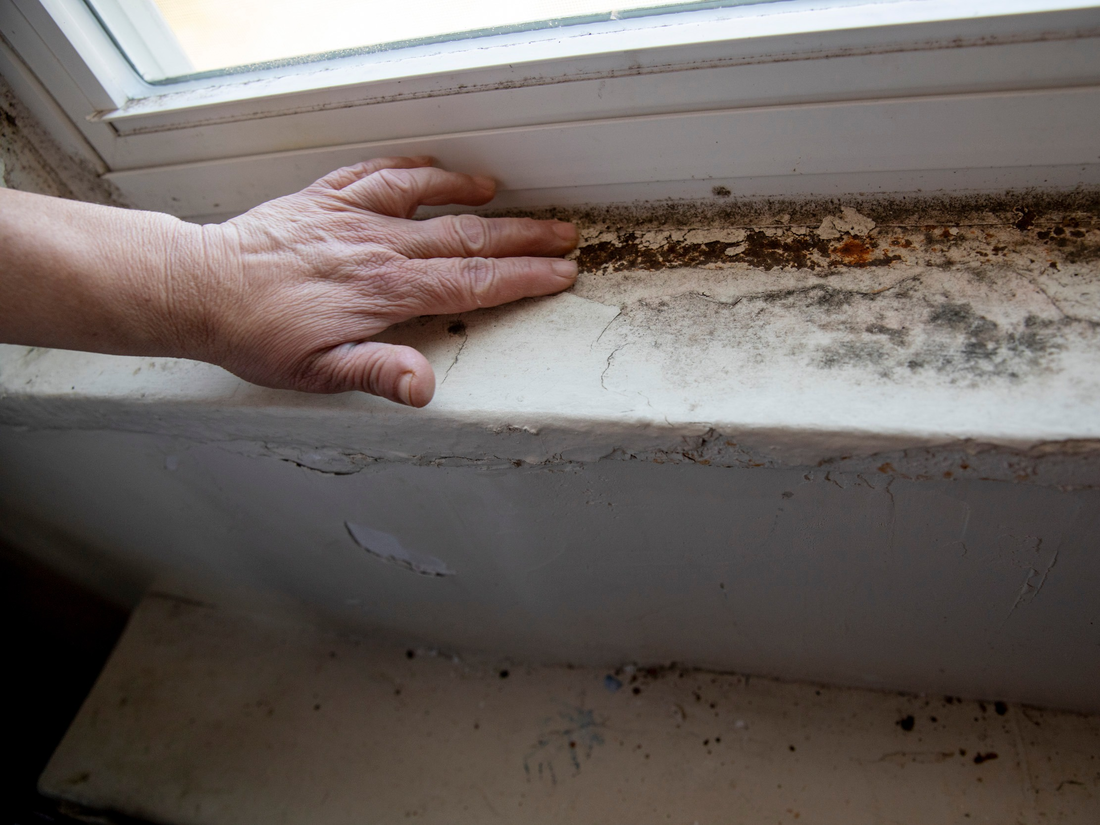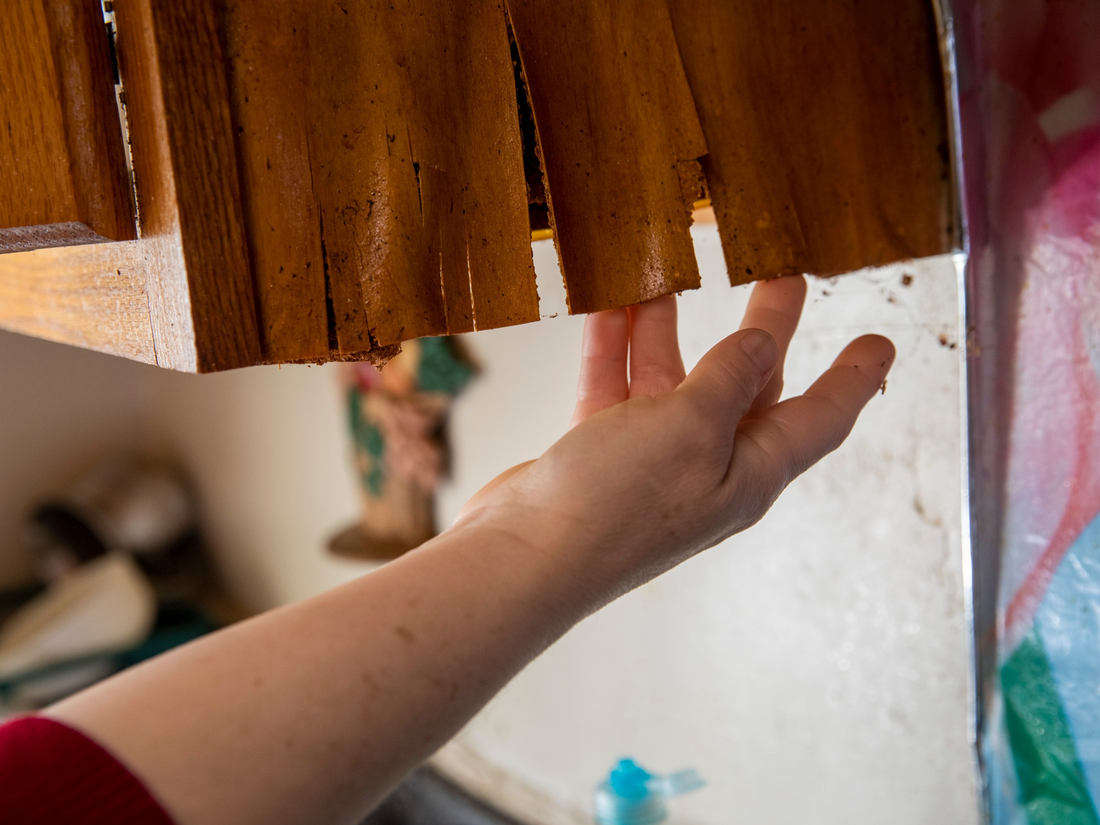 Renters facing eviction in Maryland during the health emergency have some legal protections: Under a governor's order and a national moratorium recently extended through June 30, tenants who lose their income due to COVID-19 have a legal defense against eviction. But if they don't show up to a court date — or their landlords simply cancel their leases — they could wind up homeless after backlogged courts get around to processing their cases.
Del. Jheanelle Wilkins, a Democrat representing Montgomery County in Maryland's House of Delegates, says tenants at buildings like Bedford Station and Victoria Station illustrate why the state needs to adopt stronger tenant protections in the wake of the crisis.
"This pandemic has really uncovered the need to look at the imbalance when it comes to landlords and renters," the delegate says. "It all goes back to us really affirming housing as a human right, not just a random commodity."
Wilkins sponsored legislation this year that would have strictly limited evictions during health emergencies statewide, but most of its language was stripped out in committee. Lobbyists representing the Maryland Multi-Housing Association and property owners testified against the bill, saying it would unfairly force landlords to bear the financial burden of the pandemic.
Wilkins says more can be done on the local level. County and city governments should take a hard look at their housing laws and procedures, she says, especially pertaining to how they enforce health and safety standards inside rental buildings that suspended maintenance during the pandemic.
"We can pretty much expect that there are a lot of repairs and fixes that have been foregone in this financially challenging time," Wilkins says. "One of the big policy changes we need to make is restructuring how we do [housing] code enforcement."
Prince George's County has struggled for years to use its housing codes to improve living conditions, says Willow Lung-Amam, an associate professor at the University of Maryland who led the CASA-commissioned study of Langley Park apartment buildings. Bedford and Victoria Stations racked up more than 2,000 code violations between 2014 and 2017 — by far the most of any apartment complex in Langley Park, Lung-Amam says. The county had placed both buildings on its list of distressed properties in 2012 and started inspecting them more frequently, which likely drove up the number of violations. The landlord mitigated the issues, the report says, and the county renewed the rental licenses for both buildings.
At Bedford Station and Victoria Station, the county followed procedure for when complaints are received about building conditions, says Avis Thomas-Lester, a spokesperson for the Prince George's County Department of Permitting, Inspections and Enforcement.
"Depending on the violation, the management company is given time to make the necessary repairs under monitoring by DPIE. Failure to abate the violation may lead to revocation of the rental license, so management companies make the necessary repairs to avoid that," Thomas-Lester writes in a statement.
Victoria Station and Bedford Station were removed from the county's distressed properties list in 2018 and 2019, respectively, according to DPIE. Since 2018, Prince George's County has received 33 complaints about problems at the complex.
But the actual number of problems at the building is likely higher, Lung-Amam says. Many renters, especially immigrants, fear the consequences of reporting potential housing code violations to the county.
"They're afraid that their landlords will retaliate with evictions, increasing their rent, not providing them with services or some kind of other measures. And this is particularly true in Langley Park, because you do have a large number of undocumented residents who are fearful of their landlords anyway and fearful that code enforcement is a kind of law enforcement," Lung-Amam says.
CASA de Maryland has attempted to meet with building management to discuss rent payment options and living conditions at the complex, but they've been rebuffed, says organizer Trent Leon-Lierman. The advocacy organization is now working on helping tenants tap into more than $400 million in rental assistance Maryland received from federal relief legislation.
But Leon-Lierman is worried that residents will lose their homes anyway. Landlords can still utilize a loophole in state and federal eviction protections that allows them to terminate the leases of residents who have fallen behind rent during the pandemic. Without assurances from the landlord that they won't be evicted, Leon-Lierman says, why would tenants scramble to make their landlord whole?
"All we're asking from the management is to give people the opportunity to know that if they pay as much as they can, that you won't evict them. But without any dialogue or agreement, people are left to believe that if they pay, they'll still be evicted," the organizer says.
For now, tenants are hoping that their collective efforts lead to real change at Bedford Station and Victoria Station. Many plan to rally outside the courthouse when Cristina Carranza, Karen Barahona and others are scheduled to appear in court next month.
"They're all saying, 'We're going to court for everybody, together. To support one another,'" Leon-Lierman says. "They're ready."
This story is from DCist.com, the local news website of WAMU.
Questions or comments about the story?
WAMU values your feedback.