After Video Showed MD Police Officers Berating A Child, Lawmakers Get Few Answers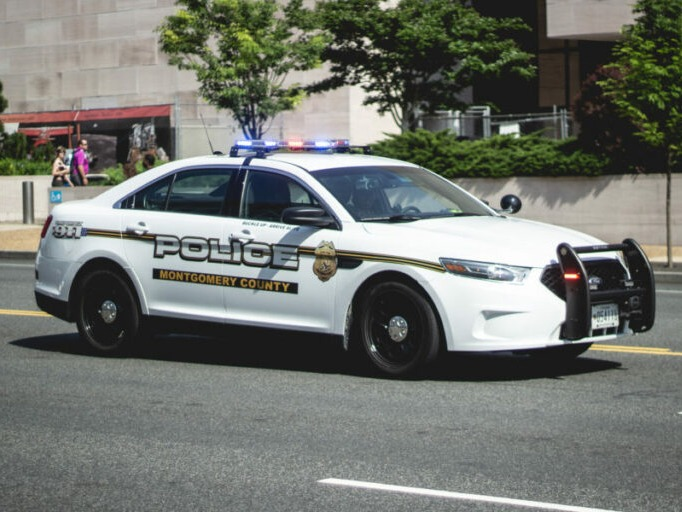 A public hearing yielded few details but continued outrage over an incident in which two Montgomery County police officers screamed and threatened a young Black child.
The Montgomery County Council questioned Police Chief Marcus Jones and school system superintendent Jack R. Smith on Tuesday, following the release of officer body camera footage of the incident last month.
The video shows two patrol officers, named in litigation as Dionne Holliday and Kevin Christmon, berating a 5-year-old boy after he left the grounds of East Silver Spring Elementary School in January 2020.
The officers called the boy "a little beast" and suggested putting him in a dog crate and hitting him as punishment for misbehavior. One officer screamed inches from the kindergartener's face, and another put one of his wrists in a handcuff. When the boy's mother arrived at the school, the officers urged her to physically discipline him, and they offered advice for how to do so without leaving marks that could indicate child abuse. School officials in the room did not appear to intervene.
"If you had a definition of school to prison pipeline, you could slot in this video," Councilmember Will Jawando said.
Questions from lawmakers focused on police department and school system policies, and why internal investigations of the incident took so long and were not elevated to law enforcement, schools, and county leadership sooner.
"I am concerned that this incident was not treated with the seriousness that it deserves," Councilmember Hans Riemer said.
Police Chief Marcus Jones said an internal police investigation was set in motion by a complaint filed the same month as the incident. But the investigation unfolded slowly; The officers were not interrogated until August, according to Jones.
Jones also said he didn't review the video — a part of the final step of the process, where the chief makes a disciplinary decision — until December, almost a year after the events took place, though he did indicate he was aware of the existence of the video earlier.
He attributed the length of the investigation to heavy workloads on the department's internal affairs team, which includes just one employee who can redact body camera footage, as well as the demands of the pandemic.
Both officers are still employed, according to a statement from the police department. Jones told councilmembers that they could still be asked to respond to a similar call for assistance in the future.
Meanwhile, Smith said the school system briefly documented what happened to the 5-year-old student in MCPS's "serious incident report" system, but the school board and administration weren't made aware of it until media reports surfaced in January 2021. The superintendent said he and other school officials did not see the body camera footage until the same day it was released to the public.
"This system is obviously broken, in that you didn't find out for a year, and didn't see the footage until the day we saw it," Jawando said. "We got to fix all of that."
The council strongly criticized the county administration and executive Marc Elrich when the video was originally made public in March. Lawmakers said they were "blindsided" by the release, and were only given the footage just 23 minutes before it was made public.
At the time, Elrich released a statement saying he had asked the police department to revisit training on interactions with children, but said he could not comment further due to pending litigation.
On Tuesday, Smith and Jones reiterated multiple times that they were prevented from answering many councilmembers' questions, citing a panoply of roadblocks: a pending lawsuit from the boy's family; school privacy laws; restrictions against sharing officer disciplinary records; and other protections for police officers under investigation in the Maryland Law Enforcement Officers Bill of Rights.
Jones did answer a question from Jawando about whether he personally felt it was appropriate for adults to scream at children.
"No," he said. But he declined to answer similar questions about whether an adult who did should be allowed to remain a police officer. He also could not provide specifics on the outcome of the investigation or what discipline it resulted in.
"To say the obvious, this is a very unsatisfying conversation," Riemer said. "The public is not getting a lot of information."
The discussion came as the Maryland General Assembly inches closer to passing a package of police reform bills, some of which might enable more transparency in police disciplinary records.
On the county level, a legislative proposal from Council Vice Chair Nancy Navarro would remove school resource officers from schools and replace them with "a public safety cluster model comprised of police officers, mental health professionals, and positive youth development staff," according to a press release.
More than 3,200 community members, along with several non-profits and faith organizations, signed an open letter calling on officials to condemn the officers' actions and suspend or fire them. It also demands that the school system take steps to investigate the incident, institute policies to minimize police interaction with students, and suggests that the county should provide compensation and mental health care for the boy and his family.
"We feel strongly that the nightmare endured by this five-year-old at the hands of Montgomery County Police would never have happened had this child been white," the letter reads.
This story is from DCist.com, the local news website of WAMU.
Questions or comments about the story?
WAMU 88.5 values your feedback.