'It's A Lot': How D.C. Creatives Are Mastering The Art Of Motherhood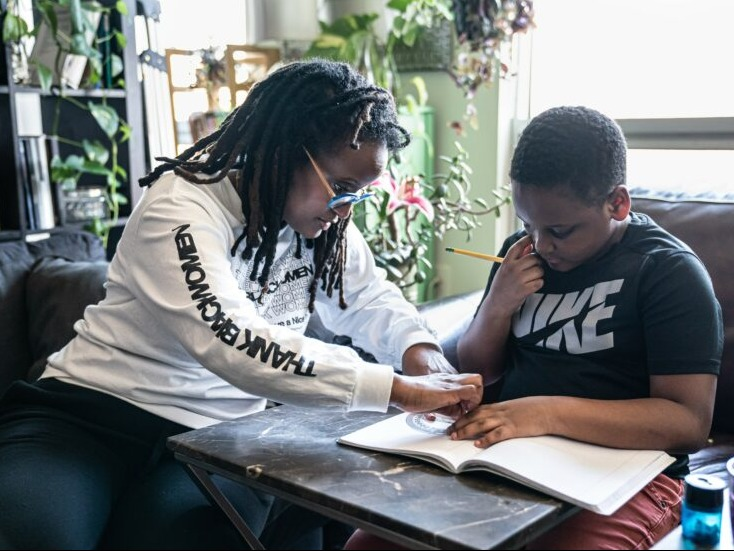 The word artist doesn't sit well with Kailasa Aqeel, lead vocalist of the D.C. funk band Black Folks Don't Swim? (yes, it's meant to be a question). For the Duke Ellington School of the Arts grad, lifelong creator, and mother of an energetic 10-year-old daughter, artist feels more like a working title.
"I feel like the word 'artist' has kind of been played out for a while," Aqeel says between long pauses, gathering her thoughts during a Zoom interview in late March. "Obviously, it still holds true, it still holds value. But like everything, I contain multitudes, and [artist] just doesn't describe everything."
Between bowls of Frosted Flakes, early-morning online check-ins for school, PB&J lunches, and Fortnite sessions before bed, these mothers have found ways to become teachers, sustainers, motivators, magicians, and — especially — healers. They've used their creative outlets for internal and external healing from past relationships, soul-sucking jobs they've left behind in search of more colorful pastures, and the eternal shock of the ongoing global health crisis. Most of them are managing it all relatively on their own. Child care duties fell disproportionately on women even in pre-pandemic times, and since COVID-19 set in — as school, work, and playtime all moved home — pressure has mounted on working mothers.
But each one we spoke to is proud of their kids (at least, most days) and of who they themselves have become around their kids. Each one is an artist, but as their daily lives reveal, they are much, much more.
Kailasa Aqeel, musician, 29
Among the overused words of these pandemic times is pivot. But that's exactly what 29-year-old singer Kailasa Aqeel did in the midst of writing and recording an album with her experimental funk band, Black Folks Don't Swim?
On an average day, she wakes to get her 10-year-old daughter, Saa, online for school; or, most recently, to a socially-distanced cheer competition. Then it's back to the music. Aqeel and her bandmates mix and record remotely now, connecting over Zoom and audio software that allows multiple users to tune in at once. Virtual recording and mixing sessions — hardly considered before 2020 — are now commonplace. (Just do a quick Google search and you'll find plenty of how-to articles on making music remotely.)
"There's nothing like that in person experience, of course, but we're creative, so we have to keep creating," she says. And create they have: New videos fill up the band's social media pages, and their debut album, For the Source Part 1, is coming this summer.
Aqeel's laid-back demeanor, low-cut hair, and soulful voice (heard even as she describes her houseplants during a recent video call) matches her groovy vibes on stage. She says not being able to do her usual spacey, Afro-futuristic live performances has sucked, but being grounded has given her more time and space to focus on herself and Saa.
"She's a blessing, she really is," Aqeel says of her daughter. "Her gifts? Just lighting up the room, she's always dancing ... always dancing. She's excited about learning what her body can do as an athlete. She has this mindset of, you can actually do anything, and I want to nurture that in her."
Kailasa says her name is a reference to Mount Kailash, a holy pilgrimage site in some Hindu and Buddhist traditions. The Himalayan peak has inspired her to search for the end of her own spiritual journey, but as she's grown as a musician and mother, she's learned something valuable:
"I know that there is no end to a journey," she says. "Yeah, we're all on this journey. We're all on it."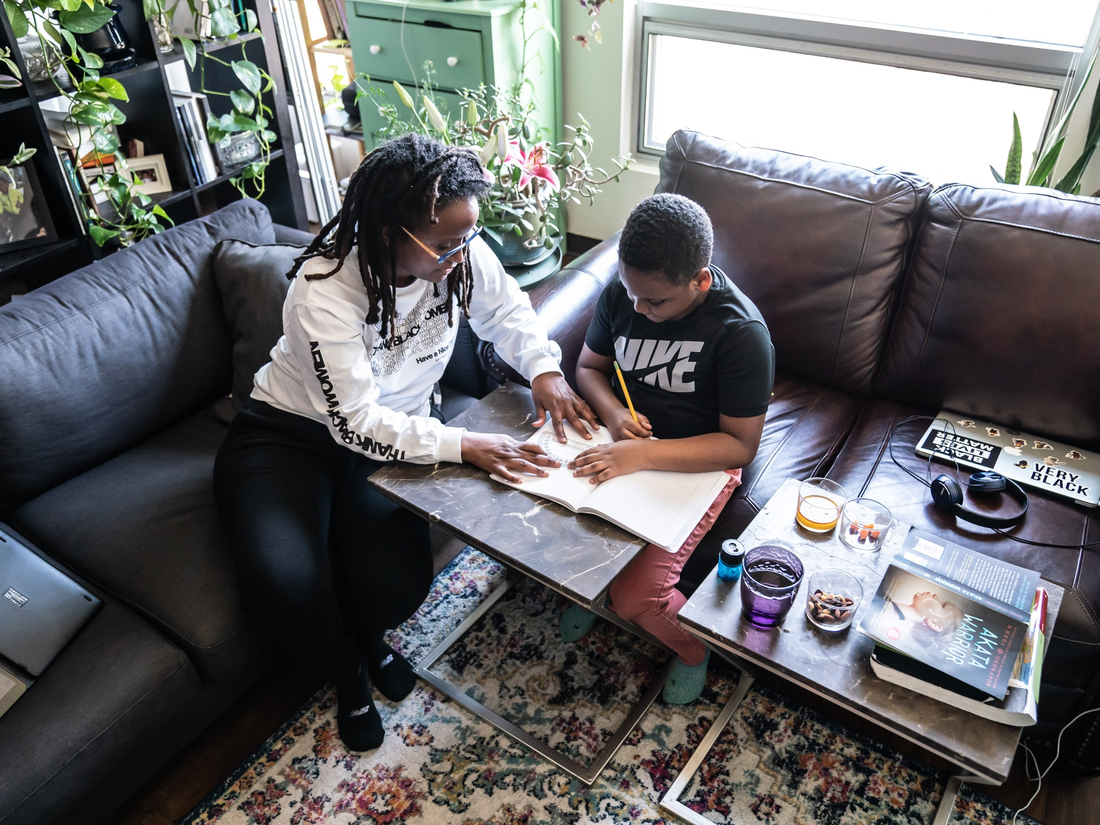 Tsedaye Makonnen, performance artist, 36
It's a Friday night at the Eaton Hotel in downtown D.C., and Tsedaye Makonnen is arriving with her 10-year-old son, Senai. They head past the lobby and up to a quiet, spacious room on an upper floor, where her latest work spreads across the floor — a massive tapestry, the fourth installment of her lauded Astral Sea series.
Senai heads to a table in the vast, lounge-like coworking space next door. He turns to a page in his notebook to sketch Naruto characters while watching the popular anime show on his laptop, his imagination running wild.
Makonnen gets to work carefully placing mirror acrylic shards on the cloth. The pieces are laser-cut from another project of hers — light sculptures that memorialize women who've died while migrating from East Africa across the Mediterranean and Black women who have died at the hands of police brutality in the U.S. She plans to bring the piece to life in videos and live performances — as she's done with the previous three installments — by wearing the fabric and moving unpredictably so the shards crash and fall off, embodying the violence Black women have endured over time. Makonnen, a 36-year-old raised in Silver Spring, draws upon her Ethiopian heritage, cosmology, and her experiences as a Black mother to create this unfiltered performance art.
"Anybody who performs, whether it's a musician, singer, or performance artist, you are embodying something else," she says. "You can turn into a conduit, essentially. So in these performances, I feel like I'm embodying the women that this work is about."
At the Eaton, while arranging the mirror pieces, Makonnen stresses over a deadline (a gallery she signed with displays her work at art conventions in far-reaching places like Dubai). But she's used to being on a tight schedule. For about four years, she worked as a doula with Mamatoto Village, a D.C.-based nonprofit that provides perinatal care, while also raising her son and expanding her portfolio. Every minute was precious then.
"I describe that time like I was possessed, because I would come off of a 40-hour birth at GW Hospital, and then I'd have to go to a show in New York that I was performing for. I'd literally get off the birth, situate my son with my parents or my brother, and then drive up 95," Makonnen recalls. "I don't know what I was running off of, but it wasn't natural. But I'm glad I did it."
Her days are now spent getting Senai online for virtual fourth grade from 8:30 a.m. to 2:30 p.m., taking work-related calls throughout the day, and heading to a local park to play soccer. She now has to be his mom, tutor, lunch lady, and motivator, all at once.
"It's a lot," Makonnen says. "In those moments where I'm not able to really keep track of what he's doing, that's usually when he'll start going on YouTube and looking at Naruto episodes, or going on Netflix instead of being in class. And that usually bites us in the ass ... When it's time to do assignments after class, I'm having to walk him through it more because he checked out of class. Overall, he's a great student. It's just, this is not the best way for most children to learn now."
Reflecting on her latest efforts as a full-time artist — her pieces that feature in galleries in London and Addis Ababa, and a book she has in the works with the Washington Project for the Arts — she takes a deep breath, almost in disbelief that she's come this far. Makonnen says she couldn't manage without her friends who feature her work in their music videos, lend her studio space, or keep an eye on Senai while she works.
"I rely a lot on my community," she says. "They say, 'Don't mix friendships and business.' But there are some friends of mine who ... that's just what we do."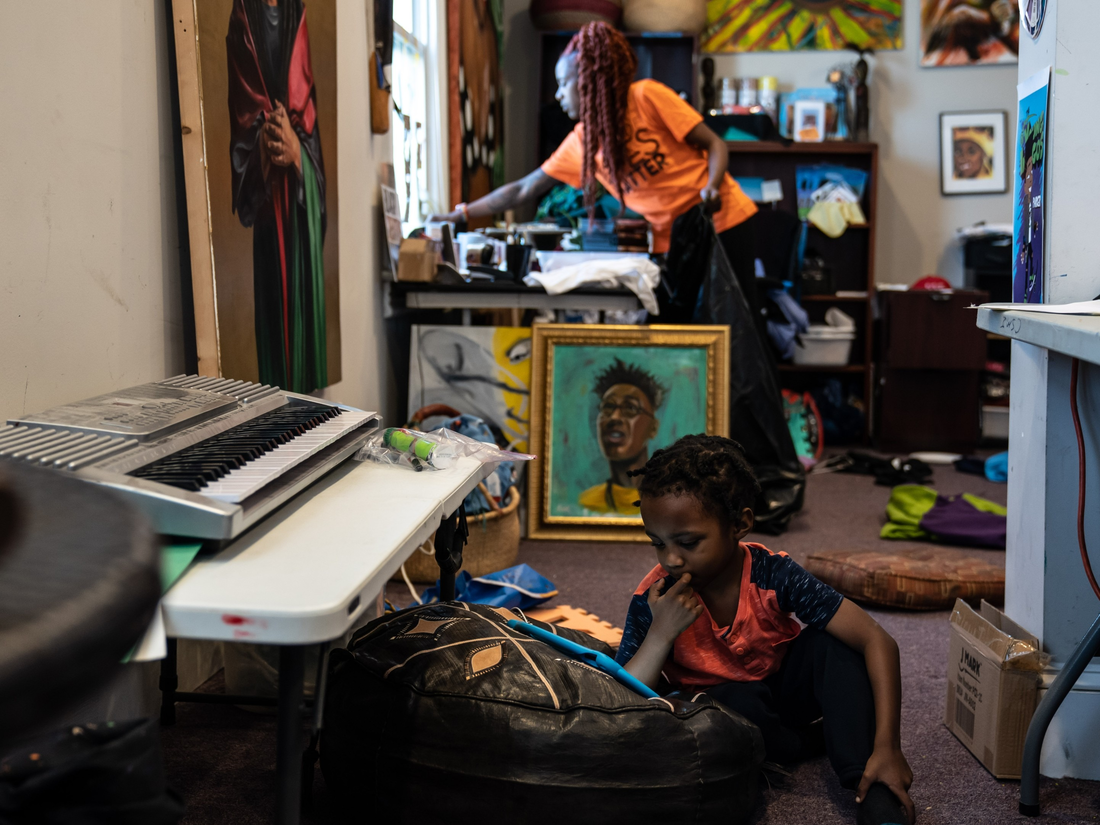 Keyonna Jones, visual artist and stylist, 32
For artists like Keyonna Jones, physical location means everything. She knows how valuable it is to have a space of your own to work and be creative — which is why she created the Congress Heights Arts and Culture Center.
The 32-year-old mother of two opened the center five years ago in a building on Martin Luther King Jr. Ave. SE owned by her father, a developer she calls a "property guru." Before temporarily closing its doors due to the pandemic, Jones used the space to broker creative vibes: Locals hosted yoga classes, exhibits, and live performances, and rented out its rooms and airy rooftop for events.
"[The CHACC] changed the value of art in our community. We have shown our community that art is a source of expression, that when you don't have the words to get at how you feel, art comes in in some way," says Jones. "But we also taught our community that you can create economic stability using this art, your passion, and your God-given talents."
A news radio producer-turned artist and entrepreneur, Jones was one of the seven D.C. artists the mayor's office called upon to paint the Black Lives Matter Plaza mural overnight in August. Her other work includes a political banner for the Emerson Collective's Word on the Street series that she created with the help of refugee textile workers in Texas. It reads "Face Yourself — Healing Starts Within," and is part of her general thesis that one must heal internally before teaching others how to heal. She's a fashion designer, stylist, printmaker, photographer, podcaster, and tattoo artist. (Truly, if it involves any form of creativity, Jones offers her services for it on her website)
Her creativity is rubbing off on her kids, Kayla, 9, and Keon, 4. The former is a full-blown makeup artist, and the latter is expressing interest in music and gaming, Jones says.
"I give a lot of respect to my kids," Jones says. "I think parents should give more respect to their kids and understand that we're just big ass kids, and they're just young adults. We're both human. We both have human feelings."
Jones and her ex-husband co-raise their kids, and on days when she's in charge, the kids stay busy Facetiming their cousins and friends, reading stories aloud, napping, or playing educational games on their iPad. It's a balancing act: On weekdays, Jones signs the kids into Zoom classes at Anne Beers Elementary at 8:30 a.m., then she books clients for tattoos and custom prints.
"I've created my own personal space here at home in my basement, where I literally can do everything that I need to do. I can just roll out of bed, come down to my basement, and be productive if I want to," says Jones. "But I definitely miss being at the center."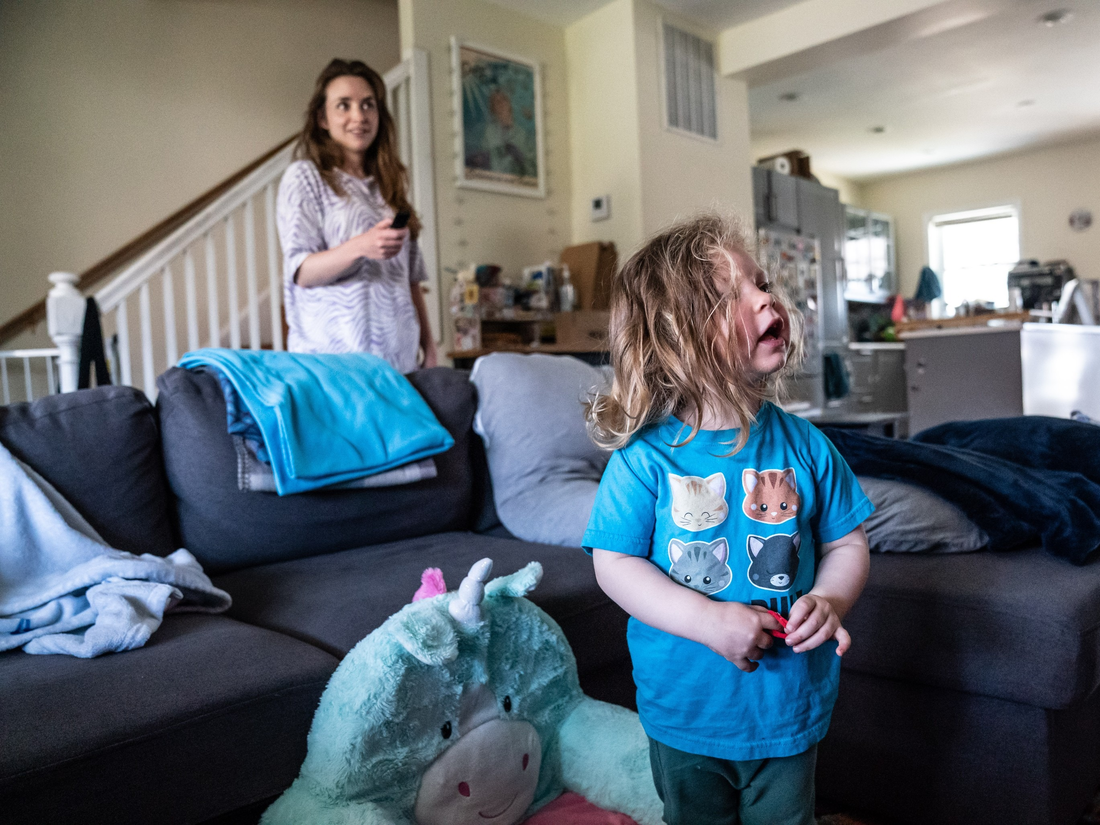 Deb Almond, visual artist, 33
This feminist artist's business is called Candid Almond for a few reasons: candid, because she paints and talks about things that are "less comfortable" for people to discuss but are things many women, including herself, have dealt with, including sexual assault, miscarriages, and depression. But also, it sounds like "candied almond," which is just cheeky. She's a Londoner, after all, who moved to D.C. with her now-husband eight years ago.
Almond's work stems from a place of anger — anger at the world and how so many people can experience homelessness and poverty while others live in excess, a dichotomy she witnesses daily in the rapidly gentrifying Trinidad neighborhood in Northeast D.C. She spent about a decade working with NGOs, traveling the world to promote sexual and reproductive health. Then President Donald Trump was elected. Then she had a daughter, Pym. Then she attended the Women's March in 2017, where she gained all kinds of inspiration for protest art. She quit her full-time job in public health to pick up the kind of pens and brushes she used throughout her youth, when she bathed in the creativity of her own mother, an art teacher.
"My art became a way to express how important the sexuality part is to all of our decisions around our health and particularly around mental health," says Almond. "I was raped when I was 23, and I'm 33 now. That's obviously something that never leaves you, and you spend the rest of your time trying to get your power back, trying to get your voice back — and art really gave me that."
Working out of an old shed in the backyard of her home, Almond carefully conjures up her next projects. Her late-night thoughts — when not focused on dismantling the patriarchy one brush stroke at a time — are with her sister, a trauma nurse at a COVID-19 ward in the U.K., whom she hopes to see once the pandemic ends.
And when she's not walking the neighborhood with Pym, now a boisterous 2 year old who eats and plays with everything in sight, Almond is painting a series of vulvas, these ones more realistic than previous ones she's painted with flowers adorning them, she says. She hopes her work will offset the many white, phallic structures that adorn the city: "I live just a couple of blocks away from the Mount Olivet graveyard, and you got these big gravestones that are just big dicks ... There's a huge, massive dick on the [National] Mall."
Another piece in the works is a thick, black canvas with little iridescent pearls made of clay and white paint dripping down to symbolize "lots of women's pearls." She lost her first baby, Pearl, three years ago due to a miscarriage.
"I describe my art as providing comfort and solidarity," Almond says. "If you'd asked me that five years ago, I couldn't have said that."
Perhaps some of that confidence comes from raising Pym: "What I see when I see her is this innate happiness that either I don't have and have never had, or that depression and anxiety just squashed to nothing. And that doesn't depress me, that makes me smile a lot and makes me laugh a lot, because they're such their own little people, you know? You think they're going to come out half you and half the other one, but they don't. They come out their own little selves."
On her best days, Almond taps into her own adventurousness to create the inventory for her online shop, where her "I'm not ovary-acting" print is still the top seller.
"It's not a huge vagina with flowers around it, which, you know, not everyone wants on their wall ... completely understandable," she quips. "But that [vagina painting] is my second biggest seller, so somebody wants it on their wall."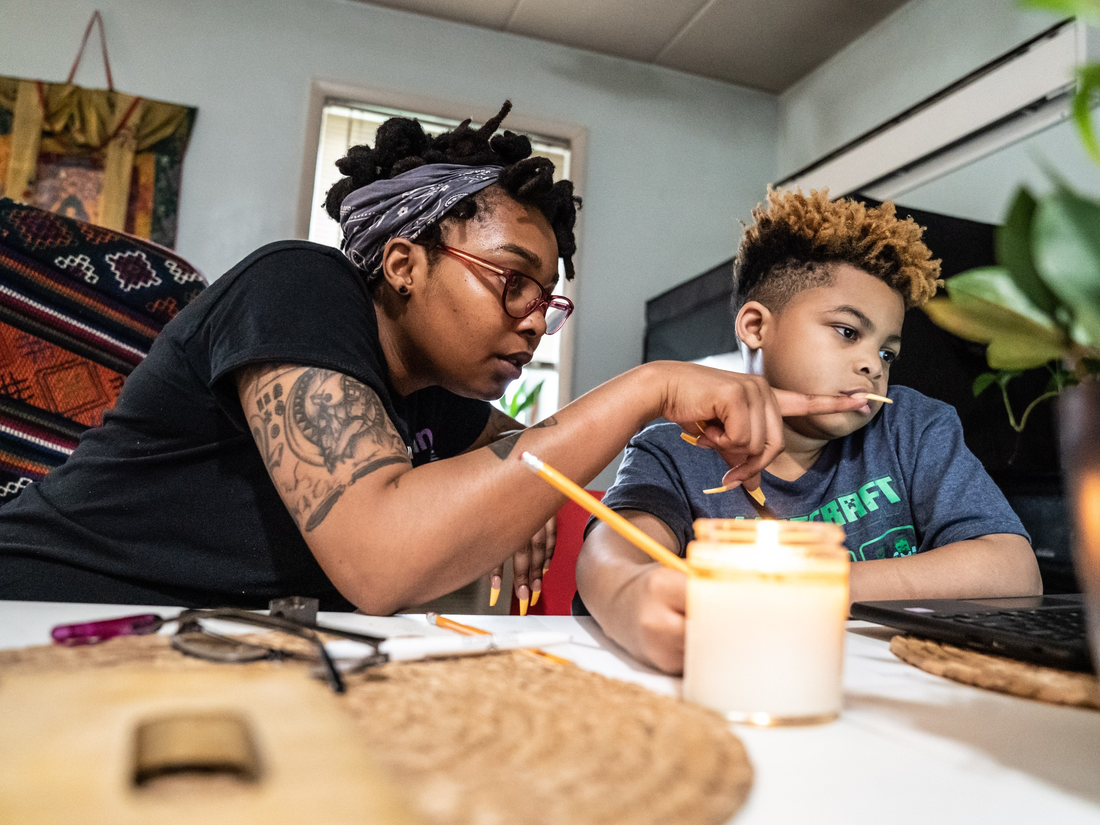 Ameshia Stukes, artist, teacher, and jewelry maker, 30
We've all heard it from health experts, politicians, and pundits: There's a light at the end of this pandemic tunnel. But according to Ameshia Stukes, a 30-year-old artist, healer, and jewelry maker who grew up between D.C. and Maryland, that's the wrong way of looking at it.
"I feel like this is kind of the light. We're in the light, you know?" she says. "Learning how to maneuver differently, being at home, learning groundedness."
Of course, like most moms, she's struggling to keep her 8-year-old son Yair focused on video school and less on video games like Fortnite. But she finds light in his budding interest in animals, gardening, and traveling. He takes good care of Sage, their pet bearded dragon, and Stukes is even considering getting him a "job" at a local animal shelter — her plan is to have him volunteer at a shelter while "paying" him with money she collects from family and friends.
She knows how important it is to invest in a child's interests — after all, it was the art teachers at Orr Elementary (now Lawrence E. Boone) in Southeast D.C. who saw potential in her and provided extra supplies so she could paint without limits. That eventually led her to the Corcoran School of Art & Design at George Washington University, where she got her fine arts degree.
Now, she's turned her art into a full-fledged business, teaching advanced art classes at the Kuumba Learning Center on MLK Ave in Southeast and doing tarot card readings. Her jewelry, which she calls "wearable art" made of healing crystals, sells out within hours of putting it online. Her Black-centric Plannendar (planner + calendar), which lists birthdays of Black icons and key cosmic dates, is a hit each year — so too are her products like a Pussy Wash made of beet juice, castile soap, and other natural ingredients.
But the grind of being a self-sustaining artist during a pandemic has not made being a mother any easier. Some days she feels like she's barely managing and calls her mother to see if she'll take care of Yair for the day.
"It's so hard to work and be on school with him. Sometimes I have to feel like I'm just completely neglecting him," she says. Other days, she feels like she's neglecting her business or her own well-being.
Then there are the moments that shine through the dark, like when they vacationed in Jamaica a few months ago, Yair's first time outside the country. Or when Yair expresses interest in taking care of animals; when Stukes sticks to her goals of biking regularly; or when she finally saved up enough money to buy a new car after being without one for years. Those small victories feel like major wins during these times, Stukes says. Those moments, it seems, are what keeps the light burning in this tunnel.
This story is from DCist.com, the local news website of WAMU.
Questions or comments about the story?
WAMU 88.5 values your feedback.