Goodbye, Gate 35X: Here's What The New Concourse At National Airport Looks Like
A new concourse at the north end of National Airport is set for a soft opening on Tuesday.
The new 14-gate, 230,000-square-foot concourse will serve American Airlines flights, and it spells the death of the dreaded Gate 35X, which forced passengers to board buses for short rides to smaller planes.
Glen Zacek, director of customer service for Piedmont Airlines, a subsidiary of American Airlines, worked Gate 35X for 20-plus years. He said people often complained about it, though they also complimented workers for actually getting them to the plane.
The new concourse is a far friendlier place for customers and employees, and he said he expects fewer complaints. "It's a beautiful experience," he said. "It's a reward for customers and workers."
The new facility was needed since DCA was serving far more passengers than space allowed, says Airport Manager Paul Malandrino. In 2019, the airport had 23 million passengers travel through it; it was initially designed to serve 15 million. DCA last expanded Terminal B/C in 1997. Construction began on the new concourse in 2017.
The new gates are numbered 46-59 and will mostly serve smaller regional destinations for American Airlines and its sub-brands like American Eagle. American Airlines will run about 90 flights out of the concourse starting next month. It will serve smaller planes like the CRJ 700 and 900 that fly to places like Nashville, Lansing, Grand Rapids, Columbus, Cleveland, Portland, Maine, Nantucket, Hilton Head, and Martha's Vineyard.
For its part, Gate 35X will be turned into a regular gate with a jet bridge; it'll simply be known as Gate 35.
The media got a tour of the new nearly $400 million concourse on Thursday.
The L-shaped extension has a long hall with people movers and an open area with about four gates and concessions; another hall has restrooms, shopping and dining, along with the main 10-gate area with a bar in the middle.
The look and feel is an extension of the rest of DCA — the light yellow color runs throughout, but the space is bigger and more light-filled than some other terminals thanks to skylights, domes and the open floor plan. The main hallway is eight feet wider than the older ones.
Dennis Comiskey, project manager for the design team Air Alliance, said the team took ideas from the existing terminals, respected the aesthetics and improved on them. "We made it wider, more open and reduced the number of columns," Comiskey said. "We also tried to brighten it up and make the space more welcoming for passengers."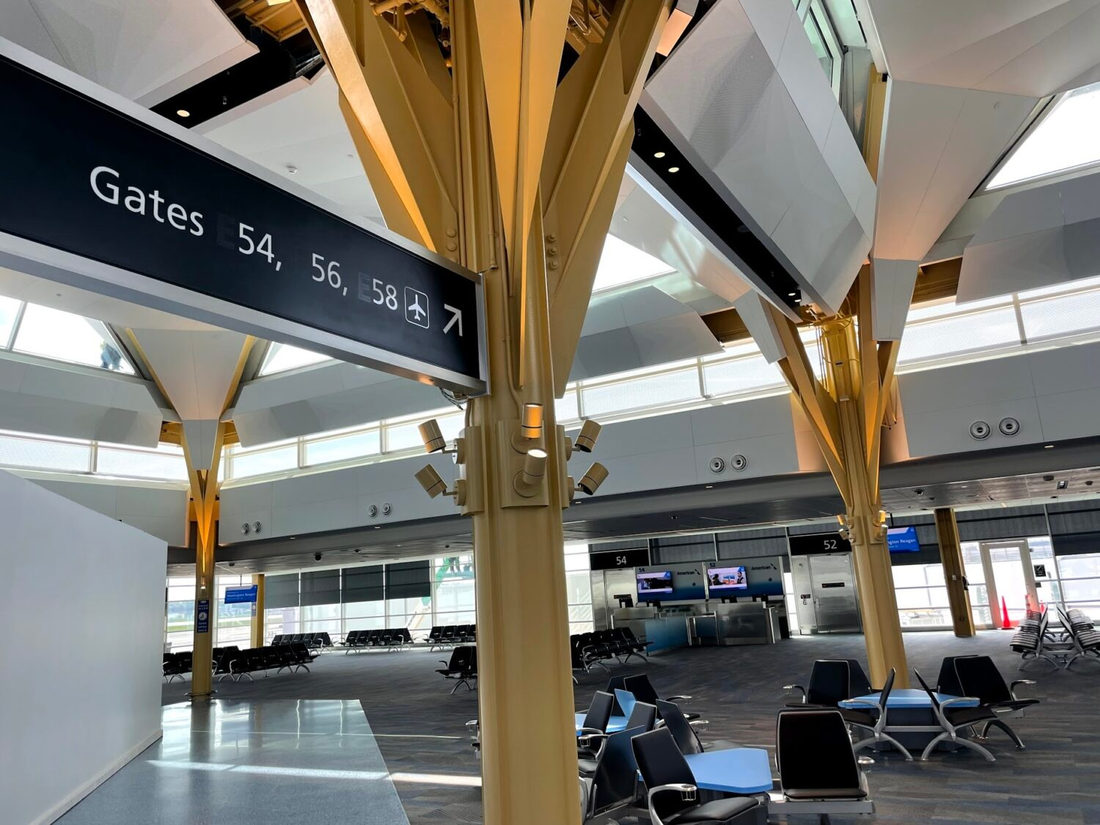 Among the highlights:
Charging ports for 80% of the 850 seats. Seventy other charging stations are also being installed.
New types of seating include leather lounge chairs and ottomans at certain gates and pods of seats with tables in the middle.
Unobstructed views of the Washington, Lincoln and Jefferson memorials, the U.S. Capitol, the National Cathedral, and the new Frederick Douglass Bridge. Architect Louis Lee of the Metropolitan Washington Airports Authority says they specifically chose tall glass at certain Gates 47 and 49 to highlight the new views. "We designed to take advantage of that," Lee said.
A mix of local and national concessions, including Timber Pizza, Elevation Burger, Peets Coffee, Wolfgang Puck, Mezeh Mediterranean Grill, P.F. Changs. There are also newsstands, a tech shop, and a D.C. souvenir store. Peets Coffee and a few other shops will open Tuesday, more will open in July and the rest will follow shortly after.
Two new sets of bathrooms, two nursing stations and an indoor pet relief area.
On a lower level will be 20,000 feet of areas for workers that consolidate American's work areas.
Deven Judd, director of concessions, says flyers mainly want comfortable seating, charging ports, concessions that they know and understand, and overall an easy travel experience. "Everyone is traveling with a phone, laptop, and other technology, so that could be three cords," Judd said. "Having access to power will be great inside the chairs... it's a great amenity they can use."
The coronavirus pandemic is still readily apparent with social distancing signs, hand sanitizer stations throughout, and touchless soap, sink and paper towel dispensers in the bathrooms.
The rest of the $1 billion Project Journey initiative, which includes a new security hall that moves checkpoints closer to parking garages and Metro, is set to open later this summer. The new security area means all of the grand National Hall with the vaulted ceilings will be behind security.
Roadway configurations will also change at the airport.
This story is from DCist.com, the local news website of WAMU.
Questions or comments about the story?
WAMU 88.5 values your feedback.